9 Décembre 2017 – Mariah Carey : All I Want For Christmas Is You Tour – AccorHotels Arena, Paris
Je ne vous raconte pas ma joie et mon étonnement quand j'ai appris que Mariah Carey revenait en France pour donner un concert cette année ! Je garde un extraordinaire souvenir de son dernier passage à l'Accorhotels Arena en 2016 avec The Sweet Sweet Fantasy Tour et j'étais euphorique à l'idée de découvrir son spectacle de Noël : All I Want For Christmas Is You 🎄. C'est la première fois qu'elle l'exporte hors du territoire américain : nous avons eu de la chance de faire partie de la tournée !
Je rejoins ma comparse à Bercy aux alentours de 19h. L'entrée se fait sans encombre. Une fois à l'intérieur, on observe la salle se remplir petit à petit… À vue de nez, il doit y avoir entre 7 et 8000 personnes : un beau score pour un concert mis en vente il y a très peu de temps. On devine déjà l'esprit de Noël dans la salle : une énorme couronne de Noël trône au-dessus de la scène, qui est pour l'instant cachée derrière un rideau rouge. Les spectateurs ne sont pas en reste, entre les bonnets de Noël et les serre-têtes imitation 'renne' : on ne sait plus où donner de la tête ! Comme en 2016, la première partie est assurée par un DJ qui ne passionne pas les foules. Il faut dire que la reine de la soirée se fait désirer…
Les lumières s'éteignent et une petite danseuse étoile arrive sur scène sur un extrait du Casse-Noisette de Tchaïkovski (« Dance of the Sugar-Plum Fairy »). Elle exécute quelques pas avec grâce quand soudain, le rideau tombe en révélant le décor immaculé. Au centre, un immense sapin décoré, sur les côtés, des dizaines de paquets cadeaux, le tout agrémenté d'un écran vidéo gigantesque qui recouvre le fond de scène. Mariah Carey est là, accompagnée de ses musiciens et choristes. Elle est habillée d'une sublime robe dorée et entonne le première morceau de la soirée : « Hark! The Herald Angels Sing ». C'est incroyable, toute la salle est sous le charme : l'artiste, la chanson, le décor, on en prend plein les yeux ! Alors qu'elle enchaîne sur « Charlie Brown Christmas », on voit arriver les enfants et les danseurs dont Bryan Tanaka, son actuel petit ami. Lorsque le morceau se termine, elle prend la parole pour nous souhaiter la bienvenue :
« I'm so happy to be back. Bonsoir Paris ! I just wanna say today that the great musicians never die ! »
Démarre alors « Que Je T'aime » de notre ami Johnny Hallyday qui nous a quittés il y a quelques jours. Sur l'écran, un portrait en noir et blanc, et dans la salle, la stupéfaction. Mariah Carey va chanter Johnny Hallyday. Elle nous demande de l'accompagner, car si le refrain ne lui pose pas de problème, le couplet lui complique un peu la tâche. Elle a dû préparer l'hommage dans l'après-midi, pendant les balances. Il y a une réelle sincérité dans son geste. Donc tout simplement merci ❤.
Elle nous propose ensuite une ambiance plus festive avec « Oh Santa! », que vous pourrez retrouver en vidéo à la fin de cet article. C'est l'une des rares chansons de ce répertoire-là que je connais ! J'adore la performance : elle rayonne, elle va chercher les spectateurs, la voix est top, et dans la salle : c'est magique. Les décors de Noël défilent sur l'écran, les enfants dansent, le public chante. Un beau moment !
Elle enchaîne sur « Christmas (Baby Please Come Home) » avec la même joie de vivre avant de laisser la place à l'une des fillettes qui l'accompagne. Takeytha Johnson, une des choristes, interroge la petite quant à ce qu'elle veut pour Noël. Cette dernière répond du tac au tac… un iPhone X 😅. La réponse est loin de contenter Takeytha qui lui demande en retour si elle a bien travaillé à l'école ! La fillette boude et enchaîne sur un medley solo de chants de Noël traditionnels : « Santa Claus Is Coming To Town » et « Jingle Bells ». C'est un intermède sympathique, car la petite a une belle voix. Trey Lorenz, qui accompagne Mariah Carey sur scène depuis des années, prend la relève pour interpréter « Jesus Oh What a Wonderful Child » avec une chorale de gospel ! C'est une surprise totale pour nous ! Tout y est, les tenues, les voix, l'ambiance. Sur l'écran, on peut même deviner les vitraux d'une église. Le public est conquis.
Mariah revient pour interpréter « Silent Night » avec le chœur. Elle est maintenant vêtue d'une belle robe rouge ornée d'or. Elle est sublime ! Elle demande au public de faire plus de bruit que ce n'est pas parce que c'est un spectacle de Noël qu'il faut être calme, l'occasion rêvée de nous proposer « Joy to the World ». Je ne connaissais pas la chanson et je suis ravi de l'avoir découverte dans ce cadre : avec la chorale, le sapin, le décor enneigé. Je suis absolument fan de l'univers !
Elle en profite pour présenter les boys et les girls qui l'accompagnent : les choristes, Trey Lorenz, MaryAnn Tatum, Takeytha Johnson, ainsi que tous les musiciens. Ce qui m'a semblé étrange c'est qu'elle ait eu besoin d'un prompteur pour se souvenir du nom des gens avec qui elle travaille depuis des années sur scène… Elle explique ensuite qu'elle est ravie de présenter pour la première fois le spectacle en Europe ! Elle nous dit qu'elle aimerait parler un peu plus en français, qu'elle a bien essayé de prendre des leçons, mais que sa prof a déclaré : « Don't even bother ! » (Lâche l'affaire !). Elle enchaîne sur « When Christmas Comes » avec les images d'un New York en noir et blanc derrière elle. C'est sublime et ça me rappelle de récents souvenirs ! Il y a un petit côté jazzy dans l'orchestration. J'ai mes premiers doutes sur le live à un moment de la chanson. La voix que l'on entend ne ressemble pas à la voix qu'elle a depuis le début du spectacle. Je tiens quand même à dire que s'il y a du play-back pendant le concert, il y en a peu ! Les danseurs qui l'accompagnent lui offrent un porté de toute beauté pour conclure le morceau.
À la fin de la chanson, elle nous raconte qu'elle adore Noël en famille, et que Noël ne serait pas Noël sans… le Père Noël ; qui débarque en chair et en os sur scène pour « Here Comes Santa Claus (Right Down Santa Claus Lane) ». C'est le moment WTF de la soirée avec un Père Noël qui se la joue hip-hop, des danseuses déguisées en rennes, et une Mariah qui balance des peluches dans le public ; enfin dans les 2 premiers rangs, car elle n'y met pas vraiment du sien ! Elle s'éclipse avec le Père Noël alors que les spectateurs s'étripent dans la salle pour les nounours.
La fillette revient sur scène pour interpréter la chanson « I Saw Mommy Kissing Santa Claus », dont la plus célèbre version est peut-être celle des Jackson 5. Les danseuses et danseurs font leur entrée à la fin de la reprise pour un ballet sur « Carol Of The Bells ». Notre diva réapparait pour chanter une ballade intitulée « Christmas Time Is in the Air Again ». Elle est vêtue d'une robe rouge et étincelante. Elle rejoint ensuite le pied du sapin pour interpréter « O Holy Night » sur fond d'aurores boréales. C'est mon coup de cœur de la soirée ❤. Sa voix et celles des choristes sont en parfait accord – c'était magnifique, vraiment.
À la suite de quoi, elle nous propose de chanter quelques classiques de son répertoire original comme « Emotions ». L'engouement du public est tout autre étrangement ! Les danseurs font leur retour et Mariah nous offre une interprétation particulièrement dynamique de la chanson. Je ne sais pas si les whistles sont en live, mais s'ils le sont : chapeau ! Elle chante ensuite « We Belong Together » disponible dans le lecteur vidéo tout en bas. À la fin du morceau, elle prend une gorgée de thé, et se met à rire en disant que c'est le plus mauvais qu'elle n'ait jamais bu de sa vie. L'un des techniciens lui souffle à l'oreille qu'elle peut rajouter de l'alcool pour faire passer le goût ! Il la connait bien 😂. Elle enchaîne sur l'histoire de la chanson « The Star », écrite spécialement pour la bande originale du film « L'étoile de Noël », actuellement en salle. Elle s'excuse également de l'absence de ses enfants, qui la rejoignent habituellement sur scène à ce moment-là du spectacle pour chanter avec elle. Ils ne se sentaient pas très bien. La chanson m'a énormément plu, je n'avais pas spécialement été attentif à la sortie du single et je suis passé à côté. Pour clôturer cette partie du show, elle choisit « Hero », l'un de ses plus grands classiques.
Je suis déconcentré par les spectateurs qui remontent du fond de la salle pour approcher la scène. La sécurité semble avoir ouvert les vannes à un troupeau de sauvages… Nous, on reste calmement à notre place : inutile de se jeter dans la mêlée ! Dommage pour la chanson qui en pâtit un peu, car tout le monde veut son selfie, sa story Snapchat, etc. Je sais que ce n'est pas la peine d'en faire un roman, vous connaissez ces situations aussi bien que moi. Il reste un morceau, le plus attendu de tous sans doute : « All I Want For Christmas Is You ». J'espérais la voir revenir en mère Noël cochonne, mais c'est finalement Miss Casse-Noisette lubrique qu'elle apparaît pour le dernier tableau du spectacle. Elle porte un bustier rouge et or surmonté d'épaulettes à franges, elle est sexy en diable ! C'est clairement le meilleur moment de la soirée, tout est parfait : l'orchestration, la voix, le décor et l'ambiance évidemment ! On a même droit à une pluie de paillettes à la fin de la chanson. Elle quitte la scène puis revient saluer une nouvelle fois le public avant que les lumières ne se rallument.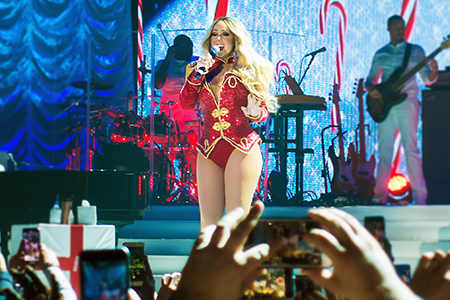 J'ai passé une soirée merveilleuse, elle est absolument parfaite 🥰. L'univers de Noël lui va comme un gant et je suis maintenant impatient de découvrir cette partie de sa discographie que je ne connais pas. J'aurais dû faire l'effort d'écouter les disques avant d'assister au concert, je regrette un peu quand même…. Tous les titres sont en live, avec quelques petits switches sur la bande play-back par moment, et la voix est top ! Vous dire que j'ai adoré son hommage à Johnny, c'est un euphémisme. On en parlait avant le show et j'imaginais qu'elle dirait un mot, mais jamais je n'aurais pensé qu'elle essaierait de reprendre « Que Je T'aime ». C'était vraiment classe de sa part. Malgré tout, le concert reste court, 1h20 avec tous les à côté : vu le peu de titres qu'il y a dans la setlist, ça ne pouvait pas durer longtemps.
Concernant la mise en scène, je m'attendais à ce décor un peu kitschouille, mais qui est absolument parfait pour le thème. Et j'ai quand même eu des surprises, parce que je ne pensais pas voir les enfants, la chorale gospel, les danseurs, les personnages costumés. C'était top à ce niveau aussi. J'ai adoré les tenues de Mariah (surtout la dernière) : belle et amincie, elle m'a fasciné toute la soirée. Je suis ravi de l'avoir vu dans ce cadre et je retournerai la voir l'année prochaine avec grand plaisir s'ils continuent de jouer ce spectacle de Noël en décembre !
Je vous invite à me rejoindre sur les réseaux sociaux Facebook, Twitter et Instagram  et à laisser vos commentaires à la toute fin de cet article. Ce n'est pas encore le dernier concert de l'année, on se retrouve dans quelques jours pour la suite de nos aventures. Je vous souhaite malgré tout un très joyeux Noël et de très bonnes fêtes de fin d'année.
Setlist : Hark! The Herald Angels Sing / Charlie Brown Christmas / Que Je T'Aime / Oh Santa! / Christmas (Baby Please Come Home) / Santa Claus Is Coming To Town – Jingle Bells medley (interlude) / Jesus Oh What a Wonderful Child (Trey Lorenz) / Silent Night / Joy to the World / When Christmas Comes / Here Comes Santa Claus (Right Down Santa Claus Lane) / I Saw Mommy Kissing Santa Claus (interlude) / Christmas Time Is in the Air Again / O Holy Night / Emotions / We Belong Together / The Star / Hero / All I Want For Christmas Is You
Également disponible en vidéo sur YouTube : Que Je T'aime (hommage à Johnny Hallyday) – Oh Santa – We Belong Together
Mariah Carey : All I Want For Christmas Is You Tour – AccorHotels Arena, Paris (2017)