15 Décembre 2019 – Mariah Carey : All I Want For Christmas Is You Tour – Madison Square Garden, New York
Pas de doute : Mariah Carey est définitivement la reine de Noël ! Elle vient de décrocher son 19e # 1 avec l'iconique « All I Want for Christmas Is You » qui atteint pour la première fois le haut des charts, 25 ans après sa sortie ! Ce carton est le résultat d'un travail acharné avec la publication d'une édition anniversaire de l'album « Merry Christmas » et d'une tournée de Noël à travers les États-Unis, qui se termine ce soir à New York 🎄.
Le choix de la salle est ambitieux : rien de moins que le Madison Square Garden et ses 20 000 places. Un pari relevé haut la main, car il n'en restait plus aucune la veille du show ! Il y a beaucoup de merchandising disponible : du bonnet à l'écharpe en passant par la boule pour le sapin, il y a de quoi se faire une véritable panoplie de Noël ! La première partie est assurée par DJ Suss One et honnêtement : on est content quand ça se termine 😅. La scène est cachée par un imposant rideau. On peut malgré tout apercevoir quelques sapins décorés et surtout, une magnifique couronne de Noël siglée « MC » trônant fièrement au-dessus de l'ensemble.
Le show démarre par un extrait de Casse-Noisette, « Sugar Plum Fairy ». Une jeune fille en tenue de ballet exécute quelques mouvements de danse classique avant de laisser place à la diva, qui apparaît alors que le rideau se lève. Elle porte une longue robe de soirée rouge, fendue à la taille, qui lui donne l'apparence d'une vamp des années 50. Elle interprète « Hark! The Herald Angels Sing » dans un décor absolument somptueux 😍. Un immense sapin décoré trône au milieu de la scène. Il masque une partie de l'écran gigantesque sur lequel sont diffusées des images d'ambiance. Ici, des fenêtres offrant une vue sur la Voie lactée. Mariah est accompagnée de 4 musiciens et 3 choristes, sur lesquels viendront se greffer une chorale, des danseurs et d'autres surprises durant la soirée.
Je suis surpris par l'engouement du public qui se lève comme un seul homme à l'apparition de la chanteuse. Je sens d'ores et déjà que le concert sera très différent de ce que j'ai eu l'occasion de voir à Paris en 2017. Elle est rejointe par son boyfriend Bryan Tanaka, danseur et chorégraphe, qui l'a fait tournoyer sur l'air de « Charlie Brown Christmas ». Sur l'écran, on peut découvrir les personnages du comic book : Charlie Brown évidemment, mais aussi Snoopy, que vous connaissez sans doute mieux 😄.
Après avoir pris une gorgée de thé, elle nous explique qu'elle a lancé la saison des fêtes un peu plus tôt cette année, et qu'il est temps de passer à la vitesse supérieure avec « Oh Santa ! ». Les spectateurs sont dingues ! Derrière moi, une fan hurle à plein poumon : j'ai du mal à me concentrer sur ce qu'il se passe sur scène tellement elle chante fort (et faux) 😆. Après ce moment d'euphorie, elle nous parle de l'affection qu'elle porte à cette période de l'année et aux chansons qu'elle a enregistrées pour l'occasion. Elle enchaîne sur « Christmas (Baby Please Come Home) » considéré comme l'une des fan favorites.
On voit ensuite débarquer ses enfants, Monroe et Rocco, sur des hoverboards. Ils récitent leur texte avec peu d'entrain (mais on leur pardonne vu leur jeune âge 😊) et se lancent un défi : le Rudolph challenge. Ils chantent alors la comptine « Rudolph, the Red-Nosed Reindeer », que l'on connaît en France sous le nom de « Le Petit Renne au nez rouge ». Après cet interlude mignon tout plein, Trey Lorenz, l'un des choristes, prend la relève pour interpréter « Jesus Oh What a Wonderful Child » accompagné d'une chorale gospel. Grâce aux projections sur les écrans, on pourrait croire que l'on se trouve dans une église.
Mariah réapparaît, vêtue d'une robe blanche bouffante et lumineuse, assortie à d'immenses ailes d'ange accrochées dans son dos. C'est loin d'être chic, mais on ne peut pas lui reprocher d'être dans le thème 👼. Elle entame alors « Silent Night » accompagnée de la chorale. À la fin de la chanson, elle invite son glam squad sur scène et se fait pomponner par son maquilleur et son coiffeur qui l'aide également à retirer ses ailes encombrantes. Elle enchaîne avec le festif, « Joy to the World », disponible en vidéo un peu plus bas, puis présente les artistes qui l'accompagnent.
Elle nous remercie pour notre soutien, ainsi que d'avoir fait de ce rendez-vous une tradition. La chanson suivante, « When Christmas Comes » est l'une de ses préférées, nous dit-elle, c'est un extrait de l'album intitulé « Merry Christmas II You ». Après avoir retiré une partie de sa robe, elle nous explique la façon dont elle fête Noël en famille, qui se termine inévitablement par l'arrivée du père Noël 🎅. C'est la transition parfaite pour lancer « Here Comes Santa Claus », sur laquelle on voit débarquer des rênes et un père Noël muni d'un sac rempli de goodies. Mariah et Bryan l'aident à envoyer les cadeaux dans le public. C'est un tableau très coloré qui se termine par une chorégraphie insolite du père Noël que les danseurs ont du mal à faire sortir de scène.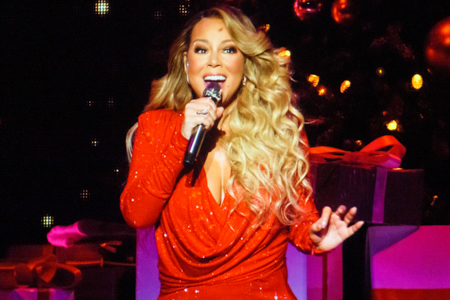 Suit un court interlude au piano et quelques arabesques sur l'air de « Carol of the Bells », qui laissent le temps à Mariah de se changer pour le jazzy « Christmas Time Is in the Air Again ». Elle porte maintenant une jolie robe de soirée rouge, assez similaire à la première. L'ambiance lumineuse crée un moment cosy, empreint d'une certaine douceur, qui continue sur le titre suivant, « O Holy Night », l'un des highlights du show ! Tout est superbe : de l'interprétation au ciel étoilé qui recouvre la scène, c'est vraiment un instant magique ❤.
Elle nous propose ensuite de reprendre quelques-uns de ses plus grands succès : « Emotions », « Always Be My Baby », « We Belong Together » et « Hero » sont les heureux gagnants de cette sélection ! Les spectateurs sont hystériques. Toute la salle est debout, et chante à tue-tête ! C'est un vrai moment de partage, et ça dépasse de loin ce que j'ai eu l'occasion de voir en début d'année à l'occasion du « Caution World Tour ». Les projections vidéo sont d'ailleurs les mêmes que lors de cette précédente tournée. Le rideau se ferme et après un court rappel, on voit débarquer sur scène un ours et un bonhomme de neige venus accompagner Mariah Carey sur « All I Want for Christmas Is You ». Elle porte maintenant un costume sexy recouvert de paillettes, rappelant l'univers de Casse-Noisette. Elle est entourée de ses danseurs, et par la chorale qui fait son retour également. Le show se termine en beauté par un lâcher de confettis devant un public conquis.
Tout est allé si vite ! Je n'en reviens pas que ce soit déjà fini ! Malgré tout, je suis ravi d'avoir pu assister à ce show exceptionnel qui marque le 25e anniversaire de l'album « Merry Christmas » et le classement de sa chanson phare en haut des charts. J'ai senti que l'énergie n'était pas du tout la même que la première fois où je l'ai vu. Il y avait quelque chose de plus électrique dans la salle ⚡. La setlist pioche dans son répertoire de Noël et même si « efficacité » est le maître mot ici : on peut lui reprocher de ne pas faire évoluer le spectacle depuis sa création en 2014. Avec 2 albums de Noël à son actif, et pléthore de chansons traditionnelles à dispo, il est difficile de lui trouver une excuse valable. Malgré d'excellents moments comme « Joy to the World » et « O Holy Night », je regrette le manque de nouveautés.
En revanche, je ne me souvenais pas que le décor était si beau 😍. Un peu plus élaboré que le concert parisien auquel j'ai assisté : le show bénéficie d'une mise en scène lumineuse et colorée qui met parfaitement en valeur l'univers festif de Noël. Une fois n'est pas coutume, pour les tenues, on est toujours à la limite du fashion faux-pas, mais je crois qu'on ne va pas la changer maintenant 😅. Côté ambiance, je ne pensais pas qu'un spectacle de Noël pouvait rendre aussi euphorique : les spectateurs étaient debout la majeure partie du temps ! Elle a également beaucoup bavardé tout au long du show, en montrant un réel attachement aux fêtes de fin d'année. On espère la revoir l'année prochaine avec une nouvelle version du spectacle peut-être ? ?‍♂️
On se quitte avec les photos et les vidéos du show. Je vous propose de me rejoindre sur Facebook, Twitter et Instagram pour découvrir mes autres chroniques de concert ! Si vous appréciez Mariah Carey, je vous invite à découvrir les articles que je lui ai consacrés depuis le lancement du site en cliquant ici : #MariahCarey.
Setlist : Sugar Plum Fairy Introlude (Intro) / Hark! The Herald Angels Sing / Charlie Brown Christmas / Oh Santa! / Christmas (Baby Please Come Home) / Rudolph, the Red-Nosed Reindeer (par Rocco & Monroe) / Jesus Oh What a Wonderful Child (par Trey Lorenz) / Silent Night / Joy to the World / This Christmas (Interlude) / When Christmas Comes / Here Comes Santa Claus (Right Down Santa Claus Lane) / Carol of the Bells (Interlude) / Christmas Time Is in the Air Again / O Holy Night / Emotions / Always Be My Baby / We Belong Together / Hero / All I Want For Christmas Is You
Également disponible en vidéo sur YouTube : Joy to the World – Always Be My Baby
Mariah Carey : All I Want For Christmas Is You Tour – Madison Square Garden, New York (2019)