21 Avril 2016 – Mariah Carey : The Sweet Sweet Fantasy Tour – AccorHotels Arena, Paris
Je n'osais plus y croire. Je suis fan de Mariah Carey depuis 2002 et je désespérais de la voir un jour en concert. 13 ans qu'elle n'avait pas foulé une scène française, 13 ans que nous l'attendions. Je ne vous le cache pas, c'est pour moi un véritable rêve qui s'est réalisé ❤
Il est un peu plus de 20 h 15 quand nous entrons dans la salle. La première partie a déjà commencé. C'est Djibril Cissé, le footballeur, qui en a la charge. Reconverti en DJ, il nous offre un set sans ambition et particulièrement bruyant. Autour de nous, personne ne semble lui porter d'intérêt. La salle se remplit doucement et notre star se fait attendre. C'est assez étrange parce que je n'ai pas l'impression que je vais la voir, enfin ! Tout ça me semble irréel et lorsque les lumières s'éteignent, je n'y crois toujours pas…
La scène est tapissée d'un immense rideau servant également d'écran de projection. Il prend la forme d'une tenture rouge sur laquelle le sigle « MC » est affiché en lettres d'argent. Les musiciens prennent place derrière leurs instruments et les spectateurs deviennent hystériques, moi y compris. Autour de nous, les gens se lèvent, déjà. Et ça commence fort, l'introduction du remix club de « Fantasy » démarre en trombe. Les sirènes retentissent, les lumières s'affolent, et Mariah Carey fait son entrée majestueusement allongée sur un divan rouge soutenu par ses six danseurs. Elle porte un body argenté couvert de glitter. Elle est sublime ! Je suis particulièrement heureux d'entendre la chanson dans cette version parce que c'est comme ça que je l'ai découverte – ainsi qu'une grande majorité de ses tubes – grâce à l'album de remixes sorti juste après « Charmbracelet ». C'est pour moi un joli clin d'œil ! Dans la salle, l'ambiance est INCROYABLE : tout le monde est debout, ça chante, ça danse, ça hurle. Je ne pensais pas que le public lui réserverait un accueil aussi chaleureux. Avant de passer à la suite, elle nous offre un extrait de la version rap avec ODP, l'occasion pour nous d'entendre le célèbre gimmick qui a sans aucun doute participé au succès de la chanson.
Elle s'accoude ensuite au piano pour nous souhaiter la bienvenue et en nous dire à quel point elle est heureuse de revenir enfin en France. Au milieu de quelques vibes, elle attaque « Emotions ». Le rideau s'ouvre et révèle le décor : un écran rond central accompagné de quatre panneaux latéraux. Simple, mais efficace. Elle est très en voix ce soir. Elle déambule de gauche à droite sur la scène, en nous offrant ses plus belles mimiques et même quelques whistles. Je sais que certaines notes sont en play-back, mais je suis bien incapable de vous dire lesquelles… Et vraiment, la joie de la voir l'emporte sur tout le reste. Elle nous demande de l'accompagner ensuite sur l'un de ses plus grands succès : « My All ». Vous pourrez le découvrir en vidéo à la fin de ce compte rendu. Superbe performance. Elle quitte la scène une fois la chanson terminée et laisse à ses danseurs le soin d'occuper l'espace sur le remix club de « My All ». C'est très 90'/boysband dans l'esprit : débardeurs blancs, jeans bruts, tablettes de chocolat saillantes et poses lascives. Je n'en attendais pas moins de ce spectacle ! Hahaha.
Mariah fait son retour pour « Always Be My Baby » vêtue d'une robe de soirée rose… et pailletée évidemment. Elle est au top physiquement ! Et j'adore sa tenue. Elle manque d'ailleurs de se prendre les pieds dedans à plusieurs reprises ! Le public chante en chœur avec elle – c'est l'un des grands moments du concert. Elle invite ensuite son choriste et acolyte Trey Lorenz pour une reprise de « I'll Be There » en hommage à Michael Jackson. Elle lui laisse la scène pour un solo sur « Rock With You ». Même si ça s'intègre plutôt bien dans le spectacle, je me serais bien passé de ce moment – d'autant plus que niveau charisme, on a déjà vu mieux ! Allez, allez, reprend ta place, et rend-nous la grosse en body pailleté ! LOL !
Notre amie a d'ailleurs troqué sa longue robe contre un ensemble un peu plus court, noir cette fois-ci, mais toujours recouvert de pierres étincelantes ✨ Mariah ne parle pas, elle chantonne ! Et elle chante pour inviter l'un des spectateurs à monter sur scène sur « Touch My Body ». On lui apporte une chaise sur laquelle elle multiplie les poses lascives en attendant que ses danseurs lui amènent « une victime ». Elle bande les yeux du jeune homme, fait quelques pas avec lui et le raccompagne doucement vers la sortie. C'est court, mais j'imagine qu'il gardera longtemps en mémoire le souvenir de cette rencontre ! La séquence qui arrive maintenant est un énorme medley dans lequel elle a casé la plupart de ses tubes « bling-bling ». J'adore cette partie de son répertoire ! Ça commence par « I Know What You Want » que je ne m'attendais absolument pas à entendre. L'écran projette des extraits du clip alors que sur scène, les danseurs se déhanchent torses nus autour d'une Mariah sexy et sauvage. Vient ensuite « Obsessed » dont j'ai adoré l'orchestration et « It's Like That » qui est l'un de mes titres préférés – je l'attendais avec impatience ! Je suis un peu frustré par le court extrait auquel on a droit, mais c'est toujours mieux que rien.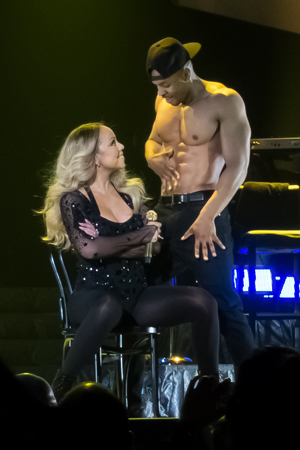 Le medley continu avec « Shake It Off » qui est, paraît-il, l'un de ses titres préférés et « Loverboy », l'énorme surprise de la setlist, qui provoque une vague d'euphorie dans la salle. Le morceau est en effet extrait de « Glitter », son album maudit, et c'est la première fois qu'elle l'intègre à l'une de ses tournées. J'adore. La séquence se termine sur « Heartbreaker », classique parmi les classiques. Je trouve qu'il aurait mérité une meilleure place dans le concert – parce que finalement, il se retrouve un peu noyé au milieu de tous les autres titres. Mariah rejoint de nouveau les coulisses, alors que la scène se transforme en fête foraine géante. Trey Lorenz prend la parole pour présenter les musiciens pendant que la troupe joue l'instrumental de « Fantasy ».
Quand elle revient, elle est habillée d'une nouvelle robe de soirée. Elle s'accorde quelques minutes pour rendre hommage à Prince, décédé quelques heures plus tôt. Et plutôt que de lui offrir une minute de silence, elle lui dédicace « One Sweet Day » accompagné de ses choristes pour une version particulièrement touchante de la chanson. Nouvel hommage ensuite, et pas des moindres puisqu'il s'agit de « When You Believe », qu'elle dédie à Whitney Houston, et qu'elle interprète en duo virtuel avec elle. C'est sans mentir l'un des plus beaux moments de la soirée. L'émotion est palpable et je crois que tout le monde est heureux d'entendre cette magnifique chanson en live. La performance vocale de Mariah est incroyable. Sur l'écran, on redécouvre les images du clip et le public reprend en chœur les paroles avec elles deux. Je vous laisse revivre ce moment à grâce à la vidéo à la fin de l'article.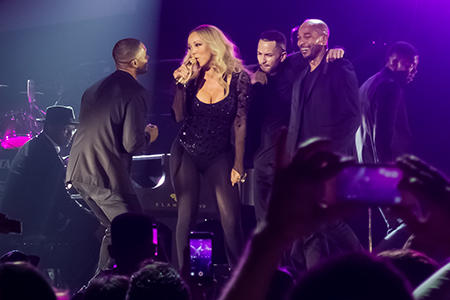 La scène se pare d'un voile étoilé pour « Hero ». Vocalement, elle est bluffante. Ça semble être l'un des titres les plus plébiscités de la soirée. Arrive ensuite « We Belong Together », le morceau qui lui a permis de retrouver ses lettres de noblesse ! Ce n'est pas mon préféré, mais j'imaginais mal le concert sans lui. Elle quitte la scène une nouvelle fois en hurlant un « Merci beaucoup » à l'adresse du public. En attendant le rappel, les musiciens nous offrent un intermède musical reprenant le thème de « We Belong Together ». Je sais qu'on arrive vers la fin du spectacle, et je suis assez surpris de voir les danseurs revenir pour nous proposer un interlude chorégraphié, super kitsch, avec des voilages, de la danse contemporaine, etc. On se demande un peu ce que ça vient foutre là.
Pour le rappel, Mariah nous offre « Without You » vêtue d'une robe couleur chair qui lui sied à merveille. La chanson est un choix un peu particulier pour clôturer un spectacle comme celui-ci, mais je dois reconnaître que l'interprétation démonte vraiment tout. Elle s'approche pour saluer la foule, et remercier le public en interprétant un extrait de « Butterfly » avant de quitter définitivement la scène.
Que vous dire en conclusion si ce n'est que j'ai passé une soirée merveilleuse ❤ J'attendais ce concert avec tellement d'impatience – elle a comblé toutes mes attentes ! Cette femme est PARFAITE et je l'aime encore plus aujourd'hui qu'avant de la voir sur scène. Concernant le choix des morceaux interprétés, je m'attendais une tournée best of et je n'ai pas été déçu une seconde : on a les tubes, on a des surprises (« When You Believe » putain !), que demander de plus ? Alors effectivement, j'aurais aimé des titres comme « Through the Rain » ou « Make it Happen », mais je savais très bien que je n'aurais pas tout ce que je voulais. Le spectacle est un peu court, la soirée a duré 1 h 25 – interludes compris, j'avoue que j'aurais apprécié de la voir un peu plus. Concernant la mise en scène, j'ai trouvé ça bien pour du Mariah Carey. Ceux qui la suivent le savent : ces dernières tournées n'ont pas brillé par leur scénographie. Alors effectivement, on peut dire que c'est kitsch, que ça scintille un peu trop, mais est-ce que ce n'est pas ce qu'on espère d'un concert de Mariah Carey ?! Moi en tout cas j'ai été ravi ! Les costumes étaient beaux, j'ai trouvé que ses tenues lui allaient vraiment très bien. Elle était superbe ❤
Concernant sa prestation, vocalement c'était génial, je m'attendais à ce qu'il y est beaucoup plus de play-back, et finalement c'est très épars, et ce n'est jamais sur les chansons en intégralité. Je l'ai trouvée très en forme et elle m'a renvoyé l'image de quelqu'un de vraiment sympa. Elle a l'air de prendre du plaisir sur scène, elle est épanouie. Et le public le lui rend bien ! J'ai rarement vu une telle ambiance ! Toute la salle debout du début à la fin du spectacle. Simplement incroyable. J'ai plus qu'adoré ce concert et je suis déjà très impatient de la revoir. J'espère qu'elle n'attendra pas de nouveau 13 ans pour revenir en France.
On termine avec les photos et les vidéos de la soirée, comme d'habitude n'hésitez pas à laisser vos commentaires ici ou sur les réseaux sociaux – Facebook, Twitter et Instagram – je serai ravi d'y répondre 🙂
Setlist : Fantasy / Emotions / My All / Always Be My Baby / I'll Be There / Touch My Body / I Know What You Want / Obsessed / It's Like That / Shake It Off / Loverboy / Heartbreaker / One Sweet Day / When You Believe / Hero / We Belong Together / Without You / Butterfly
Également disponible en vidéo sur YouTube : Hero – My All – When You Believe – It's Like That – Prince's Tribute
Mariah Carey : The Sweet Sweet Fantasy Tour – AccorHotels Arena, Paris (2016)