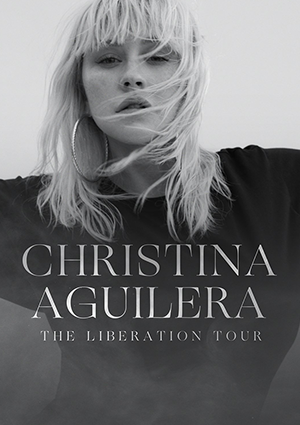 4 Octobre 2018 – Christina Aguilera : The Liberation Tour – Radio City Music Hall, New York
Christina Aguilera vient de donner le coup d'envoi de sa nouvelle tournée « The Liberation Tour », sa première en 10 ans. J'ai eu l'occasion de la voir en showcase lors du Today Show pour la promo de l'album en juin dernier, mais jamais en concert… Pourtant, je suis fan depuis la grande époque ! Je suis incapable de vous dire combien de fois je me suis déhanché sur « Dirrty » quand j'étais au lycée 😅. Comme pour Shania Twain et Cher, il a fallu traverser l'Atlantique pour réaliser ce rêve d'ado !
Toutes places sont numérotées, j'arrive donc au dernier moment. J'ai une vue du tonnerre, je suis vraiment content ! C'est un rappeur qui assure la première partie. Je comprends au moment où le mec entame « Ms. Jackson » qu'il s'agit de… BIG BOI du groupe OUTKAST ! J'étais totalement fan de « Hey Ya ! » plus jeune, mais malheureusement pour moi : le morceau n'est pas au programme de la soirée ! Après la presta, les rideaux qui cachent la scène descendent complètement et projettent l'image d'un couloir d'hôtel en noir & blanc. Un compte à rebours apparaît quelques minutes plus tard avec une horloge qui remonte le temps… 5, 4, 3, 2, 1… ⏰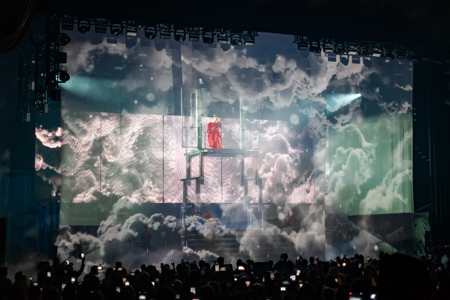 Les lumières de la salle s'éteignent et l'introduction débute. On y voit des images en noir et blanc de Christina mêlées à celles d'un balancier d'horloge, marquant la cadence de son tic-tac. Une seconde vidéo démarre. On suit maintenant la chanteuse et l'enfant qu'elle a été, dans une sorte de maison de campagne. La séquence est vraiment belle. On sent qu'il y a eu du travail pour donner une identité au spectacle dès l'ouverture.
Alors que la voix de Michael Jackson s'élève dans la salle sur les premières notes de « Maria », une première danseuse apparaît… Elle sème des roses sur son chemin. Elle semble soudain effrayée et fuit au milieu du public. Au même moment, Christina se montre enfin, perchée sur une plate-forme à quelques mètres du sol. On découvre le décor par transparence à travers les tentures. Il est composé d'un escalier et d'un écran géant.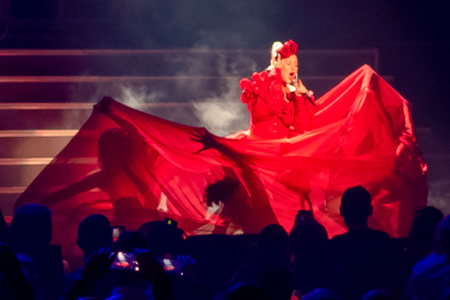 Les voiles qui cachent la scène depuis le début se transforment en ciel nuageux, tout comme l'écran, lui aussi ayant pris un aspect menaçant. La chanteuse se tient dans l'encadrure d'une fenêtre et la plate-forme sur laquelle elle se trouve la ramène lentement vers le sol. Christina porte une robe en mousseline rouge. Des boutons de rose semblent avoir été cousus en guise d'épaulettes. Ses cheveux sont coiffés en chignon et couvert d'une couronne de fleurs. L'orage éclate et les éclairs s'intensifient alors que Christina livre une prestation sans faute sur le titre qui sert également d'introduction à l'album. Autour d'elle évoluent 6 danseurs : 4 filles et 2 garçons. Il se passe beaucoup de choses sur scène et j'ai du mal à vous retranscrire exactement tout ce que je vois, mais je trouve qu'il y a quelque chose de très poétique qui se dégage de ce premier tableau.
L'atmosphère se teinte de rouge et les 6 danseurs, qui portent maintenant de larges kimonos, viennent dissimuler Christina, afin de lui permettre de se changer pour la prochaine chanson : « Genie In A Bottle ». Blottie dans ce qui ressemble à une énorme couette aux motifs japonais, elle se retrouve projetée dans une forêt obscure. Elle doit crever de chaud sous son costume 😆. L'ambiance n'est pas sans me rappeler le medley « Baby One More Time / Oops ! I Did It Again » de Britney Spears lors du « Piece Of Me Tour », sauf qu'en termes de créativité : la production de Xtina dépasse largement celle de Britney. Il y a peut-être moins de budgets, mais on sent qu'ils ont vraiment essayé de faire quelque chose avec les moyens à leur disposition. Je suis d'ores et déjà conquis.
Après un premier interlude intitulé « The Queen Is Back » montrant les images d'une Christina couronnée, le noir se fait dans la salle et on entend alors la voix de Redman prononcer ces mots que je connais par cœur et que j'attendais avec impatience : « Dirty… Filthy… Nasty… Too dirty to clean my act up… If you ain't dirty, you ain't here to partyyy 📢 ». Assise sur un trône, Christina apparaît entourée de ses danseuses, et vêtue d'une combinaison rouge et noire qui n'est pas sans rappeler celle qu'elle portait il y a 16 ans dans le clip de « Dirrty ». Évidemment, elle n'a plus le même tour de taille qu'à l'époque, on est à la limite du mauvais goût. Perso, j'adore 😍.
C'est la première chanson sur laquelle l'ambiance décolle vraiment ! Je pense que je n'étais pas le seul à l'attendre avec autant d'impatience. Les arrangements live sont géniaux (et c'est le cas sur tous les titres depuis le début du concert d'ailleurs) et la voix est parfaitement maîtrisée. Ce qui me surprend le plus, c'est qu'elle ne hurle pas ! C'est quand même incroyable qu'elle puisse nous offrir de si bonnes prestations, après toutes ces années passées à couiner. Elle s'amuse vraiment et ça se voit d'autant plus sur un titre plus rock comme « Sick Of Sittin » », car mis à part quelques geysers de fumée : la scéno est beaucoup moins imposante. Elle multiplie les hairflips, alors qu'elle n'a pas le moindre cheveu à faire tournoyer 😂.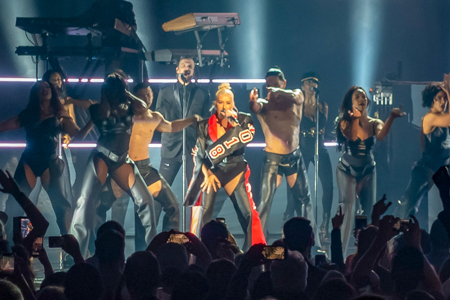 Xtina prend la parole pour nous dire à quel point elle est heureuse d'être de retour. Elle nous remercie un million de fois et nous rassure sur le fait que le show ne fait que commencer… Elle interprète de courts extraits de « What A Girl Wants » et « Come On Over Baby (All I Want Is You) » avant de nous expliquer que son fils, qui était dans les coulisses quelques minutes auparavant, a demandé à rentrer à la maison pour jouer à Fortnite 😂. Elle enchaîne sur « Keep On Singin' My Song » et « Can't Hold Us Down », que vous aurez l'occasion découvrir en vidéo à la fin de cet article. Les spectateurs, qui ne se sont pas assis depuis le début du concert, s'en donnent à cœur joie. Au terme de la chanson, Christina nous laisse en compagnie de ses danseuses et d'une nouvelle vidéo.
Pendant l'interlude, les techniciens installent une longue table dorée autour de laquelle Christina et ses partenaires se retrouvent dès l'introduction de « Deserve ». Elle est vêtue d'une robe blanche et porte une couronne. C'est l'une de mes chansons favorites de l'album et je passe vraiment un bon moment. L'atmosphère immaculée laisse place à l'énergie débordante de « Accelerate ». L'écran renvoie des aplats de couleurs rouge et orange. Les danseuses se déchaînent et déversent des tonnes de paillettes dorées sur Christina. Je regrette qu'il n'y ait pas plus de titres comme celui-ci sur l'album, car c'est vraiment un super morceau. Elle profite de l'occasion pour présenter les artistes qui l'accompagnent sur scène sur un remix de la chanson ! L'ambiance est super chaude 🔥.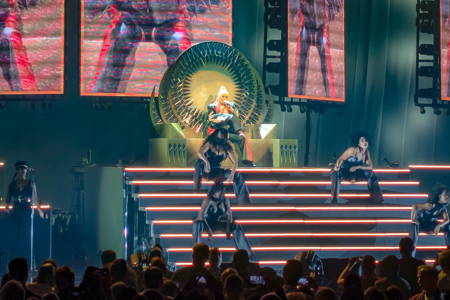 L'orgie continue sur « Elastic Love ». Le titre fait partie d'un medley contenant « Woohoo » et « Bionic », deux morceaux du disque du même nom (son meilleur à mes yeux et surtout l'un des plus grands albums pop des 10 dernières années). J'adore les arrangements des 3 chansons et je regrette encore plus l'annulation du « Bionic Tour » en 2010. L'interlude qui suit est un dessin animé en noir et blanc. C'est une ouverture de choix à la séquence d'effeuillage que nous offre Christina. Elle apparaît en haut des marches sur une citation de Katharine Hepburn : « If you follow all the rules you miss all the fun… ».
La salle est baignée d'une atmosphère tamisée. En body noir et peignoir blanc, la pop star se déchaîne sur ce qui s'avère être l'intro de « Lady Marmalade ». Christina nous livre l'une des meilleures performances de la soirée et… elle n'est pas seule ! Comme la veille, la plantureuse Lil » Kim la rejoint sur scène pour un duo enflammé. Et le mot est faible ! J'ai adoré, leur show était dingue ❤.
Il m'aurait fallu quelques minutes supplémentaires pour m'en remettre, mais la soirée continue de plus belle. Après un nouvel interlude, nous voici dans une tout autre ambiance. Christina nous prouve une fois de plus sa puissance vocale sur l'intro de « Ain't No Other Man ». Entre temps, elle a enfilé un long manteau rouge par-dessus son body. Je pense que c'est l'un des morceaux sur lequel elle se lâche le plus depuis le début de la soirée. L'écran, qui est en fait composé de 5 grands panneaux, se retourne pour laisser place à un mur de LED : les jeux de lumière sont magnifiques. Nouvel interlude vidéo au son de « Wonderland » pendant lequel Christina s'enivre en buvant ses larmes.
Par transparence à travers les rideaux, on devine que la chanteuse s'est installée sur les marches au centre de la scène. Une fois de plus, elle n'est pas seule. Elle est accompagnée au piano par Ian Axel du groupe A Great Big World pour « Say Something ». Leur image est projetée en gros plan sur les tentures suspendues devant nos yeux. Pour avoir regardé ses prestations en solo sur les précédentes dates de la tournée, je dois reconnaître qu'on a carrément gagné au change. Leurs voix se marient à la perfection, leur échange est superbe ❤.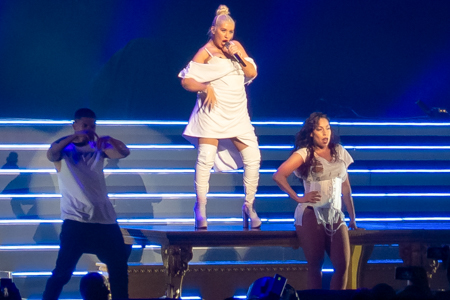 Un couple de danseurs arrive sur scène. Ils semblent se trouver dans un appartement. On voit l'homme devant la télé en train de boire une bière et la femme à ses côtés, en nuisette. Leur échange dérape et pendant qu'ils se battent, Christina se lance dans une reprise de James Brown : « It's A Man's Man's Man's World ». La performance vocale est remarquable. Je suis vraiment surpris par la qualité de son interprétation, car tout est mesuré, elle ne hurle pas au hasard comme elle aurait pu le faire il y a quelques années. Bravo 👏.
Le morceau suivant démarre sans transition. Il s'agit du très attendu « Fighter ». Je pense que le titre méritait mieux que cette place bâtarde dans la setlist. Après les ballades et avant un autre interlude, il tombe un peu comme un cheveu sur la soupe. Des geysers crachent de la fumée de toute part et le mur de lumière scintille comme jamais. Mais c'est déjà l'heure d'une nouvelle vidéo : on retrouve la petite fille du départ qui mêle sa voix à celle de l'adulte… Les deux nous racontent les rêves qui leur restent à réaliser. Le rideau s'ouvre sur « Fall In Line ». Christina est accompagnée de ses danseuses et porte une robe argentée, munie d'énormes épaulettes. La tenue est particulièrement imposante. Sur l'écran, on peut observer ce qui ressemble à des explosions de poudre rouge.
Elle se sépare d'une partie de sa robe. Je sens que le public autour de moi décroche et mon impression se confirme sur la chanson suivante : « Twice ». Il faut dire que les spectateurs américains enquillent les verres de bière, champagne et cocktails depuis de début du concert. Après 1 h 45 de show, il ne faut pas s'étonner que certains ne soient plus en état 😒. Christina reprend la parole pour nous remercier de nouveau. Elle semble sincère et franchement, je ne l'imaginais pas du tout comme ça. Elle se change une nouvelle fois pour nous proposer « Beautiful » que vous pourrez découvrir en vidéo quelques lignes pour bas. Elle laisse le public chanter certaines parties du morceau avec elle. C'est un beau moment même si ce n'est clairement pas ma ballade préférée de son répertoire. Après un court rappel, elle remonte sur scène habillée en mariée (ou en tout cas, quelque chose de ressemblant) pour « Unless It's With You ». La tenue n'est pas très heureuse. J'aurais aimé qu'elle termine le show sur quelque chose de moins solennel.
Elle invite un couple de spectateurs à la rejoindre sur scène, car depuis le début de la tournée, elle propose à certaines personnes du public de déclarer leur flamme à l'être aimé pendant le show. Ça se transforme généralement en demande en mariage et c'est exactement ce que nous allons vivre ce soir. Le couple semble plutôt à l'aise et c'est l'homme qui parle. C'est un peu laborieux, j'ai l'impression qu'il veut faire durer le suspense… Heureusement, sa fiancée dit rapidement oui et Xtina réussit à les dégager en enchaînant sur le dernier titre de la soirée : « Let There Be Love ». S'il y a bien un morceau sur lequel je n'aurais pas parié, c'est bien celui-là ! Elle invite Lady Bunny, une célèbre drag-queen de la scène new-yorkaise à venir secouer sa wig avec elle sur la chanson ! À la fin du titre, elle s'enfuit un peu comme une voleuse en laissant simplement Lady Bunny meubler comme elle peut. La vidéo est disponible sur YouTube pour ceux que ça intéresse ! L'idée de conclure sur un morceau aussi festif est super sympa, mais je trouve qu'il manque quelque chose pour que ce soit vraiment mémorable (confettis, remix, etc.). Il y aura peut-être des changements dans la suite de la tournée…
Malgré cette petite baisse de régime sur la fin du show, ce que je peux vous dire, c'est qu'ils ont clairement mis le paquet pour son retour sur scène. Le concert est vraiment génial ! Toutes les époques sont représentées dans la setlist, et rien ne fait tache. Il y a quelques remix, mais dans l'ensemble les arrangements sont assez fidèles aux versions originales. J'ai adoré « Maria », « Dirrty », « Accelerate »,  « Lady Marmalade » (meilleur moment du show) et le medley « Bionic ». Je regrette vraiment qu'il n'y ait pas eu de tournée avec cet album, car c'était énorme en live 🤩.
Côté mis en scène, il y a eu un sacré boulot ! C'est parfois un peu « trop », mais dans l'ensemble, les numéros sont de bonne facture. On sent qu'il n'y a pas beaucoup de fric, mais qu'ils n'ont pas voulu proposer quelque chose de cheap. Par contre, les costumes sont vraiment too much 🙄. On est à la limite du mauvais goût du début à la fin du concert, mais en fait… j'ai totalement adhéré à l'idée. Elle assume ses formes quoi, et plutôt que de porter des tenues qui pourraient l'amincir : elle est en mode épaulettes, bodys, robes bouffantes… Mention spéciale à l'ensemble en cuire de la partie « Dirrty », qui reprend le concept du clip, mais en version XXL.
Parlons maintenant des performances vocales ! C'est vraiment bon : elle ne hurle pas et surtout, elle donne le meilleur tout en s'amusant sur scène : que demandez de plus ? Elle est souriante, elle discute assez souvent avec le public. À ce niveau, rien à dire, c'est franchement top ! On a eu quelques invités : le mec d'A Great Big World pour « Say Something », Lady Bunny sur « Let There Be Love » et surtout la grosse Lil » Kim sur « Lady Marmalade » ❤❤❤.
Le seul et unique bémol : c'est le public. C'était épuisant… Des allers-retours incessants au bar, des gens qui discutent en essayant de couvrir la musique… Sur ma rangée, j'ai même vu une meuf complètement déchirée en train de baiser son fauteuil sur « Beautiful ». Je ne m'explique pas cette incapacité qu'ils ont à ne pas pouvoir rester en place et profiter du spectacle. Quand on connait le prix des billets ici, c'est un comble…
Bref, vous l'avez compris : j'ai adoré et je croise les doigts pour que la tournée vienne en Europe ! On se quitte avec les photos et les vidéos de la soirée, n'hésitez pas à laisser un commentaire et à découvrir mes autres chroniques de concert ici ou sur ou sur les réseaux sociaux, Facebook, Twitter et Instagram. Prochaine étape : Justin Timberlake 😍.
Setlist : Maria / Genie In A Bottle / Dirrty / Sick Of Sittin' / What A Girl Wants / Come On Over Baby (All I Want Is You) / Keep On Singin' My Song / Can't Hold Us Down / Deserve / Accelerate / Elastic Love / Woohoo / Bionic / Lady Marmalade / Ain't No Other Man / Say Something / It's A Man's Man's Man's World / Fighter / Fall In Line / Twice / Beautiful / Unless It's With You / Let There Be Love
Également disponible en vidéo sur YouTube : Can't Hold Us Down – Lady Marmalade (feat. Lil' Kim) – Beautiful – Let There Be Love (feat. Lady Bunny)
Christina Aguilera : The Liberation Tour – Radio City Music Hall, New York (2018)