11 Août 2018 – Cher : Classic Cher – The Theater at MGM National Harbor, Washington
Depuis une dizaine d'années, Cher donne de nombreux concerts aux États-Unis, notamment à Las Vegas, où elle propose depuis l'année dernière un show intitulé « Classic Cher ». C'est un spectacle dans lequel elle revisite les titres les plus iconiques de sa carrière. Personnellement, je l'ai découverte en 1998 avec « Believe » et comme elle se fait rare en Europe, je n'avais jamais eu la chance de la voir sur scène… jusqu'à aujourd'hui 🤩.
Le MGM National Harbor est situé à la périphérie de Washington. C'est une petite salle qui a une capacité d'environ 3 000 personnes. Pour l'instant, le rideau est fermé et les spectateurs se chauffent en mode disco : Village People, Boney M, Chic, tout y passe. La moyenne d'âge est de 50-60 ans… ce qui n'est pas étonnant vu que la dame va sur ses 73 ans ! À 20 h 30, les lumières s'éteignent…
Le show s'ouvre sur un montage vidéo passant en revue la carrière hors-norme de Cher : extraits TV, lives, clips, etc. Rien n'est laissé de côté ! Le rideau se lève sur « Woman's World » et on découvre la chanteuse perchée sur une plate-forme dorée. Le décor semble s'inspirer du Moyen-Orient. Sur scène, on devine la reproduction d'un palais oriental. La structure est surmontée d'un écran qui projette des vidéos et des animations en 3D. C'est canon !
Une fois en bas, Cher, qui porte une toge argentée et une énorme perruque orange, est rejointe par ses 8 danseurs : 4 filles et 4 garçons. Eux sont habillés en gladiateurs. Munis de boucliers, ils accompagnent la chanteuse qui esquisse quelques pas sur « Strong Enough ». Elle n'est pas aussi énergique que dans mon souvenir, mais la bonne nouvelle c'est qu'après un premier titre en play-back, elle chante enfin en live et… c'est franchement bon !
Elle nous souhaite la bienvenue et passe ensuite plus de 10 minutes à nous raconter quelques anecdotes autour de sa carrière : ses premiers shows à Vegas avec Sonny, ses difficultés à se faire une place dans le monde du cinéma, pour finir sur les raisons qui l'ont poussée à traiter David Letterman de connard en plein direct 😂. Le monologue est un peu décousu, mais elle se raconte avec beaucoup d'humour. Elle rejoint les coulisses sur un clin d'œil appuyé à son âge – « What is your Granny doing tonight ? » – et nous laisse prendre la direction de l'Inde avec « Gayatri Mantra » en guise d'interlude.
Les danseurs multiplient les figures acrobatiques en costumes traditionnels alors qu'un éléphant mécanique apparaît derrière eux. C'est une séquence que je connais bien pour l'avoir vue des centaines de fois dans le DVD de sa tournée d'adieu « The Farewell Tour ». Comme je vous l'ai dit au début : le show reprend les performances scéniques les plus iconiques de sa carrière et je suis d'accord pour dire que celle-ci en fait partie ! Les portes du palais s'ouvrent et l'éléphant avance doucement, chevauché par une Cher habillée avec un sari rose et bleu. Elle interprète « All Or Nothing » en play-back. La chorégraphie réjouit les spectateurs et me rappelle mes premiers souvenirs d'elle en 1998. C'est un bon moment 👍.
L'écran projette maintenant des vidéos d'archives de ses duos avec Sonny Bono, « Little Man » et « All I Ever Need Is You ». Cher rate son entrée sur « The Beat Goes On » et prend le morceau en cours de route alors que les danseurs ont déjà entamé leur routine. Sa nouvelle tenue est inspirée par les sixties : elle porte un top rose fluo avec un gilet en fourrure, ainsi qu'un pantalon à pattes d'éléphant. Elle a opté pour une longue perruque noire, assez proche de sa coupe de l'époque. Ce n'est pas la période que je préfère chez elle, mais je savais qu'on n'y échapperait pas ! Elle marque une pause pour expliquer qu'elle a mis du temps avant d'ajouter « I Got You Babe » à ses shows, mais que ça fait maintenant 500 fois qu'elle le fait, et qu'on peut donc juste zapper le speech habituel 😅. Elle interprète le titre en duo virtuel avec Sonny qui apparaît en noir et blanc sur un écran qui descend progressivement jusqu'à la scène. C'est peut-être la séquence qui a inspiré Sylvie Vartan pour son hommage Johnny Hallyday cette année ❤.
Le panneau remonte et les danseurs se révèlent en ombre chinoise sur la mezzanine. On a du mal à distinguer leurs accoutrements jusqu'à ce qu'ils arrivent sur scène… Ils sont déguisés en saltimbanques : c'est l'heure de la séquence « cirque » 🤹. Cher fait son apparition entre l'homme le plus fort du monde et un échassier. Elle joue le rôle d'une diseuse de bonne aventure et interprète « Gypsys, Tramps & Thieves » et « Dark Lady ». Le tableau est fun et coloré : j'adore ces 2 chansons 😍. La voix est top, les arrangements sont proches des versions originales : il n'y a rien à dire. Pour l'anecdote : la séquence est reprise de sa dernière tournée « Dressed to Kill Tour », à une différence près : les costumes. Cher est habillée depuis toujours par Bob Mackie, un immense couturier de la pop culture sauf… sur cette fameuse tournée. Il est de retour sur ce spectacle et a repris toutes les tenues du précédent couturier pour les refaire à son image. Les différences sont subtiles, mais vous pouvez vérifier 😉.
L'interlude suivant nous emmène dans le Far West américain à la rencontre des Indiens des Plaines : si l'on suit la logique du show, Cher devrait faire son retour avec sa gigantesque coiffe indienne sur « Half-Breed ». Le rideau s'ouvre effectivement sur la chanson attendue. Cher porte un pagne brillant, mais… la perruque est restée à Las Vegas 🙁. Vous n'allez pas m'dire qu'il n'y avait pas assez de place dans le camion 😒.
Cher a rejoint les coulisses depuis longtemps pour la séquence suivante et l'équipe artistique n'a rien trouvé de mieux que de nous diffuser le clip de « You Haven't Seen The Last Of Me » pour nous faire patienter… C'est une autre déception, car sur la tournée précédente, elle l'interprétait en live. À la place, les danseurs nous proposent un show de cabaret. Cher fait son entrée sur « Welcome To Burlesque » pour laquelle elle reprend le rôle de Tess. La séquence est vraiment cool et c'est l'une de celles que j'ai préférées. Vous pouvez la retrouver en vidéo à la fin de l'article !
Le schéma « interlude vidéo -> intermède chorégraphié -> chanson » se reproduit encore. Le show commence à s'embourber… Je comprends qu'il lui faille du temps pour se changer, mais pourquoi ne pas interpréter plus de chansons avec le même costume ? La version studio de « Lie To Me » est diffusée dans la salle alors qu'un duo d'acrobates propose un numéro de voltige aérienne. Toute la troupe revient habillée de parures psychédéliques sur un instrumental funky inspiré de « Take Me Home ».
Cher entre en scène lorsque le morceau démarre. Elle porte une perruque turquoise brillante avec une robe à paillettes assortie. C'est le même costume que lors de sa première performance en 1979, seule la couleur est différente ! Je ne suis pas fan de la chanson, mais j'aurais fait un effort si le numéro avait inclus le strip-tease de la troupe comme lors du « Farewell Tour ». Malheureusement, il faut se contenter d'un mauvais enchaînement sur un best of de ses meilleures apparitions au cinéma : « Moonstruck », « Mask », « The Witches of Eastwick », etc. Jusqu'à son discours de remerciement aux Oscars en 1988.
L'orchestre commence à jouer « After All », chanson phare de la bande originale du film « Chances Are » (« Le ciel s'est trompé »), interprété à l'origine en duo avec Peter Cetera. Rien de tout ça ne vous parle ? Ça tombe bien moi non plus 😅. Un nuage de fumée recouvre la scène et Cher fait son apparition sur une gondole. Ha non, pardon ! Elle est restée à Vegas aussi 😂. Cher fait donc son apparition à pied, et porte une sublime robe dorée, surmontée d'une coiffe auréolée de la même couleur. C'est sans doute la tenue que j'ai préférée de tout le spectacle : Cher est vraiment magnifique ❤.
Malheureusement, pas le temps d'en profiter : elle quitte déjà la scène et nous laisse avec une nouvelle vidéo dans laquelle elle nous présente « Chelvis », son alter ego masculin ou une mauvaise caricature d'Elvis Presley, à vous de choisir 😏. On l'entend interpréter un cours extrait de « Heartbreak Hotel » avant de la voir faire son retour sur « Walking In Memphis ». Sur l'écran, les rues de Memphis défilent, et Cher a troqué ses tenues extravagantes pour un jean et une chemise bien plus confortable. Elle a maintenant des cheveux blonds légèrement ondulés. L'ambiance est vraiment bonne dans la salle, et je suis agréablement surpris par voix. Je pensais qu'il y aurait beaucoup de play-back et honnêtement, le chant rattrape complètement le déroulement un peu décousu du spectacle.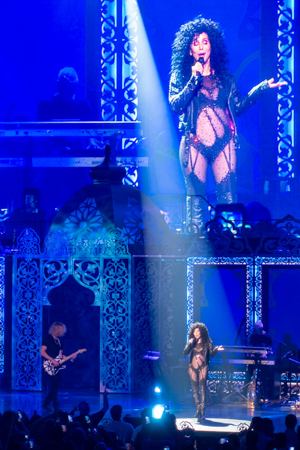 La chance est de notre côté, Cher reste sur scène pour la très attendue « Shoop Shoop Song (It's In His Kiss) ». Rejointe par ses 2 choristes, elle se retrouve projetée dans un diner de campagne. Le plaisir est de courte durée, car la chanson fait moins de 2 minutes. Son guitariste vient occuper l'espace sur une version hard rock de « Bang Bang (My Baby Shot Me Down) » pendant qu'elle se change pour le prochain tableau. Maintenant vêtue d'un blouson de cuir noir cachant un porte-jarretelles sexy en diable, Cher et sa perruque frisée, font des éclats sur « I Found Someone ». S'il y a une séquence culte dans la carrière de Cher, c'est celle-là !
Le public est en délire, mais vous n'avez encore rien vu ! Lorsque commence « If I Could Turn Back Time », la salle démarre au quart de tour ! Jamais je n'aurais cru voir ça de mes propres yeux 🤩. Après une outro rock 'n' roll par le band, le rideau se ferme quelques minutes avant le rappel. Il manque un titre… c'est bien évidemment : « Believe ». L'ambiance est club, il y a des lasers partout et les danseurs nous offrent une chorégraphie énergique avant l'arrivée de la queen. C'est une Cher blonde habillée d'une robe semi-transparente qui entre en scène pour le dernier titre de la soirée. Il ne nous faut que quelques secondes pour rejoindre le parterre et profiter de ce final comme il se doit ! En toute honnêteté, la version live est carrément bof, mais je rêvais de ce moment depuis des années alors j'ai mis de côté ma déception pour chanter à tue-tête avec des milliers de fans ! Cher salue la foule et rejoint les coulisses alors que les danseurs continuent à remuer en attendant que le rideau se ferme.
J'ai réalisé l'un de mes rêves ce soir ! Cher faisait partie de ces artistes que j'espérais voir un jour sur scène et ça y est : c'est fait 🤗. J'ai beaucoup aimé le show : la setlist est un concentré de tubes (« Believe », « If I Could Turn Back Time », « I Got You Babe »), la mise en scène est extravagante et les costumes sont vraiment éblouissants. C'est tout ce qu'on peut attendre de Cher !
Le spectacle a quand même deux défauts majeurs : le premier est d'être constamment dans la redite, même si c'est le pitch de départ (« Classic Cher »). J'aurais aimé découvrir de nouvelles choses. Le second, c'est son rythme décousu qui finit par lasser. Malgré toute la tendresse qu'on peut avoir pour elle : les changements de costumes sont trop longs, le plus souvent il faut 2 interludes pour la voir réapparaître seulement pour 2 minutes. Mais laissons les points noirs de côté car depuis mon retour de Washington : je n'arrête pas de repenser au show, d'écouter ses titres et de me repasser ses prestations sur YouTube. Je pense que c'est le signe d'une soirée réussie, non ?
Elle publiera un album de reprises d'ABBA en septembre et partira en tournée en Australie dans la foulée. Croisons les doigts pour que le show passe par l'Europe ET par les États-Unis : ce sera l'occasion pour moi de retourner la voir ! On se retrouve en commentaire ou sur les réseaux sociaux Facebook, Twitter et Instagram, en attendant profitez des photos et des vidéos que j'ai ramenées avec moi !
Setlist : Woman's World / Strong Enough / All Or Nothing / The Beat Goes On / I Got You Babe  / Gypsys, Tramps & Thieves / Dark Lady / Half-Breed / Welcome To Burlesque / Take Me Home / After All / Walking In Memphis / The Shoop Shoop Song (It's in His Kiss) / I Found Someone / If I Could Turn Back Time / Believe
Également disponible en vidéo sur YouTube : Strong Enough – Welcome to Burlesque – If I Could Turn Back Time
Cher : Classic Cher – The Theater at MGM National Harbor, Washington (2018)