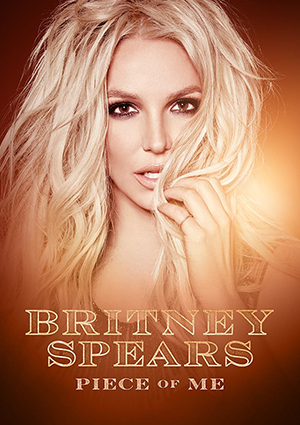 23 Juillet 2018 – Britney Spears : Piece Of Me – Radio City Music Hall, New York
Après avoir passé plus de 4 ans à Las Vegas, Britney Spears est de retour sur les routes avec son spectacle « Piece Of Me ». Vous savez que je l'adore malgré ses innombrables défauts. Ça fait plus de 20 ans que je la suis aujourd'hui et je l'ai toujours défendue bec et ongle, même quand elle tambourinait enfermée dans une caisse à l'époque de « Big Fat Bass » 😛. Vous n'avez pas pu oublier ça ? Malgré tout, j'essaie de rester objectif et je pense que ce compte rendu sera un peu différent des précédents. La bataille a été rude pour obtenir des places pour ce concert à New York, mais à force d'acharnement (et de centaines de dollars 💵), me voici en possession du précieux sésame. Même si j'ai eu la chance de voir le spectacle à Las Vegas en 2016, je suis ravi de la retrouver sur scène et de voir le show une 2e fois.
Il est 19h lors que j'arrive au Radio City Music Hall. Pour vous faire une idée de la salle, imaginez-vous un Grand Rex version maxi : c'en est la copie conforme. Une équipe distribue des bracelets PREROGATIVE qui portent l'odeur de son nouveau parfum. La salle se remplit doucement et à quelques minutes du show, la rumeur enfle : le décor serait de retour… Ce serait génial, car les images des premières dates de la tournée m'ont glacé le sang. La scène semblait vide et austère, bien loin de ce que j'avais eu l'occasion de voir il y a 2 ans. J'appréhende encore un peu pour les costumes, car elle n'a clairement pas été inspirée jusque-là, mais : chaque chose en son temps ! À 20h35, les lumières s'éteignent et le rideau s'ouvre.
Je pousse un énorme soupir de soulagement : le décor est complet ! Les tourelles avec les escaliers sont de retour et un grand écran tapisse le fond de la salle. Nous n'avons pas d'avancée de scène ici : les salles dans lesquelles elle joue aux États-Unis sont bien plus petites que les salles européennes. L'introduction est la même que pendant la résidence… Le rideau s'ouvre donc sur une scène enfumée et balayée par des rayons de lumière bleue. Alors que les 12 danseurs font leur entrée au pas militaire et habillés en treillis, une voix féminine récite un texte en français :
« La vitesse de la lumière qui dévoile le son résonne à l'oreille. Où est-ce ? De qui devons-nous avoir peur ? Les désespérés divulguent leurs secrets. Les vertueux tirent leurs épées. Miroirs brisés reçus parmi les seigneurs. Il y a plus que ce que l'on voit, que ce qui est vu. Le miracle sanglant sera rétabli par l'aveugle. »
L'excitation monte, tout le monde est aux aguets : où est-elle ? À quel endroit va-t-elle apparaître ? Tout à coup, la troupe forme une chaîne humaine qui pointe vers le sommet d'une des 2 tourelles : c'est là que Britney choisit d'apparaître au lancement de « Work Bitch ». Elle est belle comme tout ❤. Elle a les cheveux détachés et porte un joli ensemble incrusté de diamants. La tenue est gâchée par une ignoble cape verte, cousue dans ce qui ressemble aux rideaux de ma grand-mère 🤨. Heureusement, le manteau vire au bout de quelques secondes et Britney rejoint la scène principale. Elle exécute la chorégraphie avec peu de précision, ce qui est assez peu rassurant pour la suite. Elle n'arrête pas de jeter des coups d'œil dans les écrans de retransmission sur le côté ! Ce n'est pas le moment Britney… CONCENTRE-TOI STP 😬. Heureusement, l'ambiance est là et le public semble vraiment très excité !
À la seconde où la chanson se termine, elle décroche le chouchou qu'elle porte à son poignet pour s'attacher les cheveux avec une queue de cheval (la fameuse). « Womanizer » démarre et la nouvelle configuration du décor nous permet de mieux apprécier le travail sur les projections vidéos 👍. C'est une chanson que j'écoute assez peu souvent, mais je dois reconnaître que je suis absolument fan de cette version. Elle semble mettre un peu plus d'énergie dans la chorégraphie qu'elle ne l'a fait pour « Work Bitch », mais on est loin de la perfection. Elle nous souhaite la bienvenue : « What's up New York Ciiity !!! How are you guys doing ? Last time I was on this stage, I kissed a girl. Her name is Madonna ! ». Elle fait une référence surprenante au VMA's 2003 et au célèbre baiser qu'elle a échangé sur scène avec la reine de la pop. Pour redécouvrir cette séquence, c'est par ici : MTV Video Music Awards 2003. Le show se poursuit avec « Break The Ice » et « Piece of Me ». J'apprécie vraiment l'écran gigantesque en fond de la scène, ça donne vraiment une tout autre vision sur les backdrops !
L'enchaînement est légèrement différent du show original, c'est maintenant « Baby One More Time » qui ouvre le 2e acte. Les curieux pourront retrouver l'extrait vidéo à la fin de l'article. Si vous avez le courage d'aller au bout, vous remarquerez qu'elle préfère se rattacher les cheveux une énième fois plutôt que d'effectuer le break dance à la fin de la chanson. Elle porte maintenant une culotte et un soutien-gorge rouge trop petit pour elle : ses tétons dépassent alors qu'elle enchaîne sur « Oops ! I Did It Again ». Il est peut-être temps de faire quelque chose pour les costumes non 🤷‍♂️. Mis à part ça, les titres marchent du tonnerre : ça chante à tue-tête dans la salle !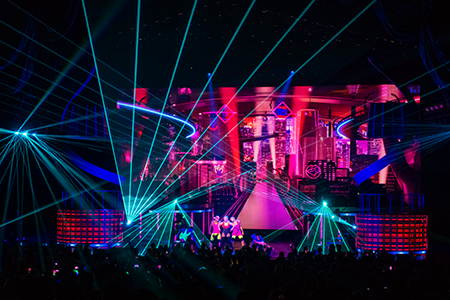 Elle disparaît en coulisses alors que l'interlude « If I'm Dancing » démarre. Le titre remplace « Radar » sur le patchwork de clips qui nous permet de revoir des extraits des plus belles vidéos de Britney.  J'adore « If I'm Dancing » ❤. C'est du pur Britney et je trouve qu'il colle beaucoup mieux à la séquence que « Radar ». Le nouvel acte s'ouvre sur « Me Against the Music » alors que les danseurs amènent quatre pans de murs abîmés qui rappellent le clip. La chorégraphie était hyper brouillonne en 2016, c'est encore pire ce soir. Et ce n'est pas mieux sur « Gimme More » qui depuis quelques jours profite d'un petit buzz. Sur l'une des dates de la tournée, un des spectateurs lui a crié « Who is it ? » avant le fameux « It's Britney, bitch ! » ce qui a provoqué une petite réaction de Britney (cliquez ici pour découvrir l'extrait). Du coup, c'est devenu récurant et les spectateurs ont refait la même à New York. Je ne suis pas du tout fan de ce numéro, mais les premières nouveautés arrivent alors je reprends espoir !
Britney a choisi d'ajouter « Clumsy », un titre random de son dernier album « Glory », à la setlist de la tournée. Honnêtement, le rendu est plutôt sympa. Vous pourrez vous faire une idée grâce à la vidéo à la fin de l'article. Et même si la voix est bizarrement mixée, les arrangements live en font un titre puissant et la chorégraphie de groupe renforce cette impression. J'ai franchement bien aimé ! En revanche, ce n'est pas la même pour « Change Your Mind (No Seas Cortes) » : qu'est-ce que c'est mou du genou 🥱. L'orchestration est vraiment moyenne et la chorégraphie est sans intérêt. Je vous laisse découvrir la version live afin que vous puissiez vous faire une idée :

« Change Your Mind (No Seas Cortes) » (Live) @ New York, 23/07/2018
Je passe vite à autre chose, car l'une des séquences que je préfère dans le spectacle commence. Je vous en avais parlé la dernière fois, et cette fois-ci je l'ai filmée pour en garder la trace, c'est « Scream & Shout » X « Boys ». La salle est balayée de lasers, on voit apparaître Will.I.Am sur l'écran et les danseurs nous offrent une chorée hyper rythmée avec des costumes fluorescents. Britney débarque avec un body rouge et noir dégueulasse sur « Boys ». Je décide d'en faire abstraction, car je suis vraiment fan de cette version ❤. Non, mais regardez-moi ce déluge de lasers ! C'est génial, non ? 🤩
Le concert se poursuit avec « Do You Wanna Come Over » qui est un morceau que j'apprécie aussi. À Las Vegas, c'était tout nouveau, l'album venait de sortir et le titre n'était pas vraiment connu du grand public du coup il n'y a pas d'ambiance. Je m'attendais à ce que ce soit mieux ce soir, mais ça n'a pas été le cas. Au niveau de la performance, ce n'est pas ça non plus. À la base, la chorégraphie est faite pour être effectuée avec une barre en hauteur à laquelle Britney et ses danseurs peuvent se surprendre. La barre est absente sur la tournée, mais toute la troupe continue de faire comme si de rien n'était… c'est juste ridicule 🙄. Ça leur coûtait quoi d'adapter la chorée ? C'est dommage, car la mise en scène avec les lasers et les projections est plutôt sympa : ça pourrait être un super numéro ! Arrive le moment du break dance Missy Elliot « Work It / Get Ur Freak On / WTF (Where They From) » : elle se tient en retrait en attendant que ça passe. #Mess.
L'ambiance change du tout au tout et « Get Naked » à la lourde tâche d'ouvrir la séquence suivante. Un des danseurs joue le mec sexy avec deux filles de la bande. En arrière-fond, on reconnaît « I'm A Slave 4 U » qui démarre. Accrochée à une barre de pôle dance, Britney revient sur scène habillée d'une tenue pailletée assez sexy. La chorégraphie est peut-être l'une des mieux exécutées de toute la soirée jusqu'au break… qui laisse la salle complètement abasourdie. Ils ont osé insérer un sample de « Walk It Talk It » de Migos (homophobe assumé 😒) sur lequel Britney tente une chorégraphie désespérée. Elle est en roue libre 😬. L'extrait est dispo sur mon compte Twitter pour ceux qui veulent se faire du mal : « I'm A Slave 4 U ». Le nouveau break est clairement raté… De l'intégration de la chanson de Migos à la chorégraphie : rien ne va.
Je passe rapidement sur « Make Me » qui est toujours sans intérêt pour arriver à « Freakshow ». Comme chaque soir, un spectateur est choisi pour être harnaché en mode SM et dompté par Britney. Ce soir, c'est un mec canon dont je ne comprends pas le prénom qui monte sur scène. Elle n'a pas l'air de comprendre non plus et comme elle s'en branle, elle ne lui fait pas répéter… La séquence est plutôt sympa, car il joue vraiment le jeu à fond mais elle n'est pas dans le mood et garde ses distances… La séquence se clôture sur « Do Somethin' » que j'avais adoré la dernière fois. L'atmosphère visuelle à la Gatsby est toujours aussi réussie, mais c'est un carton rouge pour la chorée : comme elle ne termine aucun de ses mouvements, le rendu est plutôt random. C'est dommage parce que c'est vraiment un chouette tableau 😊.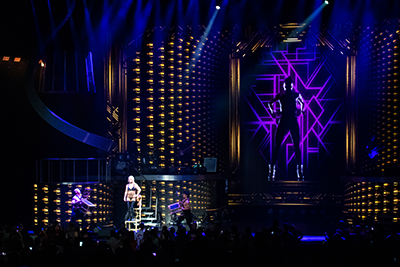 Pendant qu'elle change de costume, la troupe nous offre un show de saltimbanque avant le retour de la couine sur « Circus ». Elle porte maintenant une jolie veste queue-de-pie noire sertie de paillettes, qui rappelle l'univers du cirque, c'est sans doute la tenue la plus cohérente de toute la soirée. Elle s'en débarrasse rapidement pour se retrouver de nouveau en soutif/culotte. On a vraiment l'impression d'être dans un défilé de lingerie bas de gamme parfois 👎. Le tableau est très beau heureusement, ça compense ! À la fin de la chanson, ils la dissimulent derrière un paravent rouge pour qu'elle… enfile un chapeau 🤷‍♂️. Dans la salle résonne l'introduction de « If U Seek Amy ». Comme à Vegas, j'ai bien aimé la chanson. C'est sympa et il y a une bonne ambiance dans la salle, c'est un titre qui semble vraiment apprécié des fans ! Le concert se poursuit avec « Breathe on Me » qui perd un peu de sa superbe en mode tournée, mais qui reste l'un des meilleurs moments du show : la chorée est top, les arrangements sont géniaux, bravo 👏.
Récemment ajouté à la setlist de la résidence (je n'avais pas eu l'occasion de l'entendre à l'époque) : « Slumber Party ». Britney passe un peignoir rouge et reprend la chorégraphie du clip qui est diffusé sur l'écran. C'est l'une de mes chansons préférées de l'album, et franchement c'est un super moment en live 🤗. Les arrangements y sont pour beaucoup : le côté reggae ressort grâce aux musiciens et ça ajoute un vrai plus au morceau. Le groupe enchaîne directement sur « Touch of My Hand ». Ma mémoire me joue peut-être des tours, mais je ne l'ai pas vue effectuer le salto arrière qu'elle fait habituellement sur le titre. À la place, ça brasse et ça mouline et il ne se passe rien sur scène. Mauvaise idée de l'avoir gardée !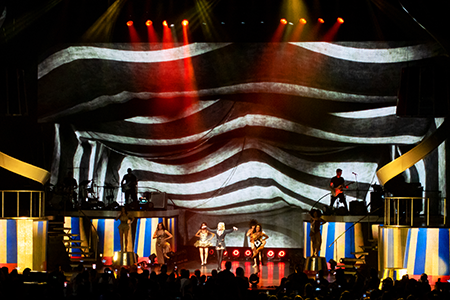 Des images d'orage sont ensuite diffusées sur l'écran et se transforment peu à peu en une forêt luxuriante. Sur scène, les danseurs effectuent une chorégraphie tribale alors que l'on continue de s'enfoncer dans la forêt. Britney revient sur scène avec un body rouge et entame « Toxic ». C'est le moment où, à Vegas, elle était perchée sur un arbre gigantesque… absent de cette tournée. La chorégraphie pour meubler n'est vraiment pas pro : elle se contente de tournoyer sur elle-même pendant 2 minutes 😕. Vous pourrez vous faire une idée avec la vidéo à la fin de l'article. Je suis impatient que la chanson démarre réellement, car l'ambiance promet d'être dingue ! Et je ne me trompe pas : dans le public c'est la folie ! Sur scène en revanche, Britney essaie d'enchaîner deux pas tout en s'attachant les cheveux : cette nouvelle manie est un vrai problème…
L'ambiance reste malgré tout au sommet grâce à « Stronger » et « (You Drive Me) Crazy ». Je m'époumone sur ces deux titres ! Elle en profite pour remercier ses musiciens et ses danseurs. Sur scène, c'est un déluge de couleurs et de lasers. Grosse grosse ambiance dans la salle et ce n'est pas fini ! J'avais gardé un souvenir exceptionnel de « Till the World Ends » à Vegas et le final ne m'a clairement pas déçu une fois encore ! J'ai littéralement ruiné les tympans de mes voisins en chantant faux du début à la fin de la chanson qui est remixé avec « Work Bitch ». La salle reprend en chœur le refrain, des confettis déferlent dans la salle, c'est génial ! Et là, mes amis… Alors que je termine ce compte rendu en matant la vidéo de « Till the World Ends » – que vous ne verrez jamais parce que j'ai vraiment trop honte – je viens de découvrir qu'elle nous a offert quelques secondes de LIVE. Non, non, vous ne rêvez pas ! Et comme je vous aime bien, je vous en fais profiter, allez-y, c'est cadeau : #YouBetterWork 😛. Le concert se termine sur le logo du show, mais Britney a disparu depuis bien longtemps.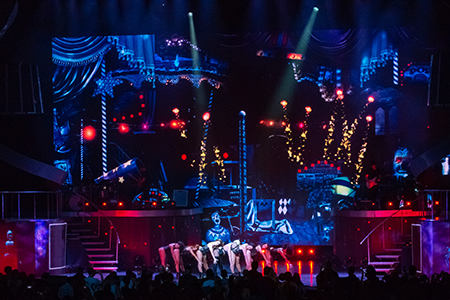 Ce qui est dingue avec Britney, c'est qu'elle a beau être mauvaise : on ressort toujours du concert avec des étoiles plein les yeux. Avant de passer aux critiques, je voudrais quand même vous dire que je me suis beaucoup amusé : j'ai crié, j'ai chanté et j'ai dansé. J'étais vraiment heureux de pouvoir partager ce moment-là avec des fans comme à la grande époque. Évidemment, je ne peux pas passer sous silence son attitude, car elle a une nouvelle fois été décevante : si on oublie (volontairement) le play-back, il reste : des chorégraphies approximatives, son insupportable manie de se rattacher les cheveux toutes les 10 secondes et surtout son manque d'engouement à proposer quelque chose de bien. Qu'elle ne soit pas motivée à Vegas devant un public qui n'est pas venu pour elle, soit. Mais qu'elle ne fasse pas l'effort de faire plaisir à ses fans en tournée, j'ai du mal à l'expliquer.
Les choses étant dites, concernant le spectacle en lui-même. La setlist est canon : tous les tubes y sont, c'est vraiment un voyage complet dans sa discographie, de ses premières chansons aux morceaux de « Glory » : tout y est. Les nouveautés 2018 n'apportent pas grand-chose. Il faut dire ce qu'on aurait préféré entendre « Overprotected » ou « Hold It Against Me » à la place de « Clumsy » et « Change Your Mind ». Musicalement, les arrangements et les remix sont de bonne facture : il n'y a pas de grosse catastrophe mise à part le nouveau break de « I'm Slave 4 U ». Ce qui me plaît, c'est que la musique sonne live malgré tout. La voix, en revanche, pas du tout. On pourrait avoir du préenregistré sur la prochaine tournée ?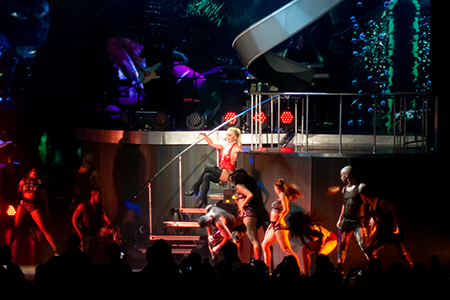 La mise en scène est canon : c'est le gros point fort du spectacle. C'est moins beau qu'à Vegas : il y a moins d'éléments, moins de jeux de lumière, mais la configuration permet de profiter un peu mieux des projections vidéos, ce qui finalement compense un peu les absences. Les costumes ne sont pas terribles du tout et encore je m'estime heureux d'avoir eu ce que j'ai eu. Car en comparaison à d'autres dates de la tournée, on ne s'en est pas trop mal sorti ! À quand un retour de vrais beaux costumes de scène ?
La communication avec le public = inexistante. Elle n'a même pas été vraiment souriante, franchement : je ne sais même pas que quoi vous dire à ce sujet. En revanche, les fans ont pu compter sur l'ambiance pour passer une bonne soirée : j'ai trouvé le public toppissime ! Tout le monde chantait, tout le monde dansait, il régnait vraiment une atmosphère du tonnerre dans la salle. C'était vraiment génial !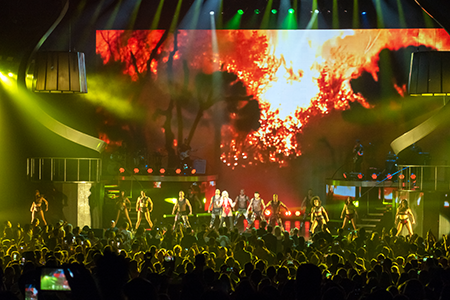 La suite maintenant ? Et bien, c'est sans doute une nouvelle résidence à Las Vegas en 2019. J'ai quand même quelques doutes sur le prochain spectacle, car je ne vois pas vraiment ce qu'elle peut faire de plus que ce qu'elle a fait avec « Piece Of Me ». OK, elle a retrouvé la forme grâce au spectacle, mais maintenant il faut passer à la vitesse supérieure. Et en la voyant ce soir à New York, pour la première fois, je me demande vraiment si elle en est capable…
Pour vous remémorer de meilleurs souvenirs, je vous invite à découvrir toutes les chroniques que j'ai consacrées à Britney depuis 2004 en cliquant juste ici : #BritneySpears. Et pour vos commentaires, c'est ici ou sur les réseaux sociaux, mais vous connaissez déjà la musique : Facebook, Twitter et Instagram 👈.
Setlist : Work Bitch / Womanizer / Break The Ice / Piece Of Me / Baby One More Time / Oops! I Did It Again / If I'm Dancing (Interlude) / Me Against The Music / Gimme More / Clumsy / Change Your Mind (No Seas Cortes) / Scream & Shout / Boys / Do You Wanna Come Over / Missy Elliot 'Dance Break' / Get Naked (I Got A Plan) (Interlude) / I'm A Slave 4 U / Make Me / Freakshow / Do Somethin' / Circus / If U Seek Amy / Breathe On Me / Slumber Party / Touch Of My Hand / Toxic / Stronger / (You Drive Me) Crazy / Till The World Ends
Également disponible en vidéo sur YouTube : Baby One More Time – Clumsy – Boys – Toxic
Bonus If I'm Dancing (Interlude)
Britney Spears : Piece Of Me – Radio City Music Hall, New York (2018)