14 Juillet 2018 – Shania Twain : Now Tour – Barclays Center, Brooklyn
Shania Twain est actuellement en tournée pour présenter son album « Now ». Je rêvais de la voir sur scène depuis des années et c'est maintenant chose faite 🤗. C'est le premier billet de concert que j'ai acheté pour New York. Évidemment, j'ai dû mettre la main au porte-monnaie. Mon ticket m'a coûté la modique somme de… 135 $. Ouais, une fortune. Sachant que pour ce prix, je me retrouvais, en plus, au fond de la salle. Quelques jours avant le spectacle, je m'aperçois que les billets de mon bloc sont bradés et maintenant vendus 30 $. Lorsque j'ai découvert l'écart de prix, mon sang n'a fait qu'un tour 😡. J'ai tout de suite contacté Live Nation pour qu'ils me proposent une solution. 15 minutes plus tard, j'avais une place au 10e rang devant ❤️. Fair.
J'arrive devant la salle aux alentours de 19 h. Les agents de sécurité m'envoient à la consigne pour mon Kindle (je crois qu'ils n'ont pas bien compris à quoi ça servait… ah les Américains…). Je rejoins ensuite mon siège et je ne regrette pas d'avoir demandé un échange : la vue est parfaite ! Jamais je n'aurais pensé pouvoir faire un concert en orchestre ici. Les places devaient coûter un peu plus de 350 $ à l'origine. La première partie démarre à 19 h 30, c'est Bastien Baker qui en a la charge. Je n'écoute que d'une oreille, car ma voisine vient de renverser son verre de bière à mes pieds et fait comme si de rien n'était… Les gens sont désespérants. À 20 h 40, les lumières s'éteignent et la foule s'agite un peu dans les gradins. What's goin' on?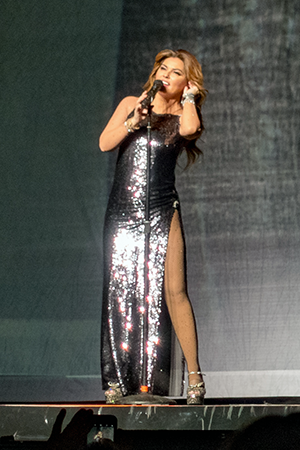 Le rideau de scène est toujours fermé et tout le monde se demande ce qui se passe. Quand soudain, la batteuse apparaît sur une plate-forme au fond de la salle et commence à marquer le rythme sur l'air de « We Will Rock You ». Shania débarque alors au milieu du public, un chapeau de cow-boy vissé sur la tête ! Elle traverse lentement la salle sous les acclamations des spectateurs ! Après un rapide « Are you ready Brooklyn? », le rideau tombe et « Life's About To Get Good » démarre.
Le décor est impressionnant ! Il est composé de 5 énormes cubes mobiles projetant des vidéos ; ainsi qu'une multitude de spots lumineux évoluant tout autour d'eux. Shania porte une robe lamée argent. Elle a pris un peu de poids, mais elle est belle comme tout ❤. Elle est accompagnée de 2 choristes, 4 danseurs et 4 musiciens ! Sur les écrans, on peut voir tout un tas de dessins colorés à la manière des comic books.
La suite ne se fait pas attendre, il s'agit de « Come On Over ». Le public est en délire ! On voit défiler une multitude de paysages sur les cubes qui se déplacent en même temps. La mise en scène est super belle ! À la fin de la chanson, Shania grimpe sur la plus haute plate-forme, qui se tapisse d'une peau de vache tachetée. Ambiance country que voulez-vous 😛. Elle nous remercie d'être présents et nous souhaite la bienvenue avec un titre de circonstance : « Up ! ».
C'est grâce à l'album du même nom que j'ai découvert Shania en 2002 et je dois vous avouer que sur le moment, ça me fait quelque chose d'entendre ce titre en live. Je me revois dans ma chambre d'ado et ça me file des frissons. Je n'arrive pas à trouver les mots justes pour vous expliquer à quel point je suis heureux d'assister à ce concert 🤩. J'espère que cette chronique fera honneur au gamin que j'étais. Sur scène, alors que les cubes diffusent des figures géométriques de toutes sortes, les danseurs reviennent avec une dizaine de ballons argentés flottant au-dessus de leur tête ! C'est kitsch, mais qu'est-ce que c'est bon !
Elle explique que les up s'accompagnent parfois de down, et saisit l'occasion pour interpréter « Poor Me », qui me semble être intégralement en play-back. Le rideau tombe derrière elle pour prendre l'apparence d'un pelage de léopard. On peut voir une danseuse contemporaine exécuter une chorégraphie en surimpression sur l'écran. Mais l'ambiance n'est pas à la déprime ! Et Shania nous le prouve avec un « Don't Be Stupid (You Know I Love You) » du tonnerre 😍. Je suis absolument fan de cette chanson et les arrangements live sont à tomber. J'ai encore trouvé le moyen de verser une larmiche alors que les danseurs se la jouaient Lord Of The Dance sur les cubes derrière elle. Les 5 structures semblent remplies d'eau et à chaque fois qu'un des artistes saute et retombe dessus, ça donne l'impression d'éclabousser tout ce qui se trouve autour. C'est absolument génial ! À la fin du morceau, Shania part se changer en coulisse.
L'interlude démarre. Je comprends rapidement qu'il s'agit de « That Don't Impress Me Much ». L'orchestration live est démente et l'arrivée de Shania sur scène est cultissime : elle est maintenant habillée d'une sorte de nuisette léopard, et déboule en mode YAAAS QUEEN ! / défilé Tati printemps-été 2018, j'en chiale encore 😂. Même si le titre est en play-back, c'est l'un des meilleurs moments de la soirée et je vous invite à le découvrir en vidéo sans plus attendre. Vous ne le regretterez pas !
L'ambiance change du tout au tout et la salle se retrouve plongée dans une atmosphère tropicale pour « Let's Kiss And Make Up ». Le titre est chorégraphié et on devine que la danse n'est pas son fort, mais sa bonne humeur l'emporte sur la technique et nous fait totalement oublier ses problèmes de rythme ! Lorsque Shania part se changer de nouveau, un kiss cam démarre dans la salle. Si vous ne connaissez pas le terme, je suis certain que vous savez quand même de quoi je parle ! Une caméra se balade tout autour de nous et s'arrête sur un couple qui doit s'embrasser pour éviter d'être hué par le public. C'est un truc typiquement américain ! On voit d'ailleurs Shania herself apparaître au centre des gradins et bécoter vigoureusement l'un des spectateurs. La séquence est bien évidemment préenregistrée, mais franchement who cares ?
Le tableau country démarre avec « Any Man of Mine » après un court solo de batterie. Sur scène, Shania surgit en ombre chinoise derrière un long voile : on devine qu'elle porte un chapeau de cow-boy. La toile se relève et on la découvre en mode rock 'n' roll avec un blouson de cuir et des boots rouges. Les spectateurs sont hystériques : ils connaissent la chanson par cœur 😮 ! C'est là que l'on comprend vraiment la portée de la musique country aux États-Unis ! Avec « Whose Bed Have Your Boots Been Under? », on est projeté dans un saloon du Far West américain ! Chaque danseur est accompagné d'un drôle de mannequin en métal avec lequel il enchaîne les figures acrobatiques. Shania est rejointe par ses 2 choristes pour « Honey, I'm Home ». Les cubes se déplacent pour former une maison de briques sur laquelle sont projetées des images live.
Il y a maintenant un escalier au centre de la scène. Shania s'assoit sur les marches et en profite pour saluer certains fans qu'elle reconnait au premier rang. Elle nous raconte que malgré les difficultés qu'elle a rencontrées ces dernières années, elle savait au fond, qu'un jour… tout irait mieux. C'est ce qui lui a inspiré la chanson « I'm Alright », extraite de son nouvel album. C'est le titre que je préfère sur le disque et je ne vous cache pas que je l'attendais avec impatience. Je n'ai pas forcément été emballé par l'interprétation. C'est d'ailleurs le seul moment de la soirée où les spectateurs se sont rassis. Les danseurs sont grimés en chanteurs gospel et l'accompagnent tout au long de la séquence… qui est en play-back. Heureusement une magnifique outro au violon clôture le morceau.
Après une longue intro au piano, Shania s'élève dans les airs, assise sur un étui de guitare. Elle passe juste au-dessus de moi en interprétant « Soldier ». C'est fou de la voir d'aussi près ! La chanson est un hommage aux militaires qui doivent se réadapter à la vie civile après leur service. Elle rejoint ainsi la seconde scène à l'autre bout de la salle. Avant d'atterrir, elle reprend l'un de ses grands classiques « You're Still the One », dont vous pourrez découvrir la vidéo à la fin de l'article. J'ai l'impression que le titre est également en play-back… À vous de me dire en commentaire, car je fini par être perdu ! Si c'est le cas, c'est un peu décevant, car la chanson ne semble pas hyper compliquée à chanter !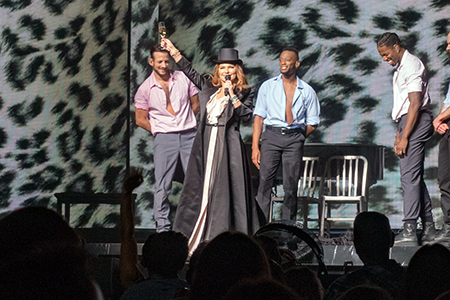 Elle profite de sa proximité avec le public pour choisir quelqu'un qui l'accompagnera sur scène ! Elle traverse ainsi la salle au bras de son nouveau prince charmant en ricanant comme une gamine. Elle repère une enfant qu'elle fait également monter avec elle ! La petite a 4 ans et semble impressionnée ! Shania tente de la rassurer en lui parlant tout bas. Toutes les deux, elles chantent un morceau a capella de « Man ! I Feel Like A Woman ». C'est un moment super mignon ! Elle fait quelques photos avec la maman et demande au jeune homme qui l'a accompagnée un peu plus tôt de l'aider à grimper sur le piano juste à côté.
Elle explique que c'est le film « Magic Mike » qui lui a inspiré le tableau suivant : « More Fun ». Les 5 cubes sont alignés sur scène et semblent reproduire l'intérieur d'un bar. Les danseurs la rejoignent et nous offre une séquence un peu sexy, mais pas trop… je m'attendais clairement à mieux quand elle a parlé de « Magic Mike » 😏. À la fin de la chanson, on lui apporte une coupe de champagne, un chapeau haut de forme et une grande cape noire qui rappelle le look qu'elle avait dans le clip de « Man ! I Feel Like A Woman ». Elle en profite pour nous expliquer qu'on va faire un tour dans le passé et disparaît derrière l'écran pour se changer. L'interlude qui suit est un montage de quelques-uns de ses clips : « The Woman In Me », « You Win My Love », « Don't » ou encore « Forever And For Always ».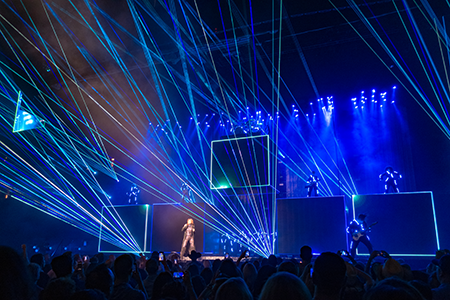 À son retour, Shania porte une superbe robe que vous pourrez apercevoir dans la vidéo de « From This Moment On ». Des dizaines de rayons laser partent de la scène qui est encore cachée derrière le rideau. Sur celui-ci, on peut voir une fleur qui éclot et se transforme lentement en poussière d'étoiles. Le tableau est magnifique ❤. Shania disparaît une nouvelle fois et réapparaît quelques secondes plus tard en combinaison moulante sur « I'm Gonna Getcha Good! ». J'ai adoré cette séquence. Sur scène, le groupe porte des costumes lumineux et des lasers jaillissent de partout pour éclairer la salle. Les cubes se déplacent de haut en bas au rythme de la musique. Le show a vraiment de la gueule !
Elle nous demande si on veut faire la fête, et invite Bastien Baker à la rejoindre pour « Party for Two ». Je ne me souvenais pas que le titre était aussi génial. En tout cas, leur duo est excellent et l'ambiance est au top ! Le mec chante super bien. Elle lui demande de rester sur scène et de prendre sa guitare pour l'accompagner sur « Swingin' With My Eyes Closed », dont le producteur, Ron Aniello, est dans la salle ! Sur les écrans, on voit défiler les images d'une route en plein milieu du désert. Je n'aurais pas forcément placé le titre ici, mais suis content qu'elle l'ait intégré à la setlist.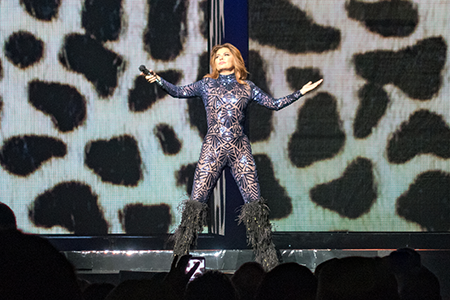 L'ambiance se veut plus rock 'n' roll sur « (If You're Not in It for Love) I'm Outta Here! ». Munie de baguettes, elle va marquer le rythme sur des toms basse pendant que ses danseurs se déchaînent. Les cubes n'arrêtent pas de bouger et se réunissent au centre de la scène pour former une sorte de structure compacte. À la fin de la chanson, elle rentre littéralement à l'intérieur alors qu'une nuée de confettis tombe au-dessus de nos têtes. C'est le moment du rappel. La salle est plongée dans la pénombre quand l'intro du tant attendu « Man ! I Feel Like a Woman! » résonne. Let's go girls!
Shania porte maintenant robe noire à paillette : elle est sublime ! Sur les cubes, on peut voir défiler des nuages rouges. Le contraste en jette un max ! Les spectateurs sont hystériques (moi y compris) 😁. C'est clairement l'un des plus beaux moments de la soirée. Ma voix de crécelle déraillerait à mort sur les Oh, oh, oh 📢. Dommage qu'elle n'ait pas duré longtemps : j'aurais aimé une petite reprise. Le dernier titre de la soirée est le génialissime « Rock This Country ! » qui se termine par un nouveau lancer de confettis ! J'en avais partout sur moi à la fin du concert.
Vous ne pouvez pas vous imaginer à quel point je suis heureux d'avoir enfin pu voir Shania Twain sur scène ! En sortant de la salle, j'étais complètement euphorique : j'ai adoré le show, et vraiment, ça faisait longtemps que je ne m'étais pas autant amusé à un concert 🤗. J'en ai quand même chialé à 3 reprises ! La setlist, c'est un quasi-sans-faute : on retrouve tous les tubes que l'on aime, avec quelques nouveaux morceaux glissés ici et là… Et sans mentir, comme j'adore son dernier album : j'ai vraiment profité de ces 2 heures comme jamais ! Je regrette simplement l'absence de « Ka-Ching », mais on a qu'à dire que ça sera pour une prochaine fois. Musicalement, c'est lourd : les arrangements en envoient un max : c'est super de pouvoir entendre ces titres en live. Mention spéciale pour : « Don't Be Stupid », « Up ! », et « Man ! I Feel Like a Woman! » ❤. Le seul bémol, c'est le play-back : il y en a beaucoup trop. Je dirais que les ¾ du spectacle ne sont pas en live. Sur le moment ça ne m'a pas dérangé, mais en y repensant, je me dis quand même : merde, qu'est-ce qu'ils ont tous avec le play-back ici 🤷‍♂️.
La mise en scène défonce tout ! OK, c'est kitsch à mort, mais c'est aussi ce qu'on attend d'elle, et elle y va à fond : peau de léopard, palmiers roses, ou encore ambiance Far West. Ils n'ont pas lésiné sur les moyens ! La structure avec les cubes est vraiment impressionnante : ça bouge tout le temps, c'est hyper dynamique, on se prend une claque visuelle à chaque tableau ! Quant aux costumes, je les ai également beaucoup aimés : mention spéciale pour la robe de la première partie, et l'arrivée en mode tigresse sur « That Don't Impress Me Much » 🤩. Côté ambiance, on sent qu'il y a vraiment quelque chose entre elle et les spectateurs. Elle est TROP mignonne : on ne peut que l'aimer ! Elle rigole en permanence, elle prend le temps de discuter avec le public, franchement, elle est top ! J'adorerais la revoir sur scène, et j'espère sincèrement que j'ai réussi à vous convaincre d'aller la voir en concert vous aussi ! Si vous aimez ses chansons, vous ne le regretterez pas une seconde !
On se quitte avec les photos et les vidéos de la soirée. Quant à moi, je vous attends en commentaire ici et sur les réseaux sociaux : Facebook, Twitter et Instagram.
Setlist : Life's About To Get Good / Come On Over / Up! / Poor Me / Don't Be Stupid / That Don't Impress Me Much / Let's Kiss And Make Up / Any Man Of Mine / Whose Bed Have Your Boots Been Under? / Honey, I'm Home / I'm Alright / Soldier / You're Still The One / More Fun / From This Moment On / I'm Gonna Getcha Good! / Party For Two / Swingin' With My Eyes Closed / (If You're Not In It For Love) I'm Outta Here! / Man! I Feel Like A Woman! / Rock This Country!
Également disponible en vidéo sur YouTube : That Don't Impress Me Much – You're Still The One – From This Moment On
Shania Twain : Now Tour – Barclays Center, Brooklyn (2018)