18 Septembre 2010 – U2 : 360° Tour – Stade de France, Paris
L'un des plus grands shows de l'année de passage en France, U2 au Stade de France : immanquable ! Même si, à la base, je ne connais que très peu le groupe, depuis le printemps : j'ai révisé mes classiques et je me suis bien rattrapé ! Bizarrement, aucune appréhension quant à faire ce Stade de France tout seul en fosse : j'me suis dit « ça s'passera comme ça s'passera ! » – et ça s'est plutôt bien passé ! Les soucis sont arrivés à l'hôtel une fois le concert terminé, mais c'est une autre histoire ! Lol ! Arrivée devant le stade aux alentours de 14h, il y avait beaucoup moins de monde que ce que j'avais imaginé, à ma grande surprise d'ailleurs – j'en ai presque regretté d'arriver si tôt, puisque j'avais envie d'avoir du recul face à la scène, afin de pouvoir profiter « visuellement » du show de U2 et au final : je dirais parfait ! Comme il y avait une « fosse VIP » entre la scène et la fosse « normale », j'avais le recul nécessaire – et en plus, le groupe pouvait venir jusqu'à nous grâce à une plateforme circulaire entourant la scène principale !
D'ailleurs, en parlant de la scène : faut dire qu'elle en jette ! Une sorte d'énorme « navette spatiale », avec un gigantesque écran circulaire qui peut se déformer en fonction de la mise en scène, la fameuse plateforme dans la fosse, reliée à la scène centrale par des ponts mobiles, bref, une scène à 360° quoi ! Malgré tout, son placement dans le Stade de France était étrange, on aurait pu penser que le groupe « tournait » en fonction des titres sur la scène afin d'être de face de chaque partie du public à un moment donné, eh bien non : sur 99% du concert, il était face à la fosse ! J'ne vais pas me plaindre puisque j'y étais dans cette fosse, mais pour les gens de derrière, ce n'était pas cool ! Je ne sais pas si c'est comme ça sur toutes les dates, mais enfin… Après une « longue » première partie du groupe Interpol et un peu de retard, le groupe entre dans le stade sous l'ovation du public – 90 000 personnes quand même !
C'est sur « Space Oddity » de David Bowie que U2 fait son entrée dans le stade pour rejoindre la scène, avant d'entamer le premier morceau du show, « Return Of The Stingray Guitar », un nouveau titre exclusivement instrumental qui sert d'intro au concert ! Bono se lance en parallèle dans un tour de scène à 360° afin de saluer le public ! Je dois vous avouer que c'est assez irréel de vivre ça : jamais je n'aurais pensé aller à un concert de U2 quoi ! Premier « vrai » titre ensuite : « Beautiful Day », un de leurs grands classiques – quelle ambiance ! C'est sûr qu'à côté d'eux, niveau mise en scène, beaucoup d'artistes peuvent aller se rhabiller ! Enchaînement sur un de leurs tous premiers titres « I Will Follow », que j'ai découvert récemment : en tout cas, on ne peut pas dire que c'est mou ce début de concert ! La setlist « 2010' est apriori bien plus rythmé que celle de l'année dernière !
Le groupe entame ensuite ses derniers singles : « Get On Your Boots » – que j'ai eu du mal à reconnaître – la version étant un peu différente de celle de l'album… Il n'y avait pas les « Sexy boots ! » – j'étais triste ! Puis « Magnificent » qui en jette pas mal niveau son ! Retour aux classiques avec « Mysterious Ways », puis « Elevation », un des meilleurs moments du show ! Pour l'instant, c'est un sans-faute : je connais tous les titres ! Mais ça, c'était sans compter sur « Until The End Of The World » qui est venu troubler ma culture U2, très bon titre ! Il va falloir que je trouve à quel album il correspond ! J'ai aussi le souvenir de quelques mots de Bono en français, mais je suis incapable de me souvenir quand ! Donc, ça sera là, en même temps que la présentation du groupe que Bono termine en disant qu'il est notre serviteur… le bossu de Notre-Dame ! Ah ah !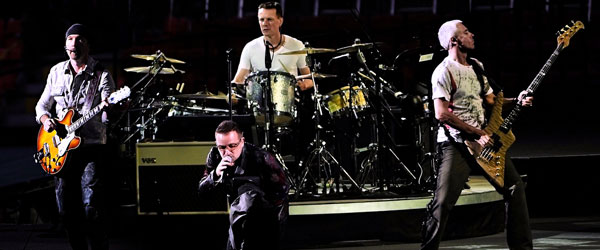 Je dois préciser que la mise en scène est quand même incroyable ! Les lumières, wow ! Ça devait encore mieux rendre des gradins – la prochaine fois, en fonction des prix, j'irai peut-être jouer le papy dans les catégories assises ! En même temps, la fosse c'est très bien, car le public est génial : ultra-cool et respectueux, ça change de certains concerts que j'ai pu faire cette année ! Les photos vous permettront de vous faire une idée de l'esprit « 360° » ! Le concert continu sur « I Still Haven't Found What I'm Looking For », alors celle-ci, c'est bien tombé : c'est « la » chanson du public, celle où le groupe laisse chanter les spectateurs à sa place ! Alors moi je la connais par cœur, pas parce que c'est U2, mais parce que Cher l'a reprend à chaque concert – la vieille dance à la « Believe », ça me connait ! Lol ! Nouvel inédit, « North Star », et aussi première ballade du show, plutôt sympa – espérons qu'elle soit sur le nouvel album !
Ensuite quelques titres que je ne connaissais pas : « Mercy » et « In A Little While » que j'ai beaucoup aimé, « Miss Sarajevo », que j'aie moins aimé, mais pendant laquelle l'écran se développe pour former un cône au milieu de la scène avant l'incroyable intro de « City Of Blinding Lights » : là, franchement, le décor prend toute son ampleur, c'est vraiment magnifique à voir ! La chanson est géniale en plus, bon… peut-être pas autant que celle qui vient… 'MA' chanson préférée de U2 quoi : « Vertigo » et nom de Dieu que ça déchire ! Pour moi, le meilleur moment du concert ! « Unos, Dos, Tres, Catorce ! » C'est d'ailleurs le passage que j'ai choisi pour illustrer ce compte-rendu, vous trouverez la vidéo à la fin ! Titre exceptionnel – les images sur l'écran circulaire se mettent à tourner de plus en plus vite : on dirait un manège qui s'emballe ! J'ai adoré !
Surprise ensuite, on se serait cru à un concert de Madonna : interlude pop dans un concert rock sur un remix de « I'll Go Crazy If I Don't Go Crazy Tonight ». Tout le groupe s'approche du public sur la plateforme dans la fosse : Bono, The Edge à la guitare, Adam Clayton à la basse et Larry Mullen, jouant du tam-tam ! Bono a même fredonné quelques passages de « Relax » de Franck Goes to Hollywood à la fin du titre ! L'autre titre que j'attendais avec impatience après « Vertigo », c'est « Sunday Bloody Sunday », wow, en live, qu'est-ce que ça rend bien ! J'ai chanté à tue-tête ! Franchement, l'enchaînement de « City Of Blinding Lights », « Vertigo », « I'll Go Crazy If I Don't Go Crazy Tonight (Remix) », « Sunday Bloody Sunday » reste pour moi le meilleur moment du concert !
Petite pause au calme avec « Mlk », une prière dédiée par U2 à Martin Luther King, qui permet un retour à la normale après la chaleur précédente ! On continue dans les hommages avec « Walk On » dédiée à Aung San Suu Kyi, une femme élue aux élections en Birmanie en 1990, et enfermée en détention depuis – disons qu'on entre dans la partie à messages du concert, à la fin c'était un peu lourd quoi… Des bénévoles d'Amnesty International sont également conviés sur scène à la fin du titre pour déposer d'énormes lampions tout autour de la scène… et les messages qui continuent avec un interlude vidéo parlé de Desmond Tutu, prix Nobel de la paix en 1984. Alors tous ces speechs, c'est bien beau… mais sachez qu'ils étaient traduits en français 'en direct live' sur l'écran géant – ce qui a donné un méli-mélo de fautes d'orthographes, de grammaire et de français : à certains moments, on ne comprenait même pas ce qu'ils essayaient de dire ! « Le vie de l'humain était blesser part la guere » – huuum… et en français ?! Ah ah !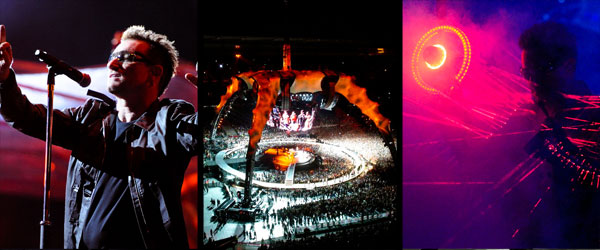 Retour du groupe avec « One », une très belle chanson il faut le reconnaitre, mais pas autant que le morceau suivant « Where The Streets Have No Name » – titre adulé par mes voisins dans le public ! Et c'est vrai que l'intro déchirait sa race – on aurait dit que la structure prenait feu ! J'ai beaucoup aimé ce moment ! Ça sentait quand même la fin du concert : ça avait bien une gueule de final ! Interlude vidéo un peu décalé avec deux extraterrestres dans une soucoupe se faisant littéralement avaler par la scène de U2 et nouveau rappel pour le groupe ! « Hold Me, Thrill Me, Kiss Me, Kill Me », sur lequel Bono porte un costume lumineux à laser rouge ! J'ai tenté de prendre des photos de ce passage, ça ne rendait… rien ! Lol ! Enorme classique pour terminer : « With Or Without You », où on a tous continué de chanter après la fin du titre. Quelques mots de Bono pour finir et dernier titre du show avec « Moment Of Surrender », longue balade extraite de leur dernier album « No Line On The Horizon »… Puis chaque membre du groupe a pris la parole, en anglais ou en français, pour nous remercier.
Que dire en conclusion ? Vraiment, je dois dire que c'était un concert irréel, parce que comme je l'ai déjà dit, jamais je n'aurais imaginé aller voir U2 sur scène. J'ai été conquis ! J'ai adoré ce concert : 2h20 de show, une mise en scène exceptionnelle, une setlist équilibrée et sympathique, une ambiance de folie, bref, un très bon moment ! Pour le peu de critiques que j'ai à faire, je dirais que les messages de Bono alourdissent un peu la fin du spectacle, et par moment, le son était vraiment trop fort : OK, c'est un concert rock, mais ça m'est arrivé d'avoir mal aux oreilles plusieurs fois ! Je retournerai en tout cas les voir avec grand plaisir lors de leur prochaine tournée – ce qui sera fait en fin d'année 2015. Le compte-rendu sera disponible ici : U2.
Je vous laisse découvrir les quelques clichés que j'ai faits du concert, puis quelques vidéos, notamment celle de « Vertigo ». Je vous propose également de me rejoindre sur Facebook, Twitter et Instagram pour découvrir de nombreuses autres chroniques de concert.
Setlist : Space Oddity / Return Of The Stingray Guitar / Beautiful Day / I Will Follow / Get On Your Boots / Magnificent / Mysterious Ways / Elevation / Until The End Of The World / I Still Haven't Found What I'm Looking For / North Star / Mercy / In A Little While / Miss Sarajevo / City Of Blinding Lights / Vertigo / I'll Go Crazy If I Don't Go Crazy Tonight / Sunday Bloody Sunday / Mlk / Walk On / One / Where The Streets Have No Name / Hold Me, Thrill Me, Kiss Me, Kill Me / With Or Without You / Moment Of Surrender
Également disponible en vidéo sur YouTube : Where The Streets Have No Name – Elevation – Vertigo
U2 : 360° Tour – Stade de France, Paris (2010)