25 Août 2018 – Miguel : The Ascension Tour – Afropunk, Brooklyn
Après avoir traversé l'Amérique avec le « War & Leisure Tour », Miguel repart sur les routes avec une nouvelle tournée intitulée « The Ascension Tour ». J'étais content de voir qu'il était à l'affiche de festival Afropunk à Brooklyn lorsque j'ai pris mes places. Je ne pensais pas le revoir de sitôt et j'étais loin de me douter que ce serait avec un nouveau show.
L'organisation de l'événement est désastreuse : la file d'attente s'étend sur plus de 3 blocs, il nous faut un peu plus d'une heure pour rentrer. Il y a beaucoup de monde à l'intérieur et tous les visiteurs semblent s'être entassés devant la Green Stage où doit justement jouer Miguel à 19 h 15. Mais ça, c'est sans compter le retard qu'a pris la programmation dans la journée… À l'heure dite, c'est H.E.R., que j'ai déjà eu l'occasion de voir en première partie de Chris Brown le mois dernier, qui entre en scène : je dois prendre mon mal en patience 😒.
Elle termine son set à 20 h : je profite du mouvement de foule pour avancer au plus près de la scène. Les techniciens s'agitent. Ils installent le décor : un simple escalier blanc, accompagné d'un écran géant, sur lequel sont actuellement projetées des publicités pour les partenaires du festival. À 20 h 35, tout est prêt et on voit Miguel monter sur les marches alors que l'introduction démarre. C'est « What's Normal Anyway » qui ouvre le bal. Il porte un pantalon vert fluo, assorti d'un T-shirt orange et d'une veste en cuir aux couleurs de la tournée. J'adore son look 😍.
Il enchaîne directement avec « Criminal ». Les projections sur l'écran sont vraiment particulières : on peut observer un corps modélisé en 3D dans la tête d'un autre personnage. J'avais vu quelques photos de la scéno et je m'attendais à ce que ce soit un peu plus joli… Il faut dire que le rendu en festival ne doit pas être aussi impressionnant qu'en salle. Le concert continu avec « The Thrill ». Je suis soufflé par la voix, l'énergie, le charisme… Il est incroyable et plus je le vois, plus je l'aime ❤.
Je vous invite d'ailleurs à découvrir la vidéo de la chanson suivante, « Banana Clip », pour vous faire une idée de ce dont je veux parler. Tout est simplement parfait. Il nous souhaite la bienvenue, et est rejoint par 2 danseuses pour « How Many Drinks? ». À la fin du morceau, il laisse à ses choristes le soin d'occuper l'espace pendant qu'il se change. Il troque son blouson de cuir contre une veste assortie à son pantalon vert.
Il réchauffe l'atmosphère avec « Come Through And Chill », sur laquelle les danseuses multiplient les poses sexy. Sur l'écran, ce sont des corps nus qui s'entrelacent. Vocalement, j'ai l'impression que c'est au-dessus des précédentes tournées : il est vraiment très bon ! Il enchaîne avec « Do You… » dont la vidéo nous projette dans un tunnel multicolore rappelant les films Interstellaires et 2001 l'Odyssée De L'espace. La chanson bénéficie maintenant d'un pont reggae vraiment sympa ! Les arrangements live sont tops depuis le début de la soirée.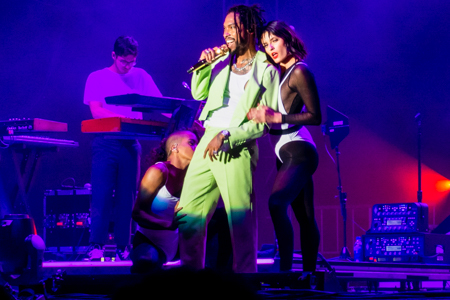 Miguel nous propose ensuite de découvrir une chanson inédite intitulée « So I Lie ». Honnêtement, elle n'est pas incroyable. Ce que je retiens, c'est avant tout la chorégraphie des danseuses, qui semblent imiter le trot des chevaux… Il fait la fin de la chanson a cappella en s'accompagnant d'une sorte de maracas. Il tombe la veste pour « Adorn » et enchaîne avec mon titre favori : « Waves ». C'est toujours aussi bon ! Les arrangements live sont géniaux et l'énergie est à son comble. Un court extrait est dispo sur ma page Facebook : « Waves ».
Le concert continu avec « Sure Thing » et « Caramelo Duro » pendant laquelle toute la troupe, musiciens y compris, offre une chorégraphie latino : la séquence est vraiment fun ! Le show se termine (déjà) avec « Pineapple Skies » et « Sky Walker » qui lui permettent de mettre le feu une dernière fois. Les spectateurs en redemandent, mais malheureusement, le concert est fini 😥.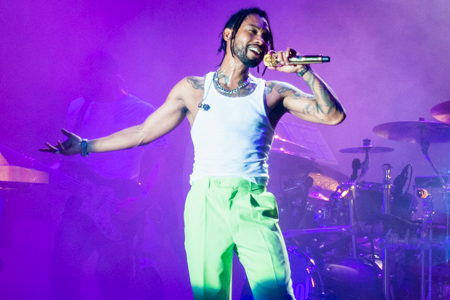 J'ai vraiment kiffé la soirée ! Elle m'a fait oublier la mauvaise organisation du festival. Sa prestation mérite clairement un 10/10 : que ce soit au niveau de la voix ou de l'énergie : il a donné son maximum, c'était parfait 🙏. La setlist était malheureusement trop courte… Je m'y attendais vu le format du spectacle, mais j'aurais malgré tout aimé qu'il interprète « Remind Me To Forget ». J'étais ravi de réentendre « Waves », « Caramelo Duro » et « Sky Walker » en live.
Côté décor et mise en scène, difficile de donner un avis : je dirais simplement qu'en salle, ça doit avoir une autre gueule ; et qu'à ce niveau-là, j'ai préféré la précédente tournée. D'ailleurs, s'il veut revenir à New York présenter le spectacle en intégralité : je suis pour ! On termine avec les photos et les vidéos du show, je vous invite vraiment à lancer la playlist, vous ne serez pas déçus !
On se retrouvera régulièrement cet automne alors je vous propose de rester connecté ici ou sur les réseaux sociaux Facebook, Twitter et Instagram. N'hésitez pas à laisser un commentaire ou à (re)découvrir les autres tournées de Miguel auxquelles j'ai assisté : le War & Leisure Tour à Brooklyn cette année et le Wildheart Tour à Paris en 2015.
Setlist : What's Normal Anyway / Criminal / The Thrill / Banana Clip / How Many Drinks? / Come Through And Chill / Do You… / So I Lie / Adorn / Waves / Sure Thing / Caramelo Duro / Pineapple Skies / Sky Walker
Également disponible en vidéo sur YouTube : Banana Clip – Adorn – Sky Walker
Miguel : The Ascension Tour – Afropunk, Brooklyn (2018)