16 Juillet 2018 – Chris Brown : Heartbreak On A Full Moon Tour – Barclays Center, Brooklyn
Depuis le mois de juin, Chris Brown partage la scène avec 6lack et H.E.R. pour présenter son album « Heartbreak On A Full Moon » dans les principales villes américaines. J'avais gardé un souvenir assez mitigé du « Carpe Diem Tour » auquel j'avais assisté en 2012, mais j'ai eu envie de lui donner une deuxième chance. Quelques jours avant de show, j'ai eu la mauvaise idée de jeter un œil à la setlist… Je me suis aperçu qu'en plus de ne pas faire les titres que j'attendais (« Five More Hours » ou encore « Zero » pour ne citer que les plus récents), il n'y en avait aucun que je connaissais ! Je ne faisais clairement pas le malin 🙄.
J'arrive aux alentours de 19 h et je passe les contrôles sans problème. L'histoire du Kindle au concert de Shania Twain m'a servi de leçon, je ne l'ai pas pris cette fois. Les places en orchestre coûtant la modique somme de 315 $, je me suis dirigé vers une section plus accessible… Mais plus haute… Bien plus haute. La vue sur la salle est vertigineuse et il y a encore une vingtaine de rangs derrière moi 😱. Il y a pas mal de câbles qui gênent la visibilité : j'aurais dû choisir plus en face… Quitte à être loin, autant avoir une vision dégagée sur la scène. Mauvais calcul de ma part, ça me servira de leçon ! Après deux DJ sets, et deux premières parties interminables 6lack et H.E.R., le show peut commencer ! Il est 21 h 30.
Sur l'écran, la pleine lune apparaît avec en son centre, un cœur qui bat. On découvre deux cosmonautes gonflables de part et d'autre de la scène. Spoiler : ils ne serviront à rien pendant le concert 🙄. 12 danseurs font leur entrée au milieu d'un nuage de fumée. Ils sont suivis de près par Chris Brown qui est installé sur une mezzanine surélevée pour « Heartbreak On A Full Moon ». La structure est impressionnante : elle est composée de 2 étages et d'une multitude d'écrans aux formes variées. L'ambiance visuelle est franchement canon. Les tenues sont clairement inspirées par Michael Jackson époque Smooth Criminal. Le décor se recouvre ensuite d'un patchwork de couleurs pour « Rock Your Body ». Chris Brown arpente sa plate-forme de gauche à droite en laissant le play-back défiler. Drôle de manière de donner le ton 🤔.
Il enchaîne sans ménagement sur « Questions » qui voit la scène prendre les teintes du drapeau rastafari. Je m'enjaille presque quand je reconnais le sample de « Turn Me On » de Kevin Lyttle, mais le plaisir est de courte durée, car le morceau fait moins de 2 minutes. Après quelques mots de bienvenue, il poursuit avec « Party » que vous retrouverez en vidéo à la fin de l'article. C'est le bordel dans la salle. Ça twerk à tous les étages, les gamines de 14 ans portent des shorts ras-la-moule et se font reluquer par les pères de famille alors qu'en bas, les gens semblent s'entasser devant la scène : c'est un carnage absolu 😬.
Chris Brown descend de sa plate-forme alors que des yeux menaçants apparaissent sur l'écran pour « High End ». Il rejoint ses danseurs pour une séquence chorégraphiée dont lui seul a le secret. Je cherche encore à me raccrocher aux branches, et c'est grâce « Wall To Wall » que je peux le faire. C'est le premier titre de la soirée que je reconnais, car il est extrait d'un de ses plus anciens albums, et c'est également le moment que j'ai préféré dans le show. Chris se déchaîne au milieu des geysers de fumée et escalade les structures autour de lui. Lorsqu'arrive la fin du morceau, une trappe s'ouvre sous ses pieds, il disparaît, et les écrans switchent sur une scène sous-marine où on le voit nager au milieu des sirènes vec pour fond sonore : « Keep You In Mind ». L'interlude dure plus longtemps que toutes les chansons que j'ai entendues jusque-là 😂.
Il réapparaît sur « Liquor » quelques secondes plus tard. Il porte une casquette, un T-shirt vert et un jean. Je ne sais pas pourquoi, mais il me fait penser à Luigi dans Super Mario Bros 🤭. Le public est hystérique. Après « This Ain't », la salle prend des allures de jungle grâce à « Grass Ain't Greener ». Je le redis, mais la mise en scène est vraiment le point fort du spectacle. Il y a des lasers de partout, visuellement, c'est canon ! Concernant le choix des titres, je lâche l'affaire, tout ce qu'il fait depuis le début m'est inconnu. Et ça continue avec « Lost & Found », « Hope You Do » et « To My Bed »… Entre le play-back et les extraits d'une minute qu'on se tape depuis le début de la soirée, comment voulez-vous que j'arrive à rentrer dedans 🤷‍♂️.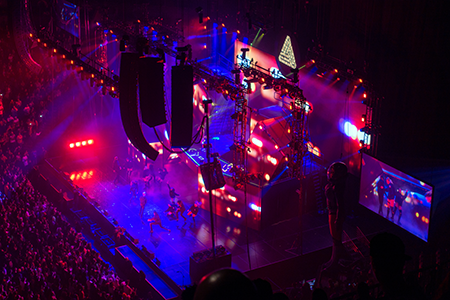 Il remonte sur la plate-forme pour « Privacy ». Sur l'écran, on peut voir quelques images du clip, et sur scène, les danseuses enchaînent les poses vulgaires tout en étant à moitié nues : elles ne porteraient rien, ça ne serait pas pire. Il poursuit en solo avec « Back To Sleep » et « No Bullshit » qui remporte un gros succès auprès du public. L'hystérie gagne les spectateurs quand il retire son T-shirt pour interpréter « Take You Down », et redouble de puissance au moment où il mime une b**** torride avec les éléments du décor. Well done!
Les sirènes de police hurlent dans la salle pour annoncer « Yellow Tape ». Les écrans sont recouverts de rubans jaunes « CRIME SCENE – DO NOT CROSS ». C'est l'un des tableaux qui m'a le plus marqué visuellement. L'interlude qui suit nous permet de redécouvrir quelques titres rétro comme « Candy » de Cameo, « Return Of The Mack » de Mark Morrison et « California Love » de Tupac. Chris Brown fait son retour sur la plate-forme avec « Juicy Booty » illustré par une multitude de fruits fluo projetés sur l'écran. Il porte une sorte de K-Way rose bonbon. Il offre quelques pas de danse à la fin de la chanson avant de rejoindre la scène principale pour « Tempo » que vous retrouvez en vidéo un peu plus bas. La chorée est d'ailleurs très sympa.
Avant de poursuivre sur « Freaky Friday », il traverse la scène de part et d'autre en mode salto arrière. Une jolie prouesse qui nous montre qu'il est encore capable d'offrir des choses sympas au public. Après un rapide speech pour faire monter la sauce, il annonce un titre du premier album : « (Yo) Excuse Me Miss ». Je suis hyper étonné par l'engouement des spectateurs qui connaissent les paroles de A à Z. L'ambiance ne faiblit pas avec « Poppin' » et « New Flame ».
Le concert est bientôt fini et je n'attends plus rien de la setlist qui est pour moi une vraie déception. Il termine le show au bout de 1h10 avec « Loyal », que vous pouvez retrouver en vidéo à la fin l'article. Le final se joue avec « Pills & Automobiles » sur lequel il présente les danseurs et les danseuses qui l'accompagnent. Encore une fois, la mise en scène top, dommage que le reste ne suive pas.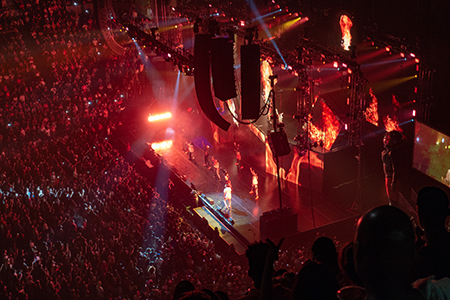 Je suis un peu embêté, car je ne sais pas du tout comment terminer ce résumé. Je n'ai pas du tout été embarqué 🙄. Je ne sais pas si c'est parce que je ne connaissais pas les morceaux… Si c'est à cause de mon placement foireux… ou si le découpage à la truelle des titres m'a laissé sur ma faim, mais quand je suis sorti de la salle : j'avais déjà presque tout oublié. Revenons sur la setlist, je le reconnais : j'étais complètement à la ramasse. Les morceaux  font partie de son TOP 20 sur les plates-formes de streaming : je n'ai vraiment pas d'excuses. Mais il manquait clairement une séquence avec des titres plus pop comme « Turn Up The Music », « Yeah 3x » ou « Five More Hours ». Le moment fort que je retiens, c'est « Wall To Wall »,  le seul morceau que je connaissais vraiment avant le concert. Musicalement, ce n'était franchement pas intéressant : les titres sont trop courts, il y a du play-back, concrètement : ce n'est pas là qu'il faut aller chercher les points forts du concert 😕.
En revanche, au niveau de la mise en scène : c'était canon. Je n'ai pas vraiment pu apprécier le spectacle à cause de mon placement, mais du peu que j'ai pu voir, c'était grandiose. La structure est impressionnante et la création visuelle est top : c'est pop, c'est coloré, rien à dire là-dessus si ce n'est bravo 👏. Les chorégraphies m'ont également plu : j'ai eu l'impression qu'il s'économisait moins que la dernière fois que je l'ai vu sur scène. L'ambiance était top, le public connaissait les chansons par cœur. Il y avait beaucoup d'adolescentes accompagnées de leurs parents, je pense qu'ils devaient être à peu près dans le même état que moi… largués 🤷‍♂️. En bref, mis à part s'il revient avec un album pop, je ne pense pas retourner le voir… Mais bon, ne dit-on pas : jamais 2 sans 3 ?
On termine avec les photos et les vidéos du show, n'hésitez pas à laisser vos commentaires ici et sur les réseaux sociaux : Facebook, Twitter et Instagram !
Setlist : Heartbreak On A Full Moon / Rock Your Body / Questions / Party / High End / Wall To Wall / Liquor / This Ain't / Grass Ain't Greener / Lost & Found / Hope You Do / To My Bed / Privacy / Back To Sleep / No Bullshit / Take You Down / Yellow Tape / Juicy Booty / Tempo / Freaky Friday / (Yo) Excuse Me Miss / Poppin' / New Flame / Loyal / Pills & Automobiles
Également disponible en vidéo sur YouTube : Party – Tempo – Loyal
Chris Brown : Heartbreak On A Full Moon Tour – Barclays Center, Brooklyn (2018)