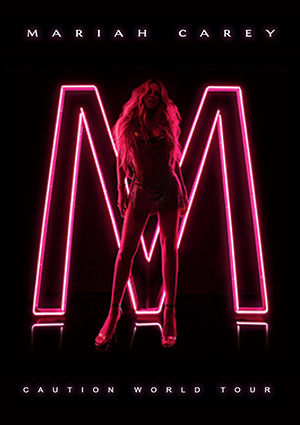 25 Mars 2019 – Mariah Carey : Caution World Tour – Radio City Music Hall, New York
Mariah Carey a donné le coup d'envoi de sa nouvelle tournée « Caution World Tour » il y a quelques jours et s'apprête à investir l'une des plus belles salles de New York pour y présenter le show ! J'ai eu l'occasion de la croiser sur le tournage d'une émission pour MTV en novembre dernier et mon impatience de la retrouver sur scène n'a fait que grandir depuis ❤ Il est 19 h lorsque j'arrive au Radio City Music Hall. Je me dirige directement vers le merchandising pour acheter le magnifique programme de la tournée. Il n'est pas très épais, mais les photos sont superbes ! Je grimpe ensuite jusqu'au 2e balcon où j'ai réussi à me trouver une place au premier rang. Je ne suis pas déçu : j'ai une belle vue d'ensemble sans personne devant moi. Quoiqu'il arrive, je n'avais pas 499 $ à mettre dans un ticket 😂.
En première partie, un DJ nous offre quelques classiques, dont des titres de Michael Jackson que les gens chantent à tue-tête. « Leaving Neverland » n'a clairement pas eu l'effet escompté ici et c'est tant mieux. Après quelques morceaux, Bryan Tanaka, le chorégraphe de Mariah vient nous expliquer que la diva fête bientôt son anniversaire et que c'est l'occasion de lui souhaiter en chœur. On répète 2 ou 3 fois Happy anniversary Meuriaaah 🎂 et nous voilà repartis pour de longues minutes d'attente.
À 21 h 20, les lumières s'éteignent et l'on voit la lettre M en néon rose se dessiner progressivement sur l'écran. La silhouette de Mariah apparaît au centre pour rappeler l'affiche de la tournée. Le rideau tombe et l'introduction démarre sur « A No No ». On découvre la diva affublée d'une robe nacrée au milieu d'un décor tout en vidéo. C'est beaucoup plus moderne que ce qu'elle a proposé par le passé ! Elle est accompagnée de 4 danseurs. Après un rapide « Hello New York ! », elle enchaîne sur « Dreamlover ». L'écran projette des images de fête foraine et de feux d'artifice.
Elle est en voix, ça fait plaisir à entendre ! Elle se moque un peu de l'accent new-yorkais avant de rejoindre le piano pour un mashup de « You Don't Know What to Do » que je n'aurais jamais pensé entendre en live et « Emotions ». C'est absolument génial  🤩 Les danseurs se déchaînent sur une chorégraphie très 90's pendant qu'elle nous place ses whistles en mode rossignol milanais ! Je ne sais pas s'il s'agit de play-back, mais quoi qu'il en soit, l'illusion est totale ?. Je suis fan ❤.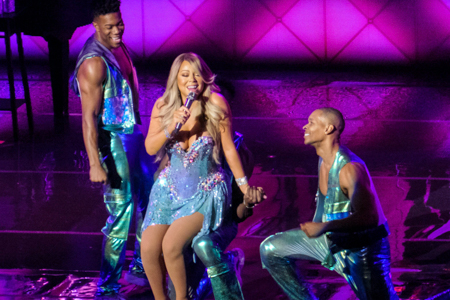 Elle nous explique la chanson suivante est un extrait de son album « Music Box », il s'agit en effet de « Anytime You Need a Friend » qu'elle n'avait pas chanté depuis une vingtaine d'années. Les choristes la jouent façon gospel et l'ambiance passe en mode clubing avec le 'C+C Club Mix' lancé à pleine puissance. Les danseurs sont de retour et les chœurs reprennent le 'Morales Club Mix' de « Can't Take That Away (Mariah's Theme) » dans un décor digne de Gatsby le magnifique. Mariah Carey revient vêtue d'une robe noire, sur laquelle sont brodés des tubes lumineux qui changent de couleur au rythme de la musique.
La tenue se met à clignoter à toute berzingue sur le 'Sweet Club Mix' de « Fantasy » sur lequel elle vocalise plus qu'elle ne chante. Côté visuel, la crise d'épilepsie n'est pas loin 😂. Le remix club laisse place au 'Bad Boy Fantasy Remix', plus urbain, sur lequel elle n'en fait pas beaucoup plus. Elle glisse ensuite entre deux morceaux qu'elle s'apprête à publier son autobiographie. Un livre qui risque d'être croustillant !
Elle explique que la chanson suivante est l'une de ses favorites, et que c'est la première qu'elle a écrite avec son ami Jermaine Dupri : il s'agit de « Always Be My Baby ». En version originale d'abord, puis remixée à travers le 'Mr. Dupri Remix'. Sur l'écran défilent les images de ses gosses, Monroe et Moroccan, et tout le monde s'attend les voir débarquer d'une minute à l'autre. Ça ne manque pas, les deux excités arrivent micro à la main en mode HEEELLOOO NEW YORK ! Ils en font des caisses, ils ont tellement la confiance, c'est à mourir de rire 😂.
Après leur départ, elle enchaîne avec « Caution », qui donne son nom dernier album. Son maquilleur et son coiffeur la rejoignent pour un « glam moment » avant « GTFO ». Le titre est une excellente surprise en live. Ce n'est pas un morceau sur lequel je m'arrête spécialement en écoutant l'album, mais le moment est super smooth et les projections rose et bleu sont superbes : j'ai adoré !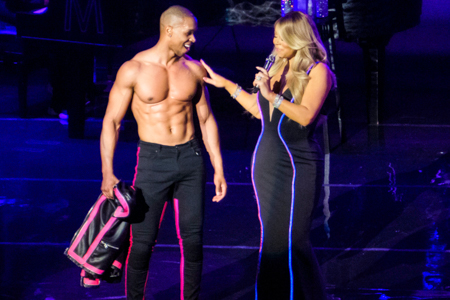 Elle annonce qu'elle est très excitée de partager la scène avec deux invités de marque, Blood Orange et Slick Rick. Ils arrivent pour l'accompagner sur l'une de ses chansons favorites, « Giving Me Life », que les fans lui réclament depuis le début de la tournée. Elle explique que c'est la première fois qu'elle la chante sur scène et qu'ils ne l'ont répété qu'une fois dans l'après-midi ! Je ne sais pas si elle la gardera pour la suite ou si c'est un coup d'un soir… L'avenir nous le dira ! Elle offre après ça un solo à Slick Rick sur « La Di Da Di », ce qui, entre vous et moi, ne m'a pas laissé un souvenir impérissable !
Le concert reprend sur une introduction flamenco à la guitare. On reconnaît rapidement « My All » qui ne me transporte pas spécialement cette fois-ci. Mariah, maintenant vêtue d'une robe de soirée un peu too much, nous invite à retourner dans le passé avec « Vision of Love ». La chanteuse se donne à 100 % en enchaînant entre puissance et douceur… toute la salle se lève et lui offre une standing ovation à la fin de la chanson ! C'est l'un des meilleurs moments du show.
Des images de l'émission TRL sur MTV à laquelle j'ai participé en novembre dernier sont diffusées sur l'écran pour célébrer le mouvement #JusticeForGlitter lancé par notre Kenny national. Le hashtag, pour ceux qui ne sauraient pas, a permis à l'album maudit « Glitter », d'être n°1 du top digital, 17 ans après sa sortie ! Muni d'un froufrou, elle entame alors un medley de 4 titres pour célébrer le disque avec les fans présents : « Never Too Far », « Last Night a DJ Saved My Life », qui m'a fait découvrir Mariah Carey en 2001, « Loverboy » et « Didn't Mean to Turn You On » sur lequel elle est accompagnée d'un danseur en rollers. Entre tubes, surprises et raretés, la setlist est un sans-faute pour l'instant ! Alors qu'elle rejoint les coulisses, Trey Lorenz, l'un des choristes, se charge de la présentation du groupe sur l'instru de « Didn't Mean to Turn You On ».
Sur l'écran apparaît le double maléfique de Mariah Carey, Bianca, que nous avons aperçu pour la première fois en 1999 dans le clip du « Heartbreaker ». Le titre démarre et l'alter ego de la diva surgit en chair et en os, au même moment que la chanteuse, qui est maintenant vêtue d'un body pailleté surmonté d'une veste tout aussi étincelante ! Les tenues, ce n'est clairement pas le point fort du spectacle 😕. Bianca provoque Mariah en duel et la scène se transforme en ring de boxe pendant quelques secondes ! C'est à mourir de rire, les projections sont magnifiques, c'est vraiment un des tableaux les plus réussis du spectacle 👍.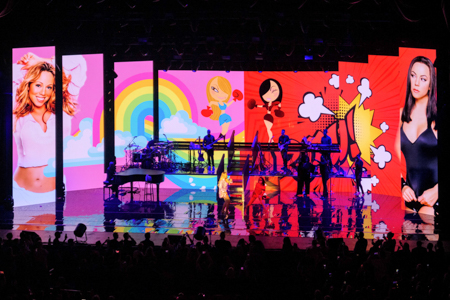 Engoncée dans son maillot-une-pièce, elle enchaîne sur « Touch My Body » que vous pouvez retrouver en vidéo sur ma chaîne YouTube ou à la fin l'article ! On sent la fin approcher lorsque démarre « We Belong Together ». Je n'ai pas eu beaucoup de doutes sur le live pendant toute la soirée, mais la voix est tellement différente sur le pont de la chanson que ça ne peut être que du play-back. Ça ne gêne en rien le public qui reprend en chœur les paroles sur le remix qui est proposé par le groupe juste après.
Je ne peux pas m'empêcher de pousser un cri d'effroi quand je la vois revenir sur scène après avoir enfilé une sorte de tulle rose bonbon pailleté autour de son body. Ça lui donne l'apparence d'une princesse ayant abusé de crème glacée à la licorne ✨. Elle interprète « With You » avant de terminer sur « Hero » qui m'impressionne vraiment. C'est le moment du concert que j'ai préféré, et pourtant ce n'est pas une de mes chansons à favorites ! C'est pour moi la plus belle interprétation des trois concerts auxquels j'ai assisté. Que direz-vous de la découvrir ?
« Hero » (Live) @ New York, 25/03/2019
Je ne sais pas pourquoi celle-ci plus qu'une autre, mais j'ai vraiment été embarqué ❤. Elle remercie les fans, les danseurs, les musiciens et toute son équipe, avant de quitter la scène sous les applaudissements du public 👏.
Quel pied franchement ! Le spectacle est une vraie réussite, de la setlist à la mise en scène, en passant par la voix : c'est un sans-faute. Je regrette un peu la durée du concert, 1 h 30 au total, sur lequel il faut retirer à peu près 15 minutes d'interludes et de chorégraphies. C'est tellement bien qu'on aimerait en avoir plus ! Elle a réussi à mêler ses tubes, ses nouvelles chansons et des raretés, sans temps mort et avec une virtuosité incroyable. Musicalement, c'est intéressant parce qu'elle va aussi piocher dans les remix de ses titres, ce qui peut surprendre, et en même temps ce qui est nécessaire pour renouveler des chansons qu'on a déjà entendues 1 000 fois 👍.
La mise en scène est moderne, c'est super efficace visuellement ! On sent que Vegas est passé par là. Le point faible du show, s'il faut en citer un, c'est sans doute les costumes, que personnellement je n'ai pas aimé… mais qui peut-être plairont à d'autres ! C'est une femme pulpeuse, et le fait de l'habiller dans ce genre de tenues un peu too much, ça n'est pas toujours flatteur pour sa silhouette. Côté ambiance, elle a été bavarde, les gens autour de moi étaient réceptifs et sont restés sagement à leur place, ce qui est étonnant pour le public américain !
Elle sera en France en juin 2019, à Paris et à Bordeaux. Je vous conseille d'y aller, car c'est un spectacle qui peut plaire aux fans comme au grand public. Moi j'aimerais beaucoup la revoir ! Je sais qu'elle souhaite jouer son show de Noël à New York cette année, mais si le « Caution Tour », pouvait repasser également, je serai ravi d'y retourner ! On se quitte avec les photos et les vidéos du concert, n'hésitez pas à laisser vos commentaires ici ou sur les réseaux sociaux Facebook, Twitter et Instagram et découvrir les précédents concerts de Mariah auxquels j'ai assistés : All I Want For Christmas Is You Tour en 2017 et The Sweet Sweet Fantasy Tour en 2016 !
Setlist : A No No / Dreamlover / You Don't Know What to Do / Emotions / Anytime You Need a Friend / Can't Take That Away (Mariah's Theme) / Fantasy / Always Be My Baby / Caution / GTFO / Giving Me Life / My All / Vision of Love / Never Too Far / Last Night a DJ Saved My Life / Loverboy / Didn't Mean to Turn You On / Heartbreaker / Touch My Body / We Belong Together / With You / Hero
Également disponible en vidéo sur YouTube : Giving Me Life – Last Night a DJ Saved My Life – Touch My Body
Mariah Carey : Caution World Tour – Radio City Music Hall, New York (2019)