21 Mai 2010 – Lady Gaga : The Monster Ball Tour – Bercy, Paris
Aller, j'enchaîne ! Je viens de finir d'écrire le compte-rendu du « The E.N.D. World Tour » des Black Eyed Peas et me voici déjà passé au deuxième jour de cet incroyable double Bercy : le concert de Lady Gaga ! Vous ne les lirez sans doute pas en même temps – alors petit rappel des faits : premier jour, Black Eyed Peas, concert énooorme comme rarement j'ai pu vivre = la relève va être difficile ! Et ça commence mal… À midi, nous voilà déjà sur le chemin de Bercy en nous disant « si on est dans les barrières, on sera grave tranquille » – vu qu'on arrivait deux heures plus tôt par rapport à la veille, pour moi, il était normal qu'on soit mieux placés ! Mais ça, c'était sans compter sur tous les « petits monsters » (entendez « fans hystériques ») de Lady Gaga (prononcé « Laiyedi Gaga » avec un air un peu précieux) : 12h30, une foule immense, peut-être déjà 2000 à 3000 personnes devant la salle… Alors forcément, tout le monde stressé à mort, au moindre mouvement de foule les gens se précipitent : j'ai vécu une des pires attentes de ma vie ! Ça m'a rappelé les concerts de Madonna tiens ! Et vas-y que je pousse, et vas-y que je colle – le jour et la nuit avec le concert des BEP où le public était super cool…
Bref, j'ai râlé toute la journée – Nathalie a dû m'abandonner en pleine foule – j'ai donc continué le chemin seul tranquillement jusqu'à l'entrée de la salle : une heure entre l'ouverture des portes et l'entrée dans Bercy… Je me suis posté à mon endroit stratégique (le côté du bout de l'avancée) et j'ai attendu ! Au final, je n'étais pas si mal placé que ça… mais disons que tous ces gens qui collaient m'ont excédé au maximum et ont fait que j'ai trouvé l'expérience Gagaienne insupportable ! Enfin à ce niveau tout du moins… le reste, c'était quand même fort sympathique ! Première partie immonde : le groupe « Semi Precious Weapons » (Lady Gogo si vous voulez vous imaginer l'acabit), un homme-femme qui hurle des « fucking » à tout va sur de la musique rock – c'était looong… Pauvre Cheryl Cole, elle est bien loin ! Il a même craché du champagne (It's OK it's OK ♪) sur le public : putain, j'imagine comme on doit bien puer et coller après. Je rappelle à tous que les US eux ont eu droit à Kid Cudi (donc juste dégoûté quoi…). Bref, une longue attente entre cet affreux passage et le véritable lancement du concert, qui s'apprête à débuter !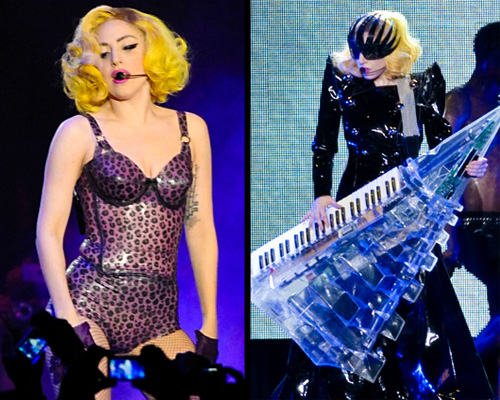 Une vidéo est projetée sur la toile qui cache la scène (et qui servira de support vidéo à chaque interlude quasiment) : on y voit Lady Gaga bouger au ralenti sur une musique technoïde – bon franchement, ça ne casse pas trois pattes à un canard ! Le premier titre du concert s'enchaîne à l'introduction, on entend « I'm a free bitch ! » c'est « Dance In The Dark » qui est donc le premier titre de ce bal des monstres, alors je me suis demandé tout au long du titre s'il y avait un problème avec le rideau de scène, mais non… en fait, la lumière projette l'ombre de Lady Gaga sur le rideau qui se relève pas… toute la chanson se déroule donc comme ça, avec pour seul décor l'ombre de Lady Gaga qui esquisse quelques mouvements toutes les 30 secondes – ce que provoque une jouissance extrême dans le public évidemment ! C'est un peu spécial, mais finalement en accord avec le titre de la chanson ! Bref bref, le rideau finit par s'ouvrir sur un décor plutôt cool : la reproduction d'une rue de New York – avec de nombreux escaliers en acier et des enseignes lumineuses un peu partout – c'est vraiment stylé ! Et en fait, c'est à ce moment que je comprends que le concert va raconter une histoire… Pour faire rapide, il s'agît d'un voyage vers un endroit où tout est possible, où on peut enfin être ce qu'on a envie d'être et pour y aller, on fait quoi ? Bah on prend une bagnole, et ça, ça se fait sur le deuxième titre du concert – un inédit – « Glitter And Grease », pas terrible et surtout, pour faire plonger l'ambiance dès le départ, il n'y a rien de tel que ça ! Heureusement, la voiture tombe en panne, et c'est son premier tube « Just Dance » que tout repart : avec une énorme introduction allongée ! Rha, ça fait quand même plaisir d'entendre tout ça en live ! Elle est habillée d'un body violet brillant qui n'est pas sans rappeler la grande époque « Hung Up » de Madonna ! Ça chante et ça danse sur scène et dans le public ! Franchement, mon enregistrement audio pour le compte-rendu est inaudible ! Tout ce que je peux vous dire c'est que ça enchaîne assez rapidement sur « Beautiful, Dirty, Rich » où Gaga ira frotter ses fesses dans une énorme cage en acier sur le côté de scène en chantant comme si de rien était ! Grosse standing ovation après ce titre !
Direction le catwalk pour la suite des évènements où Posh (!), a priori son vrai colocataire à l'époque où elle habitait New York et habillée en body noir tel Grace Jones, lui demande : « So Gaga, what is a monster ball really really ? » – elle lui répond, comme je vous l'ai dit il y a quelques lignes que c'est un endroit où on peut être libre et être ce qu'on veut être « petiiiiiiiiits monsteeeeeers ! ». La messe est dite : le concert peut continuer ! Avec un titre obscur « encore » : « Vanity », l'un des bonus de son premier album « The Fame », malgré tout, j'ai adoré cette version live : ça a été l'un des meilleurs moments du show ! D'ailleurs en parlant de « The Fame », c'est le titre qui suit après un rapide changement de costume : elle est maintenant paré d'un énorme manteau rouge et joue d'un instrument assez étrange : une guitare électrique/clavier/table de mixage ! Fallait y penser ! Cette première partie passe assez rapidement ! Ça ne sera pas le cas pendant toute la durée du show ! « The Fame » se termine sur un solo de guitare d'un des musiciens du groupe et c'est parti pour un interlude… ça commence !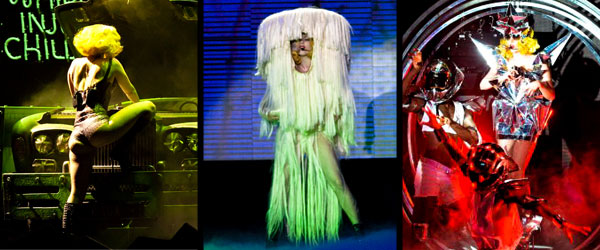 Celui-là apriori, on l'appelle « The Exorcist Interlude » : sur une musique là aussi technoïde, on y voit Lady Gaga dans une robe blanche avec le corps à l'envers, à l'endroit, puis avec une petite Japonaise assise sur les genoux qui lui vomi dessus une sorte de liquide verdâtre… Bon appétit bien sûr ! Mais ce n'est pas tout : on l'a voit ensuite mangé un cœur – hum… ça a l'air bon – avant de se faire embaumer dans un autre costume blanc ! C'est l'un de ceux que j'ai préférés ! Lol ! Oui, je sais : c'est du grand n'importe quoi… mais finalement c'est ça Lady Gaga ! Lorsque le rideau se soulève de nouveau, on se trouve dans une rame de métro… Elle est d'ailleurs sur scène cette rame, car le décor a changé ! C'est l'heure de « Love Game » : franchement la version live est une tuerie ! Depuis le concert, je me passe le titre en boucle ! Elle est habillée dans une tenue de nonne en plastique transparent avec une grande main squelettique à la place de la sienne… c'est de toute beauté ! Non, j'déconne ! En tout cas, j'ai beaucoup aimé ce moment, c'était vraiment puissant ! Le public est en délire sur l'interlude remixé de « Love Game » où Gaga nous fait quelques vocalises en brandissant son spectre lumineux avant d'entamer, après un petit blabla, « Boys Boys Boys », pour ces « french gay fans » où les danseurs vont passer la chanson à exposer leurs « gros paquets » au public… après, qu'on vienne me dire que le public n'était pas ciblé ! Ahah !
Je ne me souviens plus tellement de l'interlude qui a suivi – je crois que c'était assez « céleste », tout ça avant que Lady Gaga revienne sur scène sur « Money Honey » qu'elle terminera sur le catwalk pour « le » moment du concert que j'ai préféré : « Telephone » ! Non, mais quelle ambiance ! C'est d'ailleurs l'extrait que j'ai choisi pour illustrer cet article, vous trouverez la vidéo à la fin du compte-rendu ! J'ai adoré ce moment ! Chorée, réorchestration, tout quoi ! Et là franchement, elle a la forme la Gaga, parce qu'il faut tenir le choc est se déchainant autant sur scène ! Pour le coup, j'avoue, elle m'a épaté ! Petite outro musicale pour les danseurs, le temps que le piano d'arriver sur scène, et là… ça va être looong ! Elle commence par nous dire qu'elle est heureuse d'avoir gagné cinq « World Music Awards » – récompenses qui sont bien exposées sur le piano. À l'issue de « Brown Eyes » – interminable titre que je déteste, elle essaiera de s'en faire une grosse bite, ou deux… Bref, ça donne au show une part d'humanité dont il aurait cruellement manqué si elle n'avait pas tant parlé au public dans ces moments-là ! Mais bon… le pire à ce niveau reste à venir : elle a carrément pleurée ! En attendant ce passage, c'est sur une reprise que le concert reprend « Stand By Me » – qu'elle ne chante pas tous les soirs (on a de la chance !) que le public reprend en cœur avec elle ! Ensuite, il va y avoir un drôle d'interlude où elle va se vautrer sur le piano et jouer des notes au hasard avec ses talons de chaussures… c'est un peu long et carrément inutile ! Moi, ça m'a carrément saoulé ! Le tout avant d'interpréter « Speechless » – en pleurant à moitié (en vrai ? en faux ? va savoir !) – elle profitera de ce moment pour dire qu'elle n'aime pas l'argent, qu'il n'y a que son public qui l'intéresse ! Ah ouais ? Ah ouais salope ? 75€ la fosse, 100€ les gradins, pour une première tournée, dire qu'on n'aime pas le pognon, c'est abusé : tu ferais mieux de fermer ta gueule ! Après cette petite colère passagère, nous pouvons reprendre, elle dira également qu'on lui a souvent dit, qu'elle ne savait pas chanter, ni danser, ni être belle… et elle a répondu : « Fuck you… I'm a star ! » Eh oui, la voilà notre Lady Gaga ! Mais je suis quand même heureux que ce passage se termine…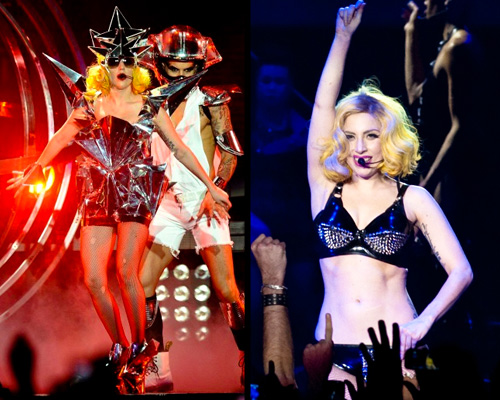 Après un court interlude… On la retrouve en chair et en os au milieu de l'avancée de scène au centre de l'écran centrale… au milieu d'une tempête « It's a TWISTEEER ! » et oh… surprise, nouvel interlude vidéo ! Quelle chance ! Ça faisait 2 secondes qu'on n'en avait pas eu un ! C'est le passage que j'ai trouvé le plus long dans le concert, et ce n'est pas fini, parce qu'après « So Happy I Could Die » qu'elle chantera sur une plate-forme surélevée au milieu de Bercy déguisé en « reine des neiges » c'est reparti pour un interlude musical puis un interlude vidéo « Put Your Paws Up » ! On est gâté ! Non j'me moque, mais franchement ce rythme décousu, ça m'a saoulé : concrètement en comptant les vidéos, il y eu au moins 25 minutes consacrées à « Speechless » et « So Happy I Could Die », deux titres plutôt « pas terrible » niveau ambiance !
Heureusement ça repart avec « Monster » : elle se ramène sur scène déguisée en pouf – alors pas en « pouffiasse », mais en vrai pouf – celui sur lequel on s'assoie ! MDR ! Franchement ce costume m'a transcendé ! Le titre est plutôt sympa en live – moi en tout cas j'ai beaucoup aimé ! À la fin, elle se fait « bouffer » par ces danseurs et elle ressort de là en body et en sang… surtout ! Elle écrira Paris sur son bras en lettre de sang à la fin du titre avant de se lancer dans l'interprétation de l'un des titres que je préfère de « The Fame Monster » : « Teeth » ! Ah ah, j'attendais avec impatience de voir ce qu'elle en ferait ! Elle le termine sur l'avancée pour quelques vocalises sur « Show me your teeth ! » avant d'entamer son nouveau single : « Alejandro », une énorme fontaine apparaît sur scène ; elle se baigne dedans durant une partie avant d'être ramenée par un danseur au centre de la scène ! Bah pour tout vous dire, autant j'aimais bien cette chanson avant, autant maintenant elle me saoule, et l'entendre en live n'a rien changé pour le coup ! Je n'ai rien trouvé d'intéressant à la mise en scène…
S'en suit un interlude complètement à l'ouest : « The Manifesto Of Little Monsters », avec des images en noir et blanc un peu étranges : on la retrouve par exemple avec un masque à gaz en train de fumer une clope et de bouger comme les rappeurs américains ! J'ai beaucoup aimé ce passage, car c'était vachement marrant de la voir dans ces situations un peu débiles ! Et puis, ça changeait des vidéos chiantes qu'on avait eues jusque-là ! Pour info : j'ai commencé d'écrire ce compte-rendu il y a maintenant une heure et demie… tout commence à se mélanger, heureusement qu'on arrive sur la fin ! Donc après ce manifeste « gagaien », le rideau central se soulève légèrement pour laisser place à Lady Gaga et ses danseurs pour « Poker Face » « enfin » ! Le titre est rapidement expédié, c'est quand même fort dommage, surtout après les longueurs qu'on a vécues avant avec des titres plus obscurs ! Pourtant en live, « Poker Face » c'est ultra-puissant ! Après ça, c'est reparti pour un interlude – que l'on appellera « The City Interlude », on voit une ville qui monte et Gaga qui apparait ici et là sur les « toits » de la ville. L'instrumental est vraiment sympa sur celui-ci ! Mais là, ça commence vraiment à faire beaucoup – pour pas grand-chose ! Mais en fait si on y réfléchit, la scène principale est cachée depuis fort longtemps, lorsqu'elle s'ouvre… surprise !
Bon, demi-surprise, parce que j'avais déjà vu les vidéos sur YouTube – mais un énorme monstre (« The Fame Monster ») se trouve sur scène – c'est un énorme poisson des abysses avec de nombreux tentacules, des yeux lumineux et une énorme mâchoire ! Le groupe de Lady Gaga arrive sur la droite de la scène à la manière des ducons de Scooby-Doo : l'extraordinaire monstre est derrière eux et ils ne le voient pas, la tension monte, Gaga se retrouve seule, se retourne et hurle ! « Paparazzi » démarre et finalement, va être aussi rapidement expédié avec une Lady Gaga se roulant par terre dans les tentacules de la bestiole. Je pensais que ça serait moins noir à ce moment, finalement, on ne distingue pas trop les détails du monstre ! Elle nous dit que pour le tuer, il faut prendre des photos ! Bah, moi j'aurais bien aimé, mais j'ai dû m'y reprendre à 30 fois avant d'en avoir une potable ! Ah ah ! Par contre, j'ai adoré la façon dont elle a chanté le titre, un peu à la manière des VMA – avec de nouvelles intonations de voix ! Dommage que ça soit si court ! Elle ressort de là-dessus avec le bustier en métal qui crache des étincelles comme dans le clip de « Bad Romance » et s'éclipse de la scène après un petit « au revoir » en français !
Le rideau s'ouvre de nouveau et Lady Gaga apparait dans la fameuse boule en cerceaux que l'on peut voir sur l'affiche ou dans le clip de « Bad Romance », d'ailleurs c'est ce titre qui vient clôturer le « monster ball ». C'est le titre qui a foutu le plus d'ambiance dans Bercy – c'était « le » final qu'il fallait ! Le public chante, danse comme la même chorée que Gaga – à ce moment-là, c'est réellement une grande fête comme rarement j'ai vu à Bercy :
I want your love and I want your revenge
You and me could write a Bad Romance
♪ (Oh-oh-oh-oh-oooh-oh-oh-oh-oooh-oh-oh-oh!) ♪
J'aurais aimé que ça dure plus longtemps franchement ! Mais bon, finalement, c'est la grande faiblesse du show : ne pas avoir voulu s'attarder sur les gros titres alors que dans le fond c'est ceux-là que les gens attendent et faire la part belle à des titres peut-être un peu plus intimistes, mais relativement chiants… Moi, le passage « Speechless / So Happy I Could Die » : je l'ai senti passer hein ! Alors évidemment, après on me dira : oui, mais elle chante en live, oui, il y a une grosse mise en scène – ça pardonne tout ! Mouais… ce problème de rythme c'est quand même difficilement pardonnable quand on a attendu toute une journée et qu'on se retrouve au milieu de 10 000 personnes en fosse ! En tout cas, c'est vrai que c'est du bon show, contrairement à beaucoup d'artistes, celui-ci est « construit » : il raconte une histoire, il y a une queue et une tête ! Moi ça, c'est quelque chose que j'ai vraiment apprécié – après, il y a beaucoup trop d'interludes, de moments où on décroche, c'est vrai qu'on s'y perd finalement dans ce spectacle ! Dans les gros moments, je retiendrais : « Vanity », « Telephone », « Love Game », « Poker Face », « Bad Romance », mais l'ensemble est à voir, c'est vraiment sympa !
Quant à Lady Gaga en elle-même : elle a une présence de fou sur scène – franchement, elle est faite pour ça. On peut « entrapercevoir » un semblant d'humanité chez elle, elle a un peu chouiné, elle parle beaucoup au public : vrai ? Faux ? Vu qu'elle répète tous les soirs le même blabla… je me permets d'avoir le doute ! Mais on est quand même loin d'une Madonna qui ne décroche pas un mot au public quand elle est mal lunée. Par contre, ce qui m'a le plus étonné (ou gêné je ne sais pas), le culte sans limites que le public lui voue, c'est « acquis », franchement pour le public de la salle, elle n'avait rien à prouver et je trouve ça légèrement abusif : c'est son premier album (et demi), sa première tournée (et demi) – pour moi, elle a encore tout à prouver ! J'ai retrouvé l'agressivité des gens pour les grandes « icones » quoi ! J'ai quand même passé un très bon moment, à refaire… mais en gradins !
Les photos sont dans la galerie comme habituellement et je vous propose une playlist avec 3 vidéos des meilleurs moments du concert ! Pour terminer, je vous propose de me rejoindre sur Facebook, Twitter et Instagram pour découvrir de nombreuses autres chroniques de concert, notamment celles consacrées à la Gaga : Lady Gaga : artRAVE – The ARTPOP Ball – Zénith, Paris (2014), Lady Gaga : The Born This Way Ball – Stade de France, Paris (2012) et Lady Gaga : The Monster Ball Tour – Bercy, Paris (2010).
Setlist : Dance in the Dark / Glitter and Grease / Just Dance / Beautiful, Dirty, Rich / Vanity / The Fame / LoveGame / Boys Boys Boys / Money Honey / Telephone / Brown Eyes / Stand by Me / Speechless / So Happy I Could Die / Monster / Teeth / Alejandro / Poker Face / Paparazzi / Bad Romance
Également disponible en vidéo sur YouTube : Paparazzi – Telephone – Love Game
Lady Gaga : The Monster Ball Tour – Bercy, Paris (2010)