28 Juillet 2018 – Janet Jackson : State Of The World Tour 2018 – Panorama NYC Music Festival, New York
Janet Jackson est de retour et compte bien prouver qu'elle fait encore partie du game ! Elle vient d'entamer le 2e leg de sa tournée américaine « State Of The World Tour ». Une tournée qui se déroule dans des amphithéâtres en plein air et parfois même dans des festivals comme ici, à New York City. Et vous connaissez mon expérience des festivals, non ? La dernière fois, c'était en 2011 à Rock-en-Seine pour Kid Cudi et j'avais terminé couvert de bleus et de vomi… Je m'étais juré de ne plus jamais y remettre les pieds 😬.
J'ai malgré tout décidé de braver mon angoisse pour avoir une chance de l'applaudir de nouveau sur scène après l'avoir vue à l'Olympia en 2011 pour le 'Up close & personal' 2011 World Tour. Il est 17 h lorsque j'arrive sur Randall's Island où a lieu le Panorama Festival. J'ai de la chance, car je réussis à me glisser dans un coin avec une vue dégagée : je pense que j'y serai tranquille. Je m'assois en attendant que le temps passe : il me reste entre 4 et 5 h à patienter… Au cours de l'après-midi, on apprend que le set de Lil Wayne est annulé, car il n'a pas pu prendre son avion à cause des intempéries. Le festival avait déjà annulé la programmation de la veille à cause de l'orage. Ce n'est vraiment pas de chance. L'excitation monte au fur et à mesure que la nuit tombe… Allez, Miss Janet ! Gimme a beat !
À quelques minutes du concert, l'affiche de la tournée se retrouve placardée sur les écrans et à 21 h 25 pétantes, l'intro démarre. Au milieu d'images d'archives en noir et blanc : la vidéo enchaîne les messages politiques forts, notamment contre le racisme et la discrimination. Janet Jackson fait son entrée sur « The Skin Game (Part I) », un titre assez inattendu puisqu'il s'agit d'une B-side de 1990. La chanson est de circonstance, car elle traite de la haine raciale aux États-Unis à cette époque, un sujet tristement d'actualité 30 ans plus tard.
Elle porte un ensemble noir un peu sporty dont le pantalon est en satin. Son maquillage est lumineux et rehaussé par une longue queue de cheval. Elle est carrément hot ! Munie d'une canne, elle offre sa première véritable performance sur « The Knowledge » pendant laquelle l'écran continue de diffuser des messages lourds de sens pour l'égalité et l'accès à la connaissance. Elle est rejointe par ses six danseurs pour « BURNITUP ! » : les choses sérieuses peuvent commencer 🤗.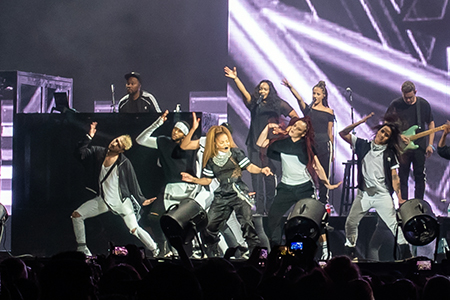 Je suis absolument fan de ce morceau ! Les projections montrent une Missy Elliott surexcitée alors que sur scène, Janet et ses danseurs enchaînent énergiquement les pas de la chorée. La meuf a 52 ans et bouge comme si elle en avait 20. Je suis impressionné ! D'autant plus après avoir vu une Britney Spears en grève la semaine dernière 😅. Sans transition, elle poursuit avec un medley de 9 minutes incluant : « Nasty », « Feedback », « Miss You Much », « Alright » et « You Want This ». L'enfilade de tubes revigore les spectateurs ! J'ai particulièrement aimé « Feedback » et « Miss You Much ».
Après avoir profité d'une ovation bien méritée, elle déclare la soirée officiellement ouverte avec ces quelques mots : « New York City ! Are you ready to party? No no no… I SAID: ARE YOU READY TO PARTY? ». C'est un nouveau medley auquel nous avons droit maintenant. Il contient des extraits de « Control », « What Have You Done For Me Lately » et « The Pleasure Principle ». Tout est en play-back depuis le début du concert, mais elle a au moins l'excuse de danser contrairement à sa comparse blonde 😆.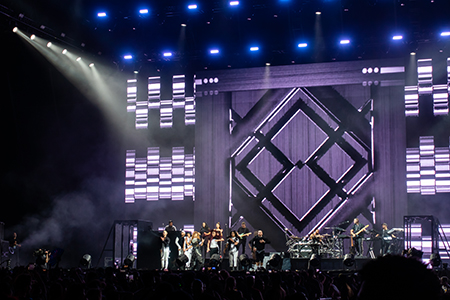 Le premier interlude de la soirée nous emmène dans un ciel sombre et nuageux avec des extraits de « Dammn Baby » et « Night ». Janet fait son retour avec « Love Will Never Do (Without You) » dont j'adore la rythmique et le clip, diffusé sur l'écran central. J'ai un vrai doute concernant le live : la tonalité est différente et la voix semble brute et moins nuancée. Malheureusement, en comparant avec une autre date, je me suis aperçu que la bande était exactement la même : on est donc toujours bien en play-back à ce moment-là du spectacle. Ce qui est intelligent de sa part, c'est qu'elle ponctue les titres d'interjections à destination du public, ce qui rend l'artifice plus difficile à repérer. Si je n'avais pas eu la curiosité de comparer, je serais clairement tombé dans le panneau…
Le concert se poursuit avec un court medley mêlant « When I Think Of You » et « All For You ». Les vidéoclips défilent sur les écrans et le public s'enflamme en entendant les premières notes de « All Nite (Don't Stop) » que vous pouvez retrouver à la fin de l'article. Elle a une énergie dingue et la communique aux spectateurs ! On observe ensuite un moment de calme avec « Runaway », « When We Oooo » et « Feels So Right ». Sur l'écran, des images du film « La Famille foldingue » annoncent « Doesn't Really Matter ». Ce film a une résonance particulière pour moi, car il est à l'origine de mon obsession pour les petites paupiettes 🥰. Une passion qui a contaminé tout mon entourage et qui persiste encore aujourd'hui ! Mais revenons à nos moutons…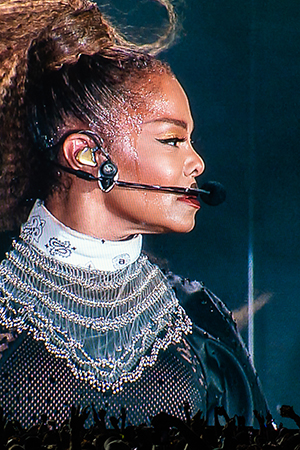 Janet Jackson laisse maintenant la place à un DJ pour un set dans lequel il nous balance un certain nombre de titres inattendus (et géniaux) comme : « So Excited », « Feel It Boy », « R&B Junkie », « Rock With U », etc. Le concert reprend avec un autre interlude vidéo comprenant des extraits de « Come Back To Me » et « Let's Wait Awhile ». Quant à Janet, elle réapparaît pour interpréter « Funny How Time Flies (When You're Having Fun) ». Elle a changé de tenue : elle porte maintenant un maillot jersey noir siglé « Alexander Wang ». Elle a également noué une chemise à carreaux autour de sa taille et chaussé de longues cuissardes. Lorsqu'elle entame « I Get Lonely », mon doute sur le live revient…  Voici un court extrait :
« I Get Lonely » (Live) @ New York, 28/07/2018
L'ambiance reste smooth pour « Any Time, Any Place », « What's It Gonna Be » et « No Sleeep », pendant laquelle J. Cole fait une apparition sur les écrans. Elle nous offre ensuite « Got 'Til It's Gone » et « That's The Way Love Goes » pour clôturer cette partie du concert.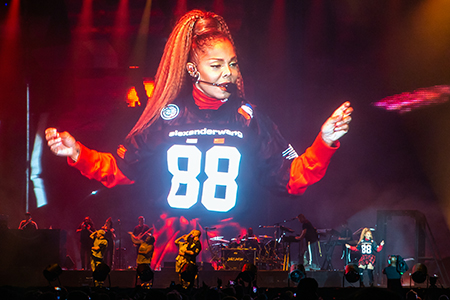 L'ambiance change du tout au tout avec « So Much Betta » que je n'aurais jamais pensé entendre en concert un jour ❤. Janet en profite pour présenter les danseurs qui l'accompagnent. Elle poursuit sur « Throb » que j'ai redécouvert suite à sa prestation aux Billboard Music Awards 2018 et que je vous invite à visionner sans plus attendre dans le lecteur à la fin du compte rendu. L'ambiance est magique à ce moment-là du show, mais pas autant que sur « Together Again », qui reste le tube incontesté de Janet !
Les spectateurs chantent à l'unisson, et Janet en profite pour offrir un hommage à son père décédé récemment. Sur l'écran, on voit s'afficher des photos familiales. Les arrangements live sont géniaux, j'ai adoré la reprise juste marquée par les percussions. Quelques images du clip continuent de défiler alors qu'elle rejoint les coulisses en courant. L'interlude vidéo suivant est particulier. Sur une musique de Spooky Black, on voit le visage de Janet Jackson en très gros plan. Parfaitement maquillée, elle étale lentement son rouge à lèvres avec ses mains… L'effet est étrange, car après quelques secondes : elle donne l'impression d'avoir été battue.
Et c'est bien le propos de la vidéo, car elle revient sur scène avec « What About », un morceau qui traite justement des violences conjugales. Les danseurs se partagent une chorégraphie contemporaine, presque violente, à laquelle Janet participe également. Le live semble réel, mais la comparaison avec d'autres vidéos me donne tort une fois de plus. Elle porte un blazer noir satiné ceinturé à la taille : c'est sans doute la plus jolie tenue de la soirée. On entre dans la partie fierce du concert avec « You Ain't Right » et « If ». Les chorégraphies sont dingues : elle a vraiment une énergie de ouf. L'écran retransmet maintenant ce qui se passe sur scène (ce qui n'est pas plus mal).
L'ambiance explose sur « Scream » et Michael apparaît à de nombreuses reprises dans les projections vidéo ❤. Le titre est trop court, mais heureusement, il est secondé par « Rhythm Nation », disponible à la fin de la chronique. Après quasiment 1h30 de show, elle est toujours au top de sa forme ! Je suis impressionné par la performance. Le concert se termine par « State Of The World », sur laquelle elle essaye de nous faire participer – sans succès. Disons qu'elle n'a pas choisi le titre le plus simple pour le public lambda (dont je fais partie). Elle nous remercie chaleureusement d'être venus la voir, et quitte la scène sous les acclamations des spectateurs !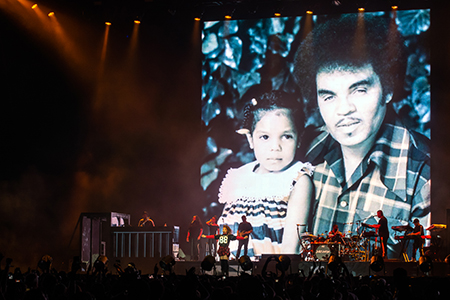 J'ai passé une excellente soirée ! Je me suis amusé comme un fou et j'ai vraiment été impressionné par la performance. À plus de 50 ans, elle continue de se donner à 100 % au public (allez, 99 %, si l'on veut la punir pour le play-back 🤔) en offrant un show complet construit autour de chorégraphies survoltées. La setlist alterne les classiques et les raretés : j'étais ravi de retrouver « Together Again », « All For You » et « Scream » au milieu de « All Nite (Don't Stop) », « Throb » ou encore « So Much Betta ». Musicalement, on est assez proche ce qu'on entend sur les albums. Les chansons ne sont pas dénaturées par les arrangements live, mais d'un autre côté ça n'apporte pas grand-chose à des titres qu'on connaît par cœur…
Je ne sais pas quoi ressemble la mise en scène habituellement, mais pour le festival, celle-ci était sans doute réduite à son minimum : un écran et des projections vidéo. En toute subjectivité, ce n'est pas le point fort du spectacle, même si certaines séquences offrent quand même de jolis moments. Là où on en prend plein les yeux : c'est grâce aux chorégraphies ! Elle semble d'ailleurs assez proche de sa troupe de danseurs, ce qui fait du bien à voir. Elle communique énormément avec le public, et n'hésite pas à aller le chercher quand c'est nécessaire.
Je serai clairement au rendez-vous lors de la prochaine tournée ! J'ai vraiment adoré le show. On attend maintenant un nouveau single, qui selon les rumeurs, devrait arriver très bientôt ! Ça lui donnera peut-être l'occasion d'exporter cette tournée en Europe, qui sait ? On termine avec les photos et les vidéos du concert, n'hésitez pas à laisser vos commentaires ici ou sur les réseaux sociaux – Facebook, Twitter et Instagram !
L'été nous réserve encore de belles surprises ! Dans quelques jours, j'ai prévu d'aller au concert de Beyoncé et Jay-Z avant de partir pour Washington applaudir une artiste que je n'ai jamais eu l'occasion de voir sur scène (c'est rare !) et qui me fait rêver depuis presque 20 ans : vous avez une idée ? Indice : on fêtera les 20 ans de son tube interplanétaire en octobre prochain : do you believe it ?!
Setlist : The Skin Game (Part I) / The Knowledge / BURNITUP! / Nasty / Feedback / Miss You Much / Alright / You Want This / Control / What Have You Done For Me Lately / The Pleasure Principle / Love Will Never Do (Without You) / When I Think Of You / All For You / All Nite (Don't Stop) / Runaway / When We Oooo / Feels So Right / Doesn't Really Matter / DJ Set / Funny How Time Flies (When You're Having Fun) / I Get Lonely / Any Time, Any Place / What's It Gonna Be / No Sleeep / Got 'Til It's Gone / That's The Way Love Goes / So Much Betta / Throb / Together Again / What About / You Ain't Right / If / Scream / Rhythm Nation / State Of The World
Également disponible en vidéo sur YouTube : All Nite – Throb – Rhythm Nation
Janet Jackson : State Of The World Tour 2018 – Panorama NYC Music Festival, New York (2018)