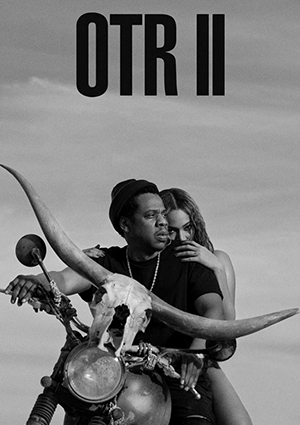 2 Août 2018 – Jay-Z & Beyoncé : On The Run II – MetLife Stadium, East Rutherford
Jay-Z & Beyoncé ont repris la route avec une tournée intitulée OTRII ! Après 18 dates en Europe dont 3 en France : les 2 stars américaines s'installent au MetLife Stadium à côté de New York pour 2 soirées consécutives. J'ai déjà eu l'occasion de les voir sur scène séparément, Jay-Z en 2012 et Beyoncé en 2013, mais je n'avais pas pu assister à leur première tournée en commun. J'étais donc assez curieux de découvrir ce show, qui n'a pas été épargné par les critiques depuis son lancement !
Mis à part les zones VIP, ici : tout était assis ! Il fallait compter env. 350 $ pour une place au parterre 😒. Comme je n'avais pas l'intention d'y mettre autant d'argent, c'est au fond du stade que j'ai choisi d'acheter mes tickets, pour une quarantaine de dollars chacun. Une fois installé, je suis agréablement surpris par la visibilité qu'offrent les places : le lieu est gigantesque, mais le décor l'est également. Un écran phénoménal trône au milieu de la pelouse, qui est séparée par 2 catwalks. En première partie : Chloe x Halle rapidement suivies par DJ Khaled ! Dieu merci, le cauchemar se termine rapidement et l'écran affiche maintenant les lettres OTR pour « On The Run ».
Ceux qui me suivent sur les réseaux sociaux le savent, tout ne s'est pas passé exactement comme prévu… À 22 heures, les lumières du stade se rallument ! On se dit que ça pue clairement la merde… La production nous annonce qu'un orage se dirige droit sur nous et nous explique qu'il faut évacuer le bâtiment. En quelques minutes, tous les spectateurs se retrouvent entassés dans les couloirs. Avec ce qu'il tombe dehors, le concert va sans doute être annulé 🙁.
On cherche des informations, mais personne n'est capable de nous en donner. On erre dans les coursives à la recherche de raincoats sans trouver quoi que ce soit. C'est vraiment la loose ! À 22 h 45, un mouvement de foule nous fait comprendre que l'orage est terminé et nous pouvons reprendre nos places… Il reste malgré tout une question : si le concert commence à cette heure-là, que vont-ils amputer pour finir à l'heure ?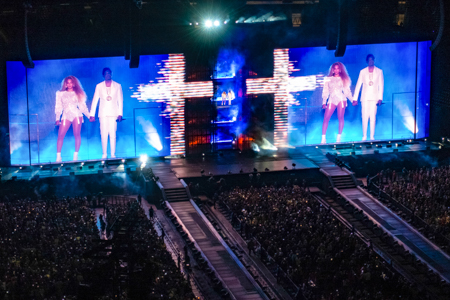 Il faut encore patienter une bonne demi-heure avant que le concert démarre. À 23 h 10, les lumières s'éteignent enfin. L'introduction présente de magnifiques images de Jay-Z et Beyoncé sur une chanson de Nina Simone intitulée « Black Is The Color Of My True Loves Hair ». On y voit le couple filmé dans les plus beaux endroits du monde. La vidéo se termine sur leurs deux portraits accompagnés du message « Love Never Changes ». L'écran s'ouvre et révèle une structure métallique de 4 étages, appelée performer wall. Elle est composée de 20 petites ouvertures qui permettent d'accueillir verticalement les 26 musiciens, les 17 danseurs ainsi que les 2 artistes… Qui font justement leur apparition en haut de l'échafaudage ! Ils se tiennent la main alors que l'ascenseur les amène lentement jusqu'en bas.
Beyoncé porte un body serti de perles et Jay-Z, un tailleur blanc. Le premier morceau de la soirée est « Holy Grail » et déjà, des feux d'artifice explosent tout autour de la structure ! La mise en scène est saisissante, car même s'il y a peu d'éléments, les jeux de lumière et le décor offrent un panorama vraiment magnifique ❤. Ce qui impressionne également, ce sont les spectateurs qui chantent le titre à l'unisson. Un jour, moi aussi je serais capable de pousser la chansonnette autrement qu'en yaourt 😅. Après quelques mots de bienvenue, le couple enchaîne sur « Part II (On The Run) » devant les images d'une plage paradisiaque. Et c'est chacun de leur côté qu'ils interprètent leur premier tube en commun : « '03 Bonnie & Clyde ».
Le premier interlude vidéo démarre. Sur l'écran, on peut voir le couple échanger quelques embrassades en bord de mer. Beyoncé fait son retour avec « Drunk In Love ». Elle porte la même tenue que précédemment. Elle est seule et se promène jusqu'au bout de l'avancée, où se trouve une plate-forme qui la surélève au-dessus du public. Jay-Z fait une courte apparition avant que les danseuses ne la rejoignent pour un break chorégraphié. Les panneaux vidéo s'ouvrent sur « Diva » pour révéler complètement la structure à étages et l'orchestre qui y est installé. J'ai adoré ce moment du show, car la découverte du décor entier est vraiment impressionnante 😮. Des interférences viennent brouiller l'écran avant le retour de Jay-Z sur « Clique ». Beyoncé s'incruste avec ses danseuses à la fin de la chanson pour proposer une chorée inédite sur « Everybody Mad » de OT Genasis. J'apprécie le mélange des univers : c'est exactement ce que j'attends du show !
Jay-Z reprend le lead avec « Dirt Off Your Shoulder ». Il a enfilé une veste sur laquelle est brodée une tête de panthère. La scène est balayée par une multitude de lasers rouges. L'attention se porte maintenant sur les danseurs dans la structure. Ils semblent se démembrer au rythme de la musique. J'ai déjà vu ce genre de performance au concert de Madonna en 2012. Not impressed. Sur « On To The Next One » et « Fuckwithmeyouknowigotit », on voit apparaître des flammes tout autour du décor.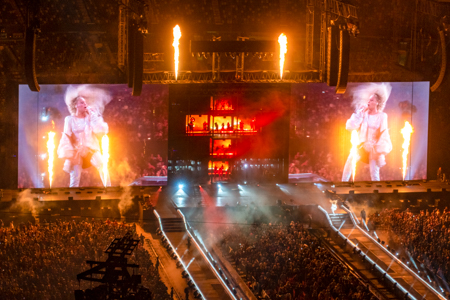 Beyoncé fait son retour sur « Flawless » avec une nouvelle tenue : elle porte maintenant un body en cuir noir. Elle est hyper sexy. Des feux d'artifice explosent autour de la structure. C'est superbe ! Le numéro est incroyablement réussi 😍. Après un court extrait de « Feeling Myself », l'écran se couvre d'ornements orientaux pour « Naughty Girl ». La séquence est assez frustrante, car Beyoncé se contente de quelques vibes avant de laisser la place à Jay-Z pour « Big Pimpin' ». Un vrai gâchis. Il termine a cappella alors que des images de motards envahissent l'écran. C'est l'instant beauf.
Après un court interlude dans les rues de Jamaïque, on retrouve Jay-Z en solo sur « Run This Town ». Il porte un T-shirt noir et un bandeau dans les cheveux. Grâce aux projections vidéo, on parcourt une ville américaine en vue aérienne et peu à peu, la structure s'ouvre sur la musique de « Baby Boy ». Beyoncé a enfilé une veste en jean et danse dans l'une des ouvertures de l'échafaudage avant de redescendre sur scène pour « Mi Gente ». Jay-Z propose un court extrait de « BAM » et enchaîne sur « Black Effect », extrait de leur EP commun et récemment ajouté à la setlist. La vidéo est disponible à la fin de l'article. Vous y découvrirez également le solo de Beyoncé sur « Countdown », qu'elle interprète sur l'avancée. Le segment se termine avec « Sorry » sur l'autre catwalk.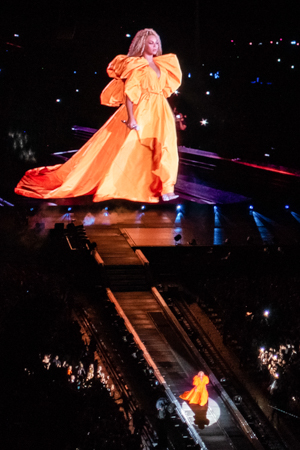 Après un nouvel interlude montrant une rixe dans un bar, Jay-Z interprète « 99 Problems ». Le titre est illustré par quelques mugshots d'artistes américains célèbres. À la fin de la chanson, Beyoncé fait son retour sur une sorte de trône qui pivote lentement sur une version réarrangée de « Ring The Alarm ». Elle porte une tenue nacrée. Elle propose ensuite « Don't Hurt Yourself » sur l'une des avancées. Le performer wall affiche une croix en feu et des flammes jaillissent tout autour de la structure. Les cuivres et la mise en scène donnent un côté James Bond à la chanson. Le calme revient avec « I Care ». Elle s'installe au centre de la scène avec 6 danseuses telle la vierge Marie. Le titre est gâché par Jay-Z qui vient s'incruster pendant la performance.
On le retrouve d'ailleurs au bout de l'avancée pour « 4:44 » et « Song Cry » : les spectateurs en profitent pour sortir leurs téléphones et illuminer le stade. C'est impressionnant ! Il laisse ensuite la place à Beyoncé maintenant habillée avec une robe orange assez moche qui la fait ressembler à une grosse meringue. Elle s'assoit au bout de l'avancée de gauche pour interpréter « Resentment ».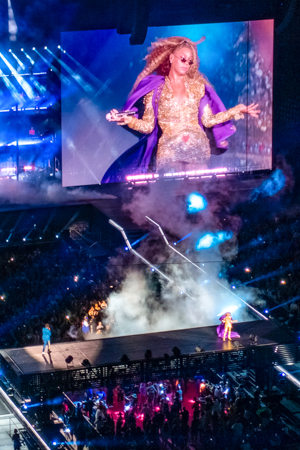 Nouvel interlude, nouvelle séquence, nouveaux costumes. Sur « Family Feud », l'écran se couvre de ce qui semble être des vitraux d'église. Les 2 artistes reviennent ensemble sur scène : Beyoncé porte une robe dorée munie d'une cape violette qui reprend les codes de la religion catholique. Jay-Z, quant à lui, porte un costume bleu assez simple. Réunis pour « Upgrade U », on les voit s'élever sur une plate-forme qui avance progressivement dans le public entre les 2 catwalks ! Une fois au bout, Beyoncé laisse la place à son mari pour « Niggas In Paris ». L'ambiance est juste énorme ! C'est l'un des highlights du show. Il enchaîne en solo sur « Beach Is Better » avant que Beyoncé ne reprenne le lead avec « Formation » sur la plate-forme.
C'est également l'un des moments forts du spectacle : tout est génial. La mise en scène, les arrangements live, la chorégraphie. Mais peut-être pas autant que « Run The World (Girls) » qui est  mon titre favori de son répertoire. Là encore, c'est vraiment iconique. J'ai adoré ! Jay-Z revient pour « Public Service Announcement » : il porte un bonnet et une sorte de k-way rouge. Le mec s'est cru sur un chantier 😂.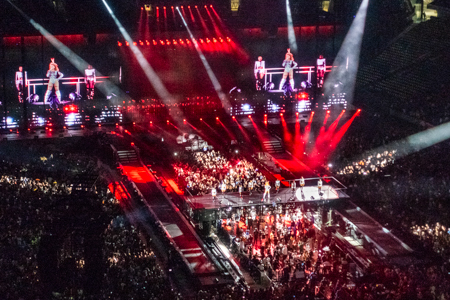 Après un nouvel interlude, c'est de nouveau Jay-Z qui entre en scène pour « The Story of O.J. ». Le titre est illustré par une animation reprenant les codes des dessins animés des années 50. Si le morceau n'est pas super intéressant, le visuel est super chouette ! On entend ensuite des percussions qui accélèrent de plus en plus… on reconnaît rapidement « Déjà Vu ». Beyoncé et Jay-Z reviennent sur scène avec de nouveaux costumes. Lui a mis une sorte de jogging assorti d'une veste argentée, et elle, la copie quasi conforme de la tenue qu'elle porte dans le clip de « Crazy In Love » qu'elle choisit justement d'interpréter maintenant ! L'ambiance est absolument dingue 🤩.
Le wall est à présent intégralement ouvert sur « Show Me What You Got » et « Freedom ». La séquence se termine avec Jay-Z en solo sur « U Don't Know ». L'écran est totalement rouge et l'on voit les silhouettes des musiciens se détacher en ombre chinoise. Après un dernier interlude pendant lequel on peut apercevoir des images de leur fille, les 2 artistes prennent place sur la plate-forme pour interpréter « Young Forever » côte à côte. Le morceau inclut un court extrait de « Perfect Duet » d'Ed Sheeran. C'est « APESHIT » qui a la lourde tâche de clôturer la soirée ! Sur l'écran, on peut voir la Joconde dont la bouche est barrée par le mot APESHIT. À la fin de la chanson, le titre redémarre en version instrumentale et le générique commence à défiler sur l'écran. Le couple remercie le public d'être resté si tard (ou si tôt, car il est quand même 1 h 30 du matin) et l'équipe : les musiciens, les danseurs et la technique ! Ils quittent la scène par une ouverture dans la structure.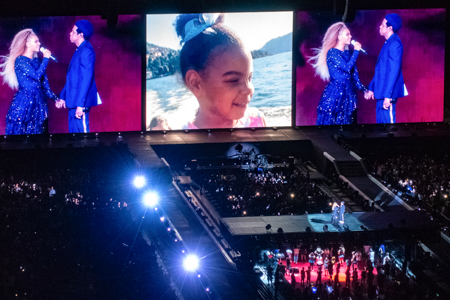 Malgré l'orage et l'heure tardive à laquelle on est rentré, je ne regrette pas du tout d'avoir fait le déplacement ! Le show est canon : c'est beau, c'est fun et les deux artistes y mettent beaucoup d'énergie. La setlist m'a bien plu : j'aurais aimé un peu plus de titres solos de Beyoncé parce qu'on a parfois l'impression d'assister à un concert de Jay-Z avec la participation de… Mais dans l'ensemble, l'équilibre est bien maintenu et on ne se fait pas chier ! Leurs deux univers se marient vraiment bien 👍. J'ai littéralement adoré « Diva », « Flawless », « Baby Boy », « Niggas In Paris », « Run The World » et « APESHIT ».
La scéno m'en a mis plein les yeux : c'est vraiment le point fort de la tournée. L'écran démesuré, les projections vidéo et les jeux de lumière, tout s'emboîte à la perfection. J'ai beaucoup aimé les costumes également : tout n'est pas du meilleur goût, mais ça colle plutôt bien à leur univers ! Sur scène, j'ai trouvé Jay-Z plus à l'aise que Beyoncé, qui reste un peu trop en retrait. Lui va plus facilement chercher les spectateurs et c'est aussi ce qu'on attend d'un artiste en live… L'ambiance était géniale ! J'avais assez peur du public américain avant d'arriver à New York, mais finalement, ce que j'aime chez eux : c'est qu'ils sont complètement désinhibés et les concerts y gagnent vraiment !
Je suis impatient de découvrir ce que Beyoncé va proposer par la suite. On sait d'ores et déjà qu'elle sera à l'affiche de l'adaptation du film « The Lion King » et que le projet va s'accompagner d'une toute nouvelle bande originale. En attendant d'en savoir plus, je vous invite à faire le plein de photos et de vidéos de la soirée. N'hésitez pas à laisser vos commentaires sur le blog ou sur les réseaux sociaux Facebook, Twitter et Instagram : je suis curieux de savoir s'il y a beaucoup de différences avec ce que vous avez vu en France il y a quelques semaines !
Setlist : Holy Grail / Part II (On The Run) / '03 Bonnie & Clyde / Drunk In Love / Diva / Clique / Dirt Off Your Shoulder / On To The Next One / Fuckwithmeyouknowigotit / ***Flawless (Remix) / Feeling Myself / Naughty Girl / Big Pimpin' / Run This Town / Baby Boy / Mi Gente (Remix) / Black Effect / Countdown / Sorry / 99 Problems / Ring The Alarm / Don't Hurt Yourself / I Care / 4:44 / Song Cry / Resentment / Family Feud / Upgrade U / Niggas In Paris / Beach Is Better / Formation / Run The World (Girls) / Public Service Announcement / The Story Of O.J. / Déjà Vu / Show Me What You Got / Crazy In Love / Freedom / U Don't Know / Young Forever / Perfect Duet / Apeshit
Également disponible en vidéo sur YouTube : Drunk In Love – Black Effect / Countdown – 99 Problems – Formation – Young Forever
Jay-Z & Beyoncé : On The Run II – MetLife Stadium, East Rutherford (2018)