3 Décembre 2019 – Cher : Here We Go Again Tour – Madison Square Garden, New York
Cher est de retour aux US pour un nouveau leg de son incroyable « Here We Go Again Tour ». J'ai déjà eu la chance de voir le show en mai dernier à Brooklyn, mais l'occasion était trop belle pour la rater 😁. Elle s'offre deux soirées à New York dont l'une est annoncée soldout.
J'arrive au Madison Square Garden à 19 h et je pars aussitôt à la recherche d'Eau De Couture, la fragrance qu'elle s'apprête à lancer et qu'elle avait promis de nous faire découvrir en avant-première. Mais pour l'instant, ce sont plutôt des odeurs de pop-corn 🍿 et de poulet frit que je sens ! Aucune trace du parfum ! La première partie est assurée par Chic comme en début d'année. C'est interminable et l'ambiance est glaciale. Il est temps qu'elle se montre… Et c'est d'ailleurs ce qu'elle fait à quelques secondes du début du show, en allant saluer les spectateurs sur les côtes de la scène, avant de s'installer pour l'ouverture.
Le show démarre par un montage vidéo d'images d'archives plus ou moins récentes ; on y voit des extraits de clips, de prestations live et quelques pochettes de disques aussi ; le tout sur un remix bien bourrin de « Woman's World ». Je dois avouer que j'ai des frissons alors que c'est la 3e fois que je me coltine la même intro 😍. Le rideau tombe et on découvre Cher à quelques mètres au-dessus du sol dans un décor rappelant la Rome Antique. « Woman's World » démarre et la plate-forme entame sa descente. Les danseurs, habillés en gladiateurs, viennent réceptionner la déesse ! Son costume est différent par rapport aux deux dates auxquelles j'ai assisté : elle porte maintenant un ensemble bleu électrique – toujours dans le même délire romain – avec une perruque assortie.
Tout va si vite ! On n'a même pas le temps de dire ouf qu'elle enchaîne déjà sur « Strong Enough ». Vous le voyez les photos : la scène est sur deux niveaux, reliés par des escaliers latéraux. Un écran gigantesque surplombe le tout : c'est là que sont diffusés les backdrops et les interludes vidéo. Une fois la chanson terminée, elle entame un monologue en nous racontant le jour où elle a fêté ses 40 ans. Pendant de longues minutes, elle explique comment elle s'est imposée dans une industrie qui ne voulait plus d'elle à cause de son âge ! C'est la 3e fois que j'entends ce speech et il y a toujours un nouveau détail ou digression. Aujourd'hui elle s'adresse spécifiquement aux femmes du public ; aux jeunes, comme aux plus âgées en leur disant : « Vous pouvez faire ce que vous souhaitez, même avoir les cheveux bleus comme moi, mais surtout n'acceptez jamais un non pour réponse ! ». La fin du monologue se termine sur l'inexorable question : « What's your granny doing tonight? » 😁.
Le premier interlude du spectacle nous envoie en Inde. Alors que l'on voit apparaître la tête d'un éléphant mécanique sur scène, les danseurs enchaînent les poses acrobatiques en costume traditionnel sur « Gayatri Mantra », qui sert d'introduction à « All Or Nothing ». Le tableau est une reprise à l'identique du Farewell Tour : Cher arrive sur le dos de l'éléphant, habillée avec un sari rose et bleu et esquisse quelques pas de danse avec la troupe pendant la chanson. C'est comme dans mes souvenirs 😍.
Elle retourne en coulisses et l'interlude suivant nous ramène quelques années en arrière avec des images d'archives de Sonny & Cher. On comprend d'où lui vient son amour pour le spectacle et les déguisements. Elle entre en scène sur « The Beat Goes On » en portant un costume inspiré des sixties : tenue rose fluo et pantalon à pattes d'éléphant, on s'y croirait ! C'est la partie que j'aime le moins dans le spectacle. Je suis d'ailleurs surpris des réactions super positives provoquées par « I Got You Babe » qu'elle interprète en duo virtuel avec Sonny ensuite. Les gens sont debout, tout le monde a son téléphone à la main : c'est un moment attendu du public ! En mai dernier, il y avait un écran qui descendait pour projeter le visage du chanteur. Ici, plus de panneau mobile : la vidéo est diffusée sur l'écran géant.
Une fois le numéro terminé, elle rejoint les coulisses alors qu'est diffusé sur l'écran un extrait du clip « You Haven't Seen the Last of Me ». Le titre est extrait de la BO de « Burlesque », et le burlesque, c'est justement le thème de la section suivante qui s'ouvre sur « Welcome To Burlesque ». C'est définitivement tableau préféré ❤. J'aime tout : l'univers du cabaret, la chanson, la mise en scène. Cher, qui joue la meneuse de revues, est absolument époustouflante. Je vous invite à découvrir la vidéo que j'ai faite à Washington l'année dernière pour avoir un rapide aperçu du numéro ➡ « Welcome To Burlesque ».
Deux acrobates s'élancent ensuite dans les airs sur « Lie To Me » qui sert d'intermission avec le prochain tableau. Car maintenant, place au disco 🕺. Vous n'êtes pas sans savoir que Cher a publié un album de reprises d'ABBA, c'est donc sur « Waterloo » qu'elle fait son entrée accompagnée par toute sa troupe. Perruque blond platine, combinaison violette sertie de paillettes et cape négligemment posée sur l'épaule, la voici parée pour nous interpréter quelques-uns des plus grands tubes du groupe. À commencer par « Waterloo », suivi par « SOS » et « Fernando », qui rencontrent un franc succès dans le public.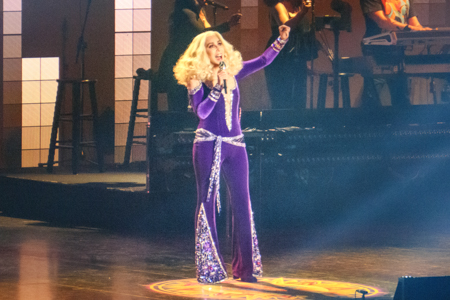 La vidéo suivante nous montre quelques extraits des longs métrages dans lesquels elle a tourné. Je crois être le seul dans la salle à ne pas avoir vu ses films. Si vous avez quelques conseils pour moi, n'hésitez pas à me les envoyer 😊 Chaque réplique donne lieu à des explosions de rires, des applaudissements ou des cris. Elle revient sur scène pour « After All », qu'elle interprétait en duo avec Peter Cetera à l'origine. Ce qui est mémorable ici, c'est sa tenue de madone : une robe dorée absolument sublime, qui est sans doute l'une des plus jolies créations de Bob Mackie, son designer.
Elle nous emmène ensuite à Memphis à travers une vidéo dans laquelle elle nous raconte sa fascination pour Elvis et la première fois qu'elle l'a vu en concert. On y découvre un extrait dans lequel elle interprète « Heartbreak Hotel » sous le pseudonyme Chelvis. Alors que les musiciens lancent « Walking In Memphis », Cher ne semble pas prête à remonter sur scène : l'intro tourne donc en boucle pendant de longues secondes avant qu'elle ne fasse son entrée. La raison du retard ? Sans doute le costume qu'elle choisit de porter pour la première fois ce soir-là et qui doit lui donner du fil à retordre en coulisses… C'est une sorte de smoking en deux parties, l'une dorée, l'autre noire, qui a servi au photo shoot de l'album. Honnêtement, le résultat n'est pas fameux ! La chanson, en revanche : je l'adore ❤.
Elle enchaîne avec « The Shoop Shoop Song (It's In His Kiss) ». Je n'avais jamais remarqué la présence de danseurs, grimés en personnages de Grease. Comme quoi, on passe toujours à côté de quelque chose…. Petit plombage d'ambiance ensuite avec l'interlude « Bang Bang » sur lequel le guitariste se prend pour le membre d'un groupe de hard rock. Eh mec… Ici c'est Cher 🌟.
Elle revient sur scène pour « I Found Someone » habillée avec son iconique blouson de cuir et coiffée de sa perruque bouclée. L'effet est immédiat : tout le monde se lève instantanément ! On voit d'ailleurs qu'elle est tout de suite revigorée par cet élan d'énergie. Elle joue avec son musicien avant de se préparer pour le classique absolu : « If I Could Turn Back Time ». Sur l'écran apparaît la proue d'un porte-avions et le public chante en chœur. Un des meilleurs souvenirs de la soirée !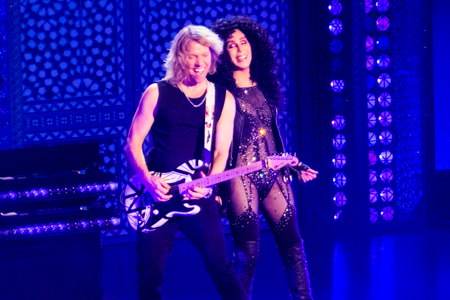 C'est le moment du rappel, et après une courte pause, les danseurs reviennent sur un interlude technoïde qui laisse une grande partie de la salle interloquée… J'avais également été surpris la première fois : il faut vraiment avoir l'oreille fine pour reconnaître « Believe ». Mais dès les premières notes de la chanson originale, les spectateurs se lèvent comme un seul homme. Cher fait son apparition avec une nouvelle tenue : elle porte une perruque rouge feu, et est habillée d'un jean et d'un top blanc. C'est simple, mais ça fait un effet de fou : j'ai l'impression qu'elle n'a jamais été aussi jeune 😍.
Elle se trompe dans les paroles, et se retrouve en décalage complet avec les choristes à la fin de la chanson. Heureusement, le public est là pour l'aider à terminer. Le décor scintille de toutes les couleurs, et des acrobates font des cabrioles dans des anneaux suspendus au-dessus de la scène. Elle prend ensuite le temps de saluer les spectateurs, et rejoint les coulisses en laissant aux danseurs le soin de clôturer le concert. Je n'avais jamais vraiment été emballé par le final, mais cette fois-ci… je ne sais pas, ça a marché et je suis conquis ?.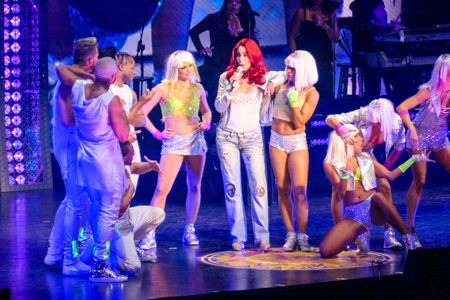 Jusqu'à la dernière minute j'ai hésité à prendre un billet, mais j'ai su que j'avais fait le bon choix dès que j'ai senti les frissons monter sur la vidéo d'introduction 🤩. Elle a beau faire la même chose depuis 20 ans : le plaisir de la voir et de l'entendre est toujours intact ! Côté setlist, pas de changements : on est sur un combo tubes + reprises d'ABBA assez complet. Je dirais qu'il manque 2-3 morceaux pour que ce soit parfait. La partie gipsy de « Classic Cher » aurait complété le tableau à merveille. Musicalement, je ne sais pas si ça vient de la sonorisation de la salle, mais j'ai trouvé les arrangements plus toniques cette fois. Mais il y a peut-être aussi eu des changements depuis le début de la tournée !
Pas besoin de le souligner, mais la mise en scène est kitschissime ❤ : du décor aux costumes en passant par les projections, c'est un véritable festival de couleurs et de paillettes. On adore ! Certes, tout est recyclé de ses tournées précédentes, mais à bien y réfléchir… est-ce que ce n'est pas ce qu'on attend de voir ? C'est peut-être ce qui fait aussi que ça marche encore 👍. Quoi qu'il en soit, à 73 ans, Cher a prouvé qu'elle savait encore donner de la voix et de l'énergie et mon petit doigt me dit que ce n'est pas prêt de s'arrêter ! D'ailleurs, la tournée se poursuit en alternance avec sa résidence à Las Vegas en 2020.
On se quitte avec les photos et les vidéos du show. N'hésitez pas à me rejoindre sur Facebook, Twitter et Instagram et à découvrir les autres articles que j'ai consacrés à la diva en cliquant sur le hashtag #Cher.
Setlist : Woman's World / Strong Enough / All Or Nothing / The Beat Goes On / I Got You Babe / Welcome To Burlesque / Waterloo / SOS / Fernando / After All / Walking In Memphis / The Shoop Shoop Song (It's In His Kiss) / I Found Someone / If I Could Turn Back Time / Believe
Également disponible en vidéo sur YouTube : All or Nothing – I Got You Babe – The Shoop Shoop Song (It's in His Kiss)
Cher : Here We Go Again Tour – Madison Square Garden, New York (2019)