2 Mai 2019 – Cher : Here We Go Again Tour – Barclays Center, Brooklyn
L'infatigable Cher est de retour sur les scènes du monde entier avec une énième tournée d'adieux 😁. Si vous avez lu mon dernier article, vous savez déjà à quoi vous attendre, car elle nous offre ici une version réarrangée, ou plutôt raccourcie, de « Classic Cher » que j'ai eu l'occasion de voir en 2018 à Washington. La diva nous avait pourtant promis des changements et c'est en partie ce qui m'avait motivé à prendre un billet. Le plaisir est-il intact malgré tout ? Réponse dans les lignes qui suivent !
Il est 18 h 30 lorsque j'arrive au Barclays Center. La façade annonce que le show est sold-out ! Je ne m'attendais vraiment pas à un tel raz-de-marée quand l'album « Dancing Queen » est sorti, mais il faut le reconnaître, c'est un incroyable succès ! J'achète le programme de la tournée : il est absolument magnifique 😍. Pendant que la salle se remplit doucement, Nile Rodgers et Chic enchaînent les tubes pour les spectateurs déjà imbibés de bière. Musicalement, c'est top, mais côté énergie, on repassera. Je prends mon mal en patience jusqu'à l'extinction des feux…
Le show démarre par un diaporama photo sur un remix de « Woman's World ». Ce n'est pas super bien réalisé, mais le public est ravi. À la fin du montage, le rideau tombe et on découvre l'impressionnante scène d'ouverture. Cher apparaît jonchée sur une plate-forme aérienne vêtue d'une toge argentée et d'une imposante perruque rousse. Elle entame sa descente sur « Woman's World », alors qu'une armée de gladiateurs l'attend quelques mètres plus bas. Le décor est une version 1.5 de celui de « Classic Cher » : une scène sur deux niveaux reliés par des marches de part et d'autre du plateau, le tout surplombé par un écran géant. C'est très classique.
Sans transition, elle enchaîne sur « Strong Enough » qui remporte un super accueil du public. Le titre est en live, contrairement à « Woman's World », et ça fait un bien fou aux oreilles ! Quelle voix ! Pendant ce temps, le défilé romain continu de plus belle : elle troque sa toge contre une tenue de guerrière et esquisse même quelques petits pas de danse avec sa troupe. J'adore 😍.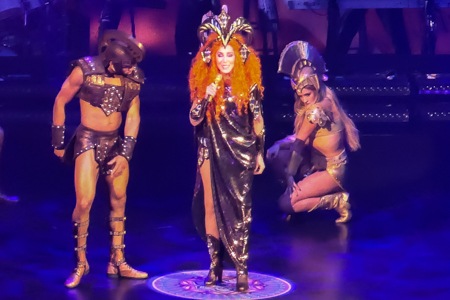 Comme à Washington, elle prend la parole pendant une quinzaine de minutes (oui… quand même 😆) pour raconter quelques anecdotes relatives à sa carrière. Pas de surprise, ce sont à peu près les mêmes que l'année dernière : je la sens malgré tout boostée par l'énergie de la salle et le monologue est un peu plus fluide. Avant de quitter la scène pour aller se changer, elle termine par sa fameuse catch phrase : « What's your Granny doing tonight ? » 😂.
L'ambiance se métamorphose et l'on passe de la Rome antique à l'Inde des mille et une nuits. La lumière est tamisée et la scène revêt une parure dorée. Les danseurs affublés de costumes traditionnels accueillent Cher au son de « Gayatri Mantra », adaptation du mantra le plus sacré de l'hindouisme. La chanteuse, habillée avec un sari rose et bleu, apparaît quant à elle sur le dos d'un éléphant chimérique alors que démarre « All or Nothing ». Le public est super enthousiaste : il faut dire que la séquence est culte… c'était l'un des highlights du « Farewell Tour ».
Arrive ensuite la section « Sonny & Cher » qui démarre sur des images d'archives du duo. Je dois vous avouer que je ne suis pas du tout fan de leur discographie. Je me la suis coltinée quelques jours avant le concert et franchement je n'ai pas sauvé grand-chose 🙄. Il me semble que la vidéo a été raccourcie par rapport à l'année dernière, car Cher débarque assez rapidement sur « The Beat Goes On ». L'ambiance est 100 % 60's : la scène se pare de rayures noires et blanches, et la chanteuse est affublée d'un gilet en moumoute et d'un pantalon pattes d'eph aux couleurs flashy. Elle a opté pour une longue perruque noire, assez proche de sa coupe de l'époque. On s'y croirait. Les danseurs font la chenille, et Cher est en pilotage automatique. Si je devais supprimer une chanson du spectacle, ça serait sans hésitation celle-là. Heureusement tout n'est pas à jeter, puisqu'après nous avoir raconté quelques anecdotes de l'époque : elle se lance dans un duo virtuel avec Sonny sur « I Got You Babe ». Un écran descend du plafond pour diffuser des images du chanteur. On n'y croit pas vraiment… mais côté interprétation c'est très sympa ! Le public chante à tue-tête !
On enchaîne ensuite sur le clip de « You Haven't Seen The Last Of Me » qui annonce la séquence burlesque. La troupe revient sur scène dans un décor de cabaret. C'est absolument sublime ! J'adore ce tableau et la chanson qui va avec : « Welcome To Burlesque ». Je crois que c'est ma partie préférée. Cher revient en meneuse de revues : elle porte la même tenue que dans le film avec Christina Aguilera. Elle est très très belle ❤. Je ne suis pas sûr de mon coup, mais il me semble que la chanson est en play-back… La séquence est super courte et c'est vraiment dommage qu'elle ne prenne pas la peine de chanter « You Haven't Seen The Last Of Me » en chair et en os.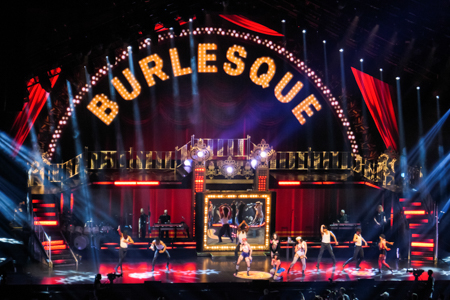 Le concert continue avec un nouvel interlude chorégraphié, sur l'air de « Lie To Me », un titre de l'album « Closer To The Truth ». Pendant que Cher change de costume, deux danseurs effectuent des acrobaties aériennes dignes de Pink devant un ciel étoilé 💫. L'ambiance devient disco quand elle débarque sur « Waterloo ». Vêtue d'une veste argentée et d'une perruque blond platine, Cher se démène devant des projections vidéo de boules à facettes. On sent que la séquence a été bossée à la va-vite. Les danseurs ont des costumes et des moumoutes flashy tout droit sortis de la Foire fouille. C'est super kitsch mais l'ambiance est au top ! Dans la salle les gens sont complètement happés par la séquence. Et moi avec ! D'ailleurs, j'écoute « Waterloo » en boucle depuis le concert ! Je vous invite d'ailleurs à découvrir la vidéo sur YouTube.
Elle enchaîne avec « SOS » seule sur scène. C'est épuré, mais c'est une bonne surprise côté interprétation. À choisir, j'aurais quand même préféré entendre « Gimme ! Gimme! Gimme! ». Le dernier titre du tableau ABBA, c'est bien évidemment « Fernando » que j'attends avec impatience parce que c'est l'une de mes chansons favorites de 2018 🥰. Une fois de plus, c'est seule qu'elle interprète le morceau : l'accueil est vraiment dingue. L'écran diffuse les images d'un feu d'artifice qui n'est pas sans rappeler Mamma Mia 2. Je suis assez déçu que le titre soit en play-back, mais a priori ça ne dérange pas les spectateurs américains, qui deviennent complètement hystériques en entendant l'introduction de la chanson aux accents hispanique. Ne vous méprenez pas, je me laisse aussi prendre au jeu et je chante à tue-tête ! Au moins aussi faux que mes voisins 😂.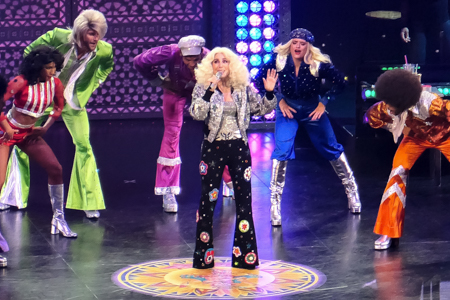 En parlant de Mamma Mia 2, on enchaîne avec un interlude qui nous montre quelques-unes des séquences cultes de Cher au cinéma. Bon, c'est un peu long, mais le montage a le mérite d'avoir été retravaillé depuis Washington, car ils ont ajouté des extraits de Mamma Mia au milieu d'autres films comme « Moonstruck » ou « Mask ». Elle revient dans un nuage de fumée, portant une tenue dorée absolument sublime sur « After All », extrait d'une BO dont personne n'a entendu parler. C'est sans aucun doute l'un de mes costumes préférés du spectacle !
Après un interlude en hommage à Elvis Presley, dans lequel elle raconte quelques souvenirs de jeunesse et interprète « Heartbreak Hotel » : elle réapparaît dans un décor 100 % ricain pour chanter « Walking in Memphis » 🎸. J'adore la chanson, mais on pourrait se passer de la tenue et de la perruque aux pointes violettes ! Je vous invite quand même à jeter un coup d'œil sur YouTube ou dans le lecteur tout en bas pour découvrir le morceau. On arrive ensuite dans un décor de drive-in où elle interprète « The Shoop Shoop Song (It's in His Kiss) » avec ses choristes. Le titre est vite torché, et quand je parlais de pilotage automatique au début, on est en plein dedans ! En même temps, je crois qu'elle doit faire cette chanson depuis 1998 au même moment, avec la même mise en scène et peut-être les mêmes choristes. Je pense qu'elle en a ras-le-bol 🤷‍♂️.
Le guitariste nous offre un interlude rock sur « Bang Bang » (🥱), et Cher réapparaît les cheveux frisés sur « I Found Someone » dans la cultissime tenue en résille avec le porte-jarretelles qui laisse entrevoir ses fesses. Elle est déchaînée : c'est vraiment un des meilleurs tableaux du spectacle ! Et ça continue de plus belle sur « If I Could Turn Back Time ». La scène se transforme alors en porte-avions, en référence au clip de l'époque. L'ambiance est géniale ! Je pense que c'est l'un des meilleurs moments du show 👍. En tout cas, bien plus que « Believe » qui arrive juste après.
Après un rapide rappel, la troupe revient habillée en blanc des pieds à la tête, sur un interlude clubbing pas super intéressant censé introduire « Believe ». Le titre à l'origine du plus gros come-back de la pop aurait mérité mieux 🙄. J'avais déjà trouvé le morceau moyen à Washington (et j'étais préparé cette fois-ci), mais je confirme que n'est clairement pas le meilleur passage du spectacle. La réorchestration n'est pas terrible, c'est un peu plat et on était en droit de s'attendre à un peu plus pour une chanson pareille. Du coup, ça reste un bon moment parce que le titre est génial, mais je ne le mettrai pas dans mes highlights. Cher est habillée avec une sorte de pagne argenté, noué au-dessus d'une combi transparente. À la fin, elle salue la foule et rejoint les coulisses pendant que les danseurs continuent à remuer en attendant que le rideau se ferme.
Comme je le disais un peu plus haut, cette tournée est une version revisitée de « Classic Cher », sa résidence de Las Vegas. J'ai déjà vu le show l'année dernière et même si je suis déçu par le peu de nouveautés, j'ai quand même passé un très bon moment 😊. En grande partie parce que l'énergie était très différente : le public était super dynamique et Cher m'a semblé bien plus enthousiaste tout au long de la soirée !
Côté setlist, on retrouve bien sûr tous les tubes de son répertoire, de « Believe » à « If I Could Turn Back Time », accompagnés de quelques reprises d'ABBA dont « Waterloo ». Bon, on sent bien que les nouveaux titres ont été ajoutés à la va-vite, mais l'intention est là. Je regrette quand même la disparition de « Gypsys, Tramps & Thieves » et « Dark Lady » (et dans une moindre mesure « Half-Breed » et « Take Me Home »), mais il faut reconnaître que le show gagne en rythme et en fluidité, ce qui avait été un de mes reproches majeurs la dernière fois.
Il y aurait bien sûr d'autres choses à améliorer : le pilotage automatique sur certains morceaux, les montages vidéo un peu cheap, et les interludes à rallonge qui desservent l'ensemble du show. Mais mis à part ces quelques détails, comment ne pas tomber sous le charme de cette dame de 73 ans, qui se pavane en talons et porte-jarretelles pendant 1h30 ?! 😍 Et puis il y a la voix, le charisme, l'humour, bref, tous les éléments sont réunis pour qu'on reçoive ce qu'on est venu chercher : de la joie, de la musique, et surtout de beaux souvenirs !
Elle sera en tournée en Europe à la rentrée et proposera également de nouvelles dates aux États-Unis juste après. Je n'ai pas encore pris de place pour la soirée new-yorkaise, mais ne dit-on pas jamais deux sans trois ?! Et vous, avez-vous prévu d'aller l'applaudir en Europe ? Que pensez-vous du spectacle ? Je vous attends dans les commentaires, ici et sur les réseaux sociaux : Facebook, Twitter et Instagram. Et surtout, n'hésitez pas à jeter un œil à la chronique de « Classic Cher » et de la comédie musicale « The Cher Show » qui se joue actuellement à Broadway !
Setlist : Woman's World / Strong Enough / All Or Nothing / The Beat Goes On / I Got You Babe / Welcome To Burlesque / Waterloo / SOS / Fernando / After All / Walking In Memphis / The Shoop Shoop Song (It's In His Kiss) / I Found Someone / If I Could Turn Back Time / Believe
Également disponible en vidéo sur YouTube : Woman's World – Waterloo – Walking In Memphis
Cher : Here We Go Again Tour – Barclays Center, Brooklyn (2019)