9 Septembre 2016 – Britney Spears : Piece Of Me – The Axis at Planet Hollywood, Las Vegas
Il y a quelques mois, quand on m'a demandé ce que je voulais faire pour mes 30 ans : j'ai répondu que j'avais terriblement envie d'aller voir Britney Spears à Las Vegas. Évidemment, j'avais assez peu d'espoir que mon rêve se concrétise… MAIS ! De fil en aiguille, l'idée s'est transformée en projet, et je suis parti pour un road-trip de 15 jours aux USA à la fin de l'été. Probablement les plus belles vacances de toute ma vie ! Pour célébrer ma trentaine comme il se doit et finir le séjour en apothéose : une étape à Las Vegas pour assister à « Piece Of Me » s'est imposée. Du jour où les billets ont été achetés en avril dernier, je n'ai pas cessé d'y penser 24/24, 7/7 😂.
Nous arrivons aux alentours de 20 heures dans l'enceinte du Planet Hollywood. Le temps de trouver la salle, de passer les exigeants contrôles de sécurité, nous voilà bien installés sur les fauteuils de l'Axis, le théâtre dans lequel se jouent les différents shows de l'hôtel. La scène est cachée derrière un immense rideau. À 20 h 45, un compteur s'affiche sur les écrans latéraux pour nous indiquer que le spectacle commence dans exactement 30 minutes. Le décompte est accompagné d'une publicité pour « Private Show », le dernier parfum en date de Britney. À quelques minutes du show, une voix nous annonce que le début du concert est imminent. Elle conclut par des remerciements de rigueur : « We thank you for joining us tonight and we hope you enjoy Britney… Biiitch ! » 🤩
Le noir se fait, le rideau s'ouvre et une longue introduction en français commence…
« La vitesse de la lumière qui dévoile le son résonne à l'oreille. Où est-ce ? De qui devons-nous avoir peur ? Les désespérés divulguent leurs secrets. Les vertueux tirent leurs épées. Miroirs brisés reçus parmi les seigneurs. Il y a plus que ce que l'on voit, que ce qui est vu. Le miracle sanglant sera rétabli par l'aveugle. »
La scène est balayée par des rayons de lumière bleue et la troupe de danseurs fait son entrée au pas militaire sur une musique électro. Au centre, une estrade rouge surmontée d'un panneau lumineux, se retrouve soudain dissimulée sous un gigantesque nuage de fumée. Britney fait son apparition comme par magie en haut des marches alors que débute le premier titre de la soirée : « Work Bitch ». La sensation est étrange, j'ai tellement attendu ce moment… C'est irréel ! Je suis là, à l'autre bout du monde, devant l'une de mes plus grandes idoles. Il aurait fallu me pincer, car j'ai bien mis un quart d'heure avant de réaliser où j'étais.
« Work Bitch » est l'un des tableaux que je préfère. Britney porte un body aux couleurs du treillis militaire, surmonté d'un chapeau claque qu'elle jette intentionnellement dans le public au moment d'entamer la chanson. Now get to work bitch ! ⭐ Un feu d'artifice plus tard, elle se retrouve à quelques mètres devant nous pour assurer la chorégraphie endiablée du morceau. Sur scène, il y en a partout ! Les lumières, les danseurs, les musiciens : j'essaie de tout garder en mémoire, mais c'est mission impossible… Je chante à pleins poumons en hurlant à chaque hair-flip. La salle est debout et les spectateurs sont complètement hystériques. Sur la fin de la chanson, le batteur s'en donne à cœur joie : ça tape fort et j'adore ça ! C'est une surprise pour moi, car ça ne ressort absolument pas dans les vidéos du show, y compris les miennes, mais dans la salle, les orchestrations sonnent très « live ». Même si, vous le savez sûrement, Britney est intégralement en playback du début à la fin du spectacle…
Sans transition, l'introduction de « Womanizer » résonne dans la salle. La troupe se déchaîne et s'approche sur l'avancée de scène qui couvre une grande partie du parterre. Ça nous donne l'occasion d'apprécier de plus près la plastique retrouvée de Britney. Elle est sublime ! Coiffée de deux couettes faites à l'arrache, elle passe la chanson à remettre ses cheveux en place entre deux mouvements de bras. Ses priorités n'ont pas changé ! Le break est incroyable ! Néons en main, les danseurs accompagnent Britney dans une chorégraphie millimétrée qu'elle réussit haut la main malgré les difficultés qu'elle rencontre avec sa tignasse ! Sur les projections vidéo, on peut voir un défilé de particules qui, mises bout à bout, représentent une femme totalement nue. Elle hurle ses premiers mots de la soirée avec une voix suraiguë : « What's up Vegaaas !!! How are you guys feeling ? It's been a while so it's time to break the motherfucking ice ! Are you guys ready ?! ».
Elle enchaîne sur « Break The Ice ». Le playback ne fait pas illusion, mais le morceau est absolument génial ! Il est en revanche beaucoup trop court ! Au bout d'une minute, la scène vire au rouge et Britney semble rendre un lointain hommage à Michael Jackson et ses fameux claquements de doigts. On n'est pas loin du moment iconique – dommage que ses mouvements soient aussi incertains, surtout après 3 ans de résidence ! Le titre se fond dans « Piece Of Me » qui donne son nom à la résidence. J'ai adoré. Notamment le moment où elle est accompagnée de ses six danseuses pour la chorégraphie qu'elles réalisent assises sur les marches. Les projections vidéo sont également très réussies. Il faut savoir que les écrans latéraux s'étendent loin, très loin, sur les côtés de la scène : ils habillent la salle entière. Et pour ce titre, on voit les mots clés de la chanson s'enfoncer progressivement au centre de l'image. Britney disparaît et le premier interlude de la soirée démarre…
Alors que les techniciens mettent en place le décor du prochain tableau : on peut découvrir un patchwork des vidéoclips de Britney sur l'écran gigantesque qui s'étend à travers toute la salle. C'est « Radar » qui à la difficile tâche de nous faire patienter et le résultat est loin d'être efficace. Je me demande pourquoi la transition est si peu travaillée… J'ai hâte que le spectacle reprenne et… « All my people in the crowd, Grab a partner take it down ! ». Je n'arrive plus à me tenir ! « Me Against The Music » est l'une de mes chansons préférées de son répertoire. La mise en scène est une sorte de reconstitution du clip, dans lequel elle erre dans les couloirs d'un club délabré à la recherche de sa comparse, Madonna. Je suis complètement fan de la tenue : elle porte un top jaune assorti d'une petite culotte verte sur laquelle est inscrit « Kisses ». Elle est superbe ❤️
Elle reprend la chorégraphie originale, et c'est une réussite. Pour le reste, elle se contente de se frotter sur les panneaux de bois présents sur scène… Ce n'est pas toujours très gracieux ! À la fin du titre, on découvre une gigantesque guitare électrique (déjà utilisée en 2011 sur le leg américain du « Femme Fatale Tour ») qui transforme la salle en juke-box géant pour « I Love Rock'n'roll ». Je ne m'attendais pas à aimer autant ce morceau qui est plein d'énergie et qui semble particulièrement apprécié des spectateurs américains ! La chanson se termine sur un feu d'artifice tout droit sorti de la gratte ! Le fameux « It's Britney Bitch ! »  se fait entendre et marque le début de « Gimme More ». L'orchestration sonne hyper live mais Britney peine à suivre la chorégraphie. J'ai trouvé le tableau un peu brouillon : c'est celui que j'ai le moins aimé.
L'interlude suivant est le plus travaillé du spectacle. Sur la projection vidéo, on découvre Sainte-Britney entourée de ses sujets. Dans la salle, d'immenses tentures sont installées sur le pourtour de la scène. L'écran du fond s'ouvre sur l'introduction de « Everytime » et Britney, pourvue d'une gigantesque paire d'ailes lumineuses, fait son entrée en survolant la scène. Ce titre, en playback, n'a pas grand intérêt. Mais le tableau s'est révélé très visuel et j'ai passé un excellent moment. Le champ enneigé qui l'entoure se transforme peu à peu en un paysage idyllique mettant en scène la floraison des sakuras au Japon. Des milliers de confettis roses tombent du ciel ✨. À la fin de la chanson, la musique devient plus dramatique. Les ailes de l'ange se referment sur lui. Il entame sa descente vers le sol et se retrouve entouré par une dizaine de danseurs habillés de noir.
Britney surgit parmi eux pour « Baby One More Time ». Elle porte maintenant un body, une cape et un masque blanc. Elle a d'ailleurs troqué ses deux couettes pour une queue de cheval plus conventionnelle. Sur le papier, ce passage me faisait chier comme la mort, mais en live, l'ambiance est dingue. Il faut dire que tout le monde connaît la chanson, même ceux qui sont là par hasard (et ils sont nombreux !). Ça monte encore d'un cran quand elle enchaîne sur « Oops ! I Did It Again », non pas sans nous offrir un break chorégraphié du tonnerre ! Les projections vidéo mettent d'ailleurs en avant un ciel orageux sur le point d'exploser !
La section suivante est l'une de mes préférées ! Elle débute par un interlude sur « Scream & Shout ». La scène est balayée par une dizaine de lasers multicolores. L'atmosphère est clairement clubing. Will.I.Am apparait sur l'écran et les danseurs, habillés de tenues fluorescentes, font le show dans une structure avant-gardiste ! La lumière UV rend la séquence visuellement incroyable et lorsque Britney fait son apparition en body jaune pailleté pour « Boys », la salle n'a d'yeux que pour elle ! Je suis complètement fan de cette version – le rythme est dingue et donne envie de danser ! J'ai adoré la débauche de lasers et d'effets spéciaux pendant ce tableau ! C'était super chouette !
Elle enchaîne sur « Do You Wanna Come Over », extrait de son nouvel album « Glory ». C'est l'un de mes titres préférés et je suis ravi de cet ajout ! Britney est transportée d'un bout à l'autre de la scène dans des structures métalliques et effectue une partie de la chorégraphie suspendue à une barre. Dans la salle, le public n'est pas vraiment réactif. Je la trouve plutôt appliquée sur cette nouvelle chanson : le tableau est cool. À la fin du morceau, la troupe entière nous offre ensuite une séquence chorégraphiée sur les tubes de Missy Elliott. Sympa sans être pour autant transcendant.
On change d'atmosphère. La salle est plongée dans le rouge et des volutes de fumée recouvrent les écrans. Un danseur, cigarette à la main, joue une parade de séduction à deux filles de la troupe. En arrière-plan, on peut reconnaître « Get Naked (I Got A Plan) », l'une de mes chansons favorites. Soudain, le panneau central s'ouvre pour laisser apparaître une structure de pôle dance, alors qu'en parallèle, résonne la fameuse introduction de « I'm A Slave 4 U » : « I know I may be young, but I've got feelings too. And I need to do what I feel like doing. So let me go and just listen… ». Britney se déchaîne à la barre. Le tableau est très réussi et la chanson fait son effet dans la salle… À côté de nous, une des spectatrices s'est mise à quatre pattes et caresse lentement l'entrejambe de son mec. Autant vous dire qu'on hallucine tous 😲. La chorégraphie est parfaitement exécutée et c'est peut-être la première fois de la soirée que je la trouve vraiment fluide et sexy dans ses mouvements.
On passe ensuite à « Make Me », son dernier single en date. Gros plombage d'ambiance. On sent clairement que les gens ne sont pas là pour ça. La chorégraphie est loin d'être spectaculaire et la mise en scène quasi inexistante… Heureusement, les affaires reprennent rapidement ! Pour introduire « Freakshow » avec son plus bel accent britannique, Britney nous demande : « Who wants to get naughty ? ». Ils font monter un des spectateurs sur scène et en deux temps trois mouvements il se retrouve harnaché et à quatre-patte devant nous ! La séquence marche super bien, car le mec joue le jeu à fond. À la fin de la chanson, elle lui demande son prénom pour signer le t-shirt qu'ils offrent tous les soirs à celui qui est sélectionné. Elle doit être dure de la feuille, car elle s'y reprend à plusieurs fois pour comprendre que le mec s'appelle simplement… Tom. Pas le temps de souffler, « Do Somethin' » démarre en trombe ! C'est un des moments que j'ai préférés. Elle est déchaînée et l'orchestration sonne hyper live. Je me suis éclaté sur cette chanson !
Elle rejoint les coulisses et la scène se transforme en cirque ambulant. Ça en jette ! La troupe fait le show en attendant que Britney fasse son apparition au milieu d'un cerceau enflammé pour « Circus ». Elle est vêtue d'une veste noire à la Monsieur Loyal. Le tableau nous en met vraiment plein les yeux. J'aurais aimé qu'elle se donne un peu plus au niveau de la chorégraphie, car elle se repose complètement sur les danseurs. À la fin de la chanson, ils la dissimulent derrière un paravent rouge pour qu'elle se change. Dans la salle résonne l'introduction de « If U Seek Amy ». J'étais très heureux qu'elle rajoute le titre à la setlist, mais j'ai rapidement déchanté quand j'ai découvert la chorégraphie de pauvresse qu'ils avaient imaginée pour le morceau. Sur place, j'ai plutôt bien aimé. Elle s'amuse, elle est toute mignonne avec sa minijupe rouge, c'est le moment ridiculement fun de la soirée quoi. Elle quitte ensuite sa jupette pour se retrouver en petite tenue devant le public pour « Breathe On Me », qui est sans hésiter la meilleure idée du spectacle 😍.
Vous pourrez le voir sur la vidéo, le morceau est génialissime. La chorégraphie est hyper sexy et l'orchestration, vraiment réussie. J'ai plus qu'adoré. À la fin de la chanson, elle est rejointe par deux danseurs pour un ballet sensuel sur « Touch Of My Hand ». Elle réussit même l'exploit d'exécuter un salto arrière avec l'aide d'un de ses cavaliers. Ça faisait longtemps qu'on ne l'avait pas vue aussi ambitieuse ! Le morceau n'est pas forcément essentiel à la setlist, mais c'est un choix original en 2016.
Dernier acte du spectacle, la jungle ! Pendant l'introduction, les écrans se parent d'une fourrure végétale dense où grouillent mille et un dangers. Le fond de scène s'ouvre pour laisser place à un arbre immense sur lequel est perché Britney. Elle entame « Toxic » à la manière de Yaël Naïm, ce qui donne à la chanson un côté assez surprenant. Sur la plus haute branche de son arbre, Britney multiplie les poses sexy, et s'élance tout à coup dans le vide. Tenue par un harnais, elle se pose sur scène alors que reprend la version originale du morceau. Très grosse ambiance dans le public ! J'ai vraiment adoré cette partie du show. Une paire d'yeux menaçants s'affiche ensuite sur l'écran et la jungle s'enflamme pour « Stronger ». La chorégraphie est kitschissime à souhait, mais l'ambiance dans la salle dépasse toutes mes espérances ! Ça chante, ça danse, je ne m'attendais pas à ce que le titre soit si bien reçu. Après un rapide break chorégraphié, l'euphorie repart de plus belle pour « Crazy ». L'orchestration est géniale, il y a des lasers partout dans la salle, c'est juste WOW. Elle remercie ses danseurs, ses musiciens, et nous demande si on en veut une de plus… Le public hurle et « Till The Worlds Ends » démarre.
J'avais peur que ce final fasse un peu redite avec le « Femme Fatale Tour ». Eh bien pas du tout : je me suis éclaté comme jamais ! Et elle aussi d'ailleurs. Habituellement, elle semble toujours hyper crevée à la fin du show et là franchement, je lui trouve une énergie folle ! Elle se sent sans doute plus soutenue par le public que sur une chanson comme « Make Me ». Moi, c'est le moment que j'ai choisi pour verser ma petite larmiche… Ne cherchez pas, je pleure toujours dans les moments les plus joyeux ! Comme un clin d'œil au début du show, le morceau est remixé avec « Work Bitch », ce qui nous permet de réentendre cet hymne intergalactique 😍. C'est génial ! Le gimmick « You Better Work Bitch ! » nous entête, les feux d'artifice explosent, la scène crache des millions de confettis en forme de jetons de casino et le rideau se ferme doucement… LE FINAL EST PARFAIT 🤗.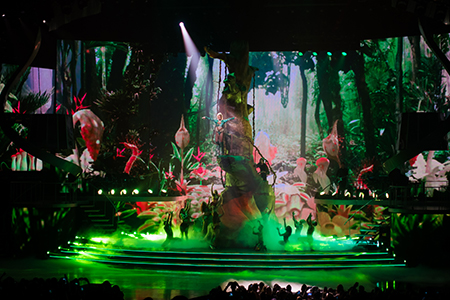 Tout d'abord, bravo à tous ceux qui sont arrivés au bout de cette chronique 👏. Ce concert, c'est le plus beau cadeau que je pouvais espérer pour mon anniversaire. Ce qui m'a marqué tout d'abord, c'est que le spectacle est terriblement beau ! Ils lui ont offert un show rythmé, coloré, fun, sexy : je mets au défi quiconque de ne pas s'y amuser ! La setlist est bourrée de tubes ! Il y a également quelques surprises comme « Do Somethin' » ou « Breathe Of Me » qui en envoient à mort. C'est dingue le nombre de hits qu'elle a à son répertoire ! Les tableaux sont variés, on en prend plein les yeux pendant 1 h 30 : le décor, les vidéos, les costumes, les danseurs, les feux d'artifice, les lasers, etc. Tout est très bien vu ! Quant à notre amie Britney Spears… Effectivement, son niveau est tout autre que sur le « Femme Fatale Tour ». On la sent épanouie, heureuse, et surtout elle est beaucoup plus dynamique qu'il y a quelques années. En revanche, elle garde quand même cette nonchalance qui la caractérise depuis le début de sa carrière… Elle pourrait faire tellement mieux ! Elle n'est clairement pas assez concentrée : la voir rater des pas qu'elle fait tous les soirs depuis trois ans m'a enragé ! On peut également lui reprocher de ne pas être des plus spontanées… Je me demande combien de spectateurs ont entendu les mêmes phrases que moi depuis le début de la résidence ? Un petit mot aussi sur les chorégraphies. J'ai vraiment eu l'impression de voir les mêmes pas toute la soirée : et vas-y que j'écarte les bras, et vas-y que je me retourne d'un coup sec, etc. Bref, tout n'est pas parfait, il reste encore des choses à améliorer (et je mets volontairement le playback de côté !).
Malgré ses défauts, j'étais ravi de la revoir… JE L'AIME ! Je l'ai trouvé superbe, elle a retrouvé une plastique et une forme d'enfer, les costumes lui vont à merveille et elle est carrément sexy d'un bout à l'autre du spectacle. Elle fait chier avec ses cheveux, car elle passe une bonne partie du show à les remettre en place… pour finir avec un affreux chignon tout pourri. Mais je lui pardonne tout (comme à chaque fois) ❤️ J'espère qu'elle reviendra bientôt en Europe avec une tournée inédite ! Pour ceux qui hésitent, objectivement, je ne pense pas que ça vaille le coup de faire le déplacement spécialement pour assister au concert… Mais si vous avez, comme moi, l'occasion de voyager aux USA, prenez vos billets, allez la voir, je vous assure que vous passerez une excellente soirée !
On termine avec les photos et les vidéos du spectacle. N'hésitez pas à me suivre sur les réseaux sociaux : Facebook, Twitter, pour être informé en temps réel des nouveaux articles, où Instagram si vous avez envie de découvrir mes escapades ! Je vous propose également un petit tour dans le passé avec les chroniques de l'Onyx Hotel Tour – Halle Tony-Garnier, Lyon (2004), de The Circus Starring Britney Spears – Bercy, Paris (2009) et du Femme Fatale Tour – Bercy, Paris (2011).
Setlist : Work Bitch / Womanizer / Break The Ice / Piece Of Me / Me Against The Music / I Love Rock 'N' Roll / Gimme More / Everytime / Baby One More Time / Oops ! I Did It Again / Scream & Shout / Boys / Do You Wanna Come Over ? / Missy Elliott Dance Break / I'm A Slave 4 U / Make Me / Freakshow / Do Somethin' / Circus / If U Seek Amy / Breathe On Me / Touch Of My Hand / Toxic / Stronger / (You Drive Me) Crazy / Till The World Ends
Également disponible en vidéo sur YouTube : Work Bitch – Gimme More – Breathe On Me – Stronger / Crazy
Britney Spears : Piece Of Me – The Axis at Planet Hollywood, Las Vegas (2016)