4 Novembre 2015 – Arielle Dombasle and the Hillbilly Moon Explosion : French Kiss Tour – La Cigale, Paris (2015)
Aller voir Arielle Dombasle sur scène c'est une expérience qui relève presque du parcours du combattant ! En effet, si les aléas du calendrier vous le permettent et si votre banquier vous autorise la dépense (de 49 € à 76 € quand même) : il ne vous reste plus qu'à croiser les doigts pour que votre date ne soit pas annulée ! Cette fois-ci, ils avaient vu grand avec pas moins de trois concerts à Paris ! Le 3 novembre au Manko Club, le 4 novembre à la Cigale et le 5 novembre au Bus Palladium. Avec mes amis Ludovic et Gauthier, nous avions choisi cette dernière date pour des questions de disponibilité et de prix, mais manque de bol, nous n'avons pas passé l'ultime étape : le show a été annulé faute de remplissage ! LOL ! Et ce n'était pas la première fois que ça arrivait, en 2010 déjà, Nicolas et moi avions été privés du « Video Glam Show » à Aix-en-Provence pour les mêmes raisons. Ludovic et Gauthier ne pouvant finalement plus m'accompagner à la Cigale et n'ayant plus envie de dépenser le moindre centime pour cette date : j'ai cherché les concours pour gagner des places et c'est de cette manière que j'ai réglé l'affaire ; en invitant Nicolas par la même occasion, afin de mettre fin à la malédiction créée en 2010 ! Hahaha !
Évidemment, remplir la Cigale n'a pas été simple non plus. Mais ça, je ne l'ai compris qu'en arrivant dans la salle aux alentours de 19 heures 30. Après avoir récupéré nos invitations au guichet, nous découvrons qu'une fosse de fortune a été installée autour du parterre assis : le rendu est étrange, mais je préfère ça plutôt que de me retrouver au dernier rang du balcon. Les fauteuils restent vides un long moment avant de se remplir d'invités VIP – sans doute des amis de BHL venus faire bonne figure pour applaudir « la femme de ». Car oui finalement, ce soir, l'ambiance fait très Florence Foster Jenkins (la fameuse « Marguerite » que vous avez pu voir sous les traits de Catherine Frot au cinéma récemment) et c'est un peu gênant parce qu'on l'aime notre Arielle et on voudrait qu'elle réussisse à rassembler les foules… Mais parfois, ça ne fonctionne tout simplement pas. Bref, trêve de bavardage, je pense qu'il est temps de passer au concert à proprement parler.
C'est Nicolas Ker qui assure la première partie : je ne le reconnais tout simplement pas, ni à la voix, ni à l'attitude nonchalante (voir potentiellement alcoolisée) qui met mal à l'aise la grande majorité des invités. Une fois cette décadence visuelle et vocale terminée, les Hillbilly Moon Explosion prennent place sur scène sous les applaudissements polis du public : Emanuela Hutter au chant, Duncan James à la guitare, Sylvain Petite à la batterie et Oliver Baroni à la basse. Les deux premiers titres du concert sont « Broken Heart » et « Live the Life » que le groupe interprète seul… Mais où est donc notre belle Arielle ? Eh bien, elle débarque en sautillant sur l'introduction de « Chick Habit » après la présentation flatteuse de son acolyte Oliver. Je vous invite à visionner la vidéo de son entrée à la fin de cet article. Elle porte un haut noir avec une petite jupe verte : je l'ai connu en meilleure forme vestimentaire. Je me demande ce qu'en penserait Christina ! LOL. Vocalement, ce n'est pas ça non plus. C'est même une véritable cacophonie et ce n'est pas l'interprétation de « Westbound Train » qui me contredira. Pourtant elle y met de la bonne volonté… Mais c'est peut-être ça le pire ! Haha.
Elle nous souhaite ensuite la bienvenue… en franglais, avant d'enchaîner sur « Walk Italian », l'une des meilleures reprises de l'album. L'atmosphère dans la salle se réchauffe, tout comme la voix d'Arielle qui commence à prendre forme sur « Drive This Truck ». Comme vous pouvez le voir sur les photos, le décor est sommaire : quelques tubes lumineux agrémentent le fond de la scène et des ambiances colorées viennent parfaire le tout. Rien d'incroyable, mais je ne m'attendais de toute façon pas à une débauche scénographique comme au Châtelet en 2012 (cf. Arielle Dombasle : Diva Tour – Théâtre du Châtelet, Paris (2012)). Oliver prend la parole pour présenter le groupe ensuite avant d'enchaîner sur « Long Way Down ».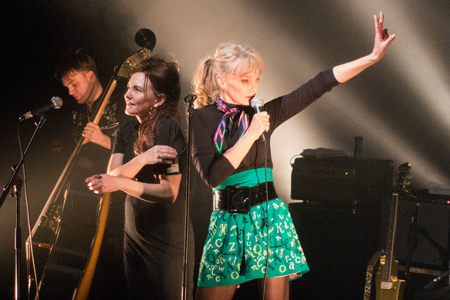 À la suite de ce morceau, Arielle interpelle le public en franglais toujours : « This audience is just SPECTACULAR and I see a lot of awesome boys – très mignons – Eh Emanuela ! You think they are or they're not ? ». Et juste avant d'enchaîner sur « Johnny Are You Gay ? », Arielle pointe du doigt dans ma direction en souriant. Alors je ne sais pas, peut-être que quelqu'un faisait des signes derrière moi, mais pour l'intérêt de l'histoire, je le prends pour moi ! LOL ! Faut dire qu'on n'est pas nombreux à la soutenir dans la salle depuis le début de la soirée, tout le monde à l'air de se foutre royalement de ce qui se passe sur scène. Pour les besoins de la chanson, elle invite un jeune danseur à se dénuder devant les spectateurs : je n'ose imaginer le moment de solitude que ça doit être dans sa tête ! Le morceau fait partie des plus sympas de l'album, de par son côté fun et amusant, qui est plutôt bien retranscrit sur scène à ce moment-là du spectacle ! Elle nous annonce ensuite qu'elle part en coulisse boire un petit peu de thé (Arielle quoi) et qu'elle nous laisse en compagnie des Hillbilly Moon Explosion ; qui reprennent donc la main sur le spectacle avec « Natascia », la géniale « Buy Beg or Steal » et une reprise de « Call Me » de Blondie.
Arielle revient et surprise, ce n'est plus pour chanter du rockabilly, mais pour interpréter les morceaux de son répertoire tels que « Perfidia » et « You Go To My Head », extraits de son album « Amor Amor ». Et le miracle se produit ! Plus besoin de prompteur comme sur la quasi-majorité des titres de « French Kiss » et son aisance vocale est à couper le souffle. Arielle, je pense que tu dois mettre fin à ce cauchemar au plus vite et revenir avec quelque chose qui te correspond vraiment 😀 Le groupe la rejoint pour « You Don't Own Me » et « French Kiss », titre qui a donné son nom à l'album. Ils continuent d'explorer le disque avec « I'm Gonna Dry My Eyes » qui se révèle bien fade en live et « Ooh La La » que je n'ai jamais aimé. Arielle semble y prendre du plaisir, elle est bien la seule, car le public ne participe absolument pas à ce titre qui est pourtant l'un des plus dynamiques de l'album.
Ils invitent ensuite notre ami Nicolas Ker sur scène pour interpréter « My Love For Evermore » l'un des titres phares de l'opus. Allez visionner la vidéo qui se trouve à la fin de l'article, vous pourrez y découvrir le désespoir de toute cette soirée condensé en quelques minutes ; notamment quand Nicolas fait tomber son pied micro et bouscule Arielle dans la foulée. N'oubliez jamais : l'abus d'alcool est dangereux pour la santé. LOL. Nicolas rejoint les coulisses sans demander son reste et Arielle hurle à s'en déchirer les tympans sur l'intro de « Maniac Lover ».
Toute la troupe quitte la scène pour le premier rappel qui s'ouvre sur « un little cha-cha-cha » : « Quien Sera (Sway) » autre extrait de « Amor Amor ». Elle a l'énergie, elle y met la voix, et le public s'engouffre dans la brèche en tapant dans les mains avant de déchanter de nouveau quand le groupe reprend « Chick Habit » et « Ooh La La » pour clôturer la soirée. Personnellement, j'aurais fait monter Philippe Katerine présent dans la salle pour chanter « Extraterrestre » : ça, ça aurait de la gueule en version rockabilly ! LOL.
Je ne peux pas dire que j'ai passé une mauvaise soirée, mais c'était vraiment loin de ce que j'espérais. Ce qui m'a le plus gêné, c'est que je ne l'ai pas sentie à sa place sur cette scène. Oui, elle a fait le job, mais on devine bien que le cœur n'y est pas. Il suffit de voir la manière passionnée dont elle a interprété les titres de « Amor Amor »… en comparaison aux airs rockabilly couiné avec les HME. La setlist parlons-en d'ailleurs : reprendre l'album de but en blanc en demandant au groupe de combler les trous avec leurs propres reprises, franchement… On aurait aimé mieux. Pourquoi ne pas avoir pioché dans le répertoire d'Arielle en réorchestrant quelques anciens titres à la sauce 50's ? Ça aurait été tellement plus intéressant. Je dois reconnaître que musicalement, ça envoie du pâté en live, mais comme la voix pèche un peu, on ne peut pas vraiment dire qu'on ait vécu des moments de grâce, mention spéciale pour les interventions de Nicolas Ker… Minimum syndical pour les tenues et le décor. Mais je ne m'attendais pas à plus.
Ce n'est pas un album sur lequel je reviendrais ni un concert dont je me souviendrais dans 10 ans : c'était sympa de la revoir sur scène, c'était là tout l'intérêt de cette soirée, la musique n'étant finalement qu'un prétexte… Mais c'est vrai que j'aurais aimé plus de surprises. Et je pense que je ne suis pas le seul, car les spectateurs n'ont clairement pas été très réactifs à ce qui se passait devant leurs yeux… L'ambiance était molle et n'a pas décollé de la soirée. Ça me peine un peu. J'espère qu'elle renouera avec le succès lors de ses prochaines « expérimentations » musicales : c'est une artiste que j'aime beaucoup et qui ose faire des choses différentes à chacun de ses albums. Malheureusement la sauce ne prend pas à chaque fois et c'est le cas ici. Sur disque comme sur scène, concrètement, on n'y croit pas. Je vous renvoie vers le compte-rendu de son concert au Châtelet en 2012 qui regorgeait de surprises et d'excentricité, en bref, un concert à son image : Arielle Dombasle : Diva Tour – Théâtre du Châtelet, Paris (2012). On se quitte avec les photos et les vidéos de la soirée. Retrouvez-moi sur les réseaux sociaux : Facebook, Twitter et Instagram pour être tenus informés des prochaines publications !
Setlist : Broken Heart / Live the Life / Chick Habit / Westbound Train / Walk Italian / Drive This Truck / Long Way Down / Johnny Are You Gay ? / Natascia / Buy Beg Or Steal / Call Me / Perfidia / You Go To My Head / You Don't Own Me / French Kiss / I'm Gonna Dry My Eyes / Ooh La La / My Love For Evermore / Maniac Lover / Quien Sera (Sway) / Chick Habit / Ooh La La
Également disponible en vidéo sur YouTube : Chick Habit – My Love For Evermore
Arielle Dombasle and the Hillbilly Moon Explosion : French Kiss Tour – La Cigale, Paris (2015)