1er Juillet 2018 – U2 : eXPERIENCE + iNNOCENCE Tour 2018 – Madison Square Garden, New York
U2 est actuellement en concert tout autour du monde avec un show intitulé « eXPERIENCE + iNNOCENCE Tour 2018 » qui fait suite à leur précédente tournée « iNNOCENCE + eXPERIENCE Tour 2015 ». Je ne suis pas ce qu'on appelle « un fan de la première heure », mais j'apprécie vraiment de les voir sur scène. Lorsque les tickets ont été mis en vente, je n'étais pas encore bien rodé aux billetteries américaines… J'ai donc raté le coche pour les 2 premiers concerts. Heureusement, une 3e et dernière date a été ajoutée quelques semaines plus tard et j'ai finalement pu corriger le tir ! Comme je n'avais pas envie de casser mon PEL pour ce concert, j'ai choisi de prendre un billet derrière la scène principale : je m'assurai au moins une bonne visibilité sur le groupe 😊.
Le dispositif technique est le même que pour la tournée précédente : deux scènes unies par une longue avancée, au-dessus de laquelle trône un immense écran qui coupe la salle en deux. Manque de bol, une fois assis, je me retrouve pile dans l'axe du bordel : je ne vois rien de ce qui s'y passe 😕. Points positifs : la perspective sur le Madison Square Garden est ahurissante et j'ai mon propre écran de retransmission ! Je ne m'en sors pas trop mal avec ma place à 45 dollars. La salle se remplit doucement et à 20 h 45, les lumières s'éteignent au son de « It's A Beautiful World », le morceau de Noel Gallagher.
On aperçoit d'étranges images médicales sur l'écran. Il me semble que ce sont des scanners cérébraux. La vidéo se stabilise sur une texture indescriptible et la chanson d'introduction démarre. Une passerelle apparaît sous l'écran et la structure s'ouvre dans un halo bleuté. On découvre Bono sur le titre « Love Is All We Have Left ». Il interprète le morceau en duo avec un personnage invisible à l'œil nu. En effet, pour le voir : il faut télécharger l'application U2 AR eXPERIENCE App (disponible sur iOS et Android). Une fois lancée : il vous sera possible d'apprécier l'ouverture en réalité augmentée ! La grande classe ! Je vous laisse découvrir le résultat grâce à cette vidéo YouTube qui vous donnera un bon aperçu de ce dont on parle : « Love Is All We Have Left ».
L'écran se ferme en avalant Bono et une nouvelle vidéo démarre sur « The Blackout ». On voit les membres du groupe en ombre chinoise, comme s'ils étaient enfermés à l'intérieur d'un moniteur. Il faut attendre le refrain pour découvrir Bono, The Edge, Adam et Larry en transparence à travers la structure qui s'élève progressivement. Le titre sonne hyper pop. Et même si le son est absolument pourri, l'ambiance est là ! Je suis vraiment conquis par l'ouverture 😍. Bono reste seul sur l'avancée pour interpréter « Lights of Home » alors que le groupe rejoint la scène principale. Une pluie d'étoiles se dessine sous ses pieds et les spectateurs en profitent pour saisir leur téléphone et illuminer la salle.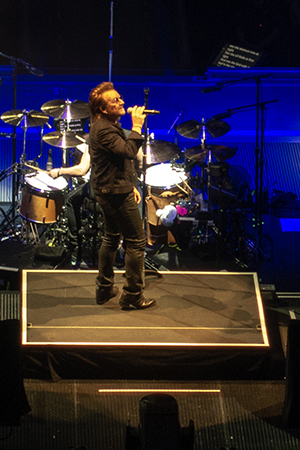 Bono rejoint ses comparses pour « I Will Follow » que vous retrouverez en vidéo à la fin de l'article et enchaîne sur « All Because Of You ». De ma place, je ne vois pas tout ce qui se passe sur l'écran, mais je dois reconnaître que la vue sur la salle est impressionnante ! Le show continu sur la scène principale avec « Beautiful Day ». Bono vient d'ailleurs s'installer près du batteur, ce qui est vraiment appréciable pour le public qui se trouve derrière le groupe. Je n'aime pas jouer les mauvaises langues, mais ses cheveux ne font pas illusion : je ne sais pas s'il s'agit d'une perruque ou d'implants, mais on dirait qu'il a enfilé un casque sur sa tête. Heureusement, la couleur est soignée cette fois-ci, il nous a épargné le jaune pisse comme en 2015 😅.
Les morceaux « The Ocean » et « Iris (Hold Me Close) » lui permettent de rendre hommage à sa mère disparue prématurément. Il rejoint ensuite le centre de l'avancée et l'écran projette une série d'étoiles et de constellations. La mise en scène est la même qu'en 2015. On entre d'ailleurs dans une phase du concert qui est identique à la tournée précédente. Pour « Cedarwood Road », Bono monte dans la structure vidéo et se retrouve au cœur d'une animation qui reproduit la rue dans laquelle il a grandi. Il doit braver les éléments météorologiques pour progresser et le résultat est bluffant. C'est la mise en scène que j'avais préféré la première fois et cette année encore, c'est clairement la meilleure utilisation qu'ils font de ce gigantesque écran. Ils ont bien fait de garder le morceau 👍.
Après un rapide speech de Bono au sujet du dimanche sanglant de 1972, Larry attrape un tambour et lance l'intro de « Sunday Bloody Sunday ». Les 4 membres du groupe se rejoignent sous l'écran pour interpréter le morceau dont l'orchestration est plutôt moyenne cette année encore. Ils y glissent un extrait de « When Johnny Comes Marching Home », un chant patriotique datant de la Guerre de Sécession. Alors que le titre se termine, on voit apparaître une dizaine de visages avec le message « Justice For The Forgotten ». L'image vise à mettre en avant la campagne de soutien aux victimes des attentats de Dublin et Monaghan. Ce n'est clairement pas la séquence la plus légère du show.
« Until the End of the World » clôt la première partie du spectacle. Sur scène, The Edge se déchaîne à la guitare. Sur l'écran, un Bono gigantesque laisse place à un tsunami qui vient ravager les habitations de la Cedarwood Road aperçues quelques minutes plus tôt. Des milliers de feuilles déchirées s'envolent et retombent sur le public. Ce sont des morceaux du livre Alice Au Pays des Merveilles. Le groupe quitte la scène. C'est l'heure de l'intermission !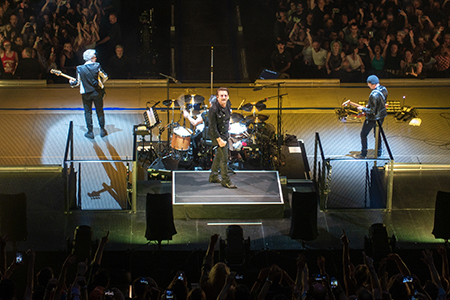 L'ouverture de la 2e partie sur « Hold Me, Thrill Me, Kiss Me, Kill Me » prend la forme d'un véritable film d'animation, graphiquement proche d'un comic book. La séquence est intitulée « Innocence And Experience : The Heroes' Journey » et permet de découvrir 4 nouveaux superhéros qui sont évidemment nos chers amis de U2. Le groupe réapparaît sur la scène secondaire avec « Elevation ». Bono arbore maintenant un chapeau haut de forme assorti d'une veste dont les revers sont pailletés. Il porte un maquillage sombre autour des yeux. La salle est en délire et sur l'écran, on aperçoit des volutes de fumée colorées. Ces couleurs font du bien après la noirceur des tableaux précédents !
Le groupe enchaîne sur « Vertigo » qui est clairement ma chanson favorite ! La dernière fois, j'avais trouvé qu'elle intervenait trop tôt dans le spectacle : ici, au cœur de la salle, c'est simplement parfait. Lorsque le titre se termine, Bono le fait reprendre par le public et le morceau repart de plus belle. C'est sans hésitation la séquence que j'ai préférée dans le concert ! À noter qu'un extrait de « Rebel Rebel » de David Bowie s'est glissé au milieu de la chanson.
Avant d'entamer « Desire », Bono nous offre le premier speech de la soirée en nous expliquant que c'est la 30e fois que U2 chante au Madison Square Garden. C'est également le lieu dans lequel où le groupe a le plus joué ! La scène secondaire se transforme en un véritable dancing, avec une boule à facettes et toute une palette d'effets lumineux projetés sur le sol. Il y a une vraie énergie dans la salle. Bono se paie un solo d'harmonica avant d'enchaîner avec « Acrobat ». C'est le titre que j'ai le moins aimé du spectacle. Bono se place devant un écran qui le transforme en démon grâce à un système de filtre Snapchat. Son image est projetée dans toute la salle. C'est un peu ridicule d'autant plus que ça ne marche pas très bien.
Il semble se démaquiller devant le miroir d'une loge alors que le groupe se lance dans une version acoustique de « You're the Best Thing About Me », toujours sur la scène secondaire. On peut observer une lune sur le sol. Le titre m'a vraiment plu, mais j'ai encore plus aimé le suivant : « Staring at the Sun ». Il fait plusieurs fois référence à la France, car la chanson semble avoir été écrite dans le Sud pendant un été durant lequel le groupe prenait des vacances… en buvant du rosé au bord de la mer ! Le titre est interprété en guitare-voix avec The Edge. Le résultat est vraiment très convaincant.
Bono attrape un porte-voix et le groupe se répartit dans les 4 coins la salle pour interpréter « Pride (In the Name of Love) ». Tout ce beau monde revient sur la scène principale pour « Get Out Of Your Own Way » et « American Soul ». Visuellement, c'est l'un des moments que j'ai préféré et qui m'a le plus ému. Un immense drapeau américain se dresse devant nos yeux, et ce qui est drôle, c'est que tous les Américains se lèvent comme un seul homme, pour faire des selfies avec le symbole derrière eux 🇺🇸 ! Je suis vraiment surpris par leur engouement.
La chanson suivante est « City of Blinding Lights », qui, même si ce n'est pas écrit noir sur blanc, parle de New York City ! Le tableau est le même qu'en 2015 : des dizaines de tubes lumineux apparaissent un peu partout pour illuminer la salle. Le titre reçoit un excellent accueil de la part du public. La vue est une nouvelle fois impressionnante : j'ai adoré. C'est la fin du set principal.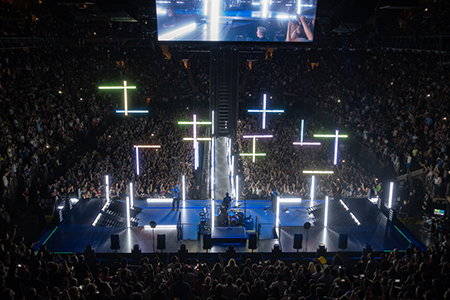 Le rappel s'ouvre sur la chanson « Women Of The World » alors que l'écran diffuse un message de soutien au mouvement « Poverty Is Sexist » de ONE. La vidéo est d'ailleurs disponible sur YouTube : #WomenoftheWorldTakeOver. Bono en profite pour remercier les 152 ambassadeurs des Nations unies présents dans la salle avant d'enchaîner sur « One » que vous retrouverez sur YouTube… Le groupe continu avec « Love Is Bigger Than Anything In Its Way » qu'il dédie à Salman Rushdie.
La dernière chanson du concert, « 13 (There Is A Light) », est offerte à Steve Averill, présent dans la salle. C'est l'homme qui a aidé U2 à trouver son nom et qui a dessiné toutes les pochettes des albums du groupe. Cette séquence est particulièrement réussie ! Il y a une maisonnette au bout de l'avancée, et Bono la rejoint lentement. Il l'ouvre et (re) découvre la fameuse ampoule « fil rouge » de la précédente tournée. Il lance la lampe pour qu'elle tournoie autour de lui et quitte la salle en passant par le public. C'est une jolie conclusion, assez émouvante, qui vient relier les 2 spectacles avec ce même élément central. Le show est à présent terminé !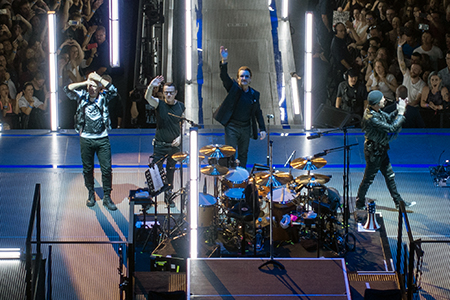 Même si je n'ai pas eu une visibilité parfaite pendant le concert, je dois avouer que j'ai préféré cette tournée à la précédente. Le show, s'il a gardé une structure identique, semble plus abouti. C'est sans doute grâce à l'album qui – à mon sens – est beaucoup plus intéressant que le dernier en live. Il y a de nombreux morceaux que je ne connaissais pas et qui m'ont donné envie de redécouvrir le groupe, je pense notamment à « Love Is All We Have Left », « Staring at the Sun » et « 13 (There Is A Light) ». Musicalement, rien à dire ! La meilleure idée de la soirée étant évidemment la reprise de « Vertigo » 🤩.
La mise en scène est toujours aussi impressionnante et… handicapante. Je ne suis pas le mieux placé pour juger cette fois-ci, mais je pense que je ne suis pas le seul à avoir raté des moments-clés à cause de mon emplacement ; sauf que moi j'ai payé 45 $ et pas 331 $. Je tiens en revanche à les féliciter pour l'ajout d'une vraie introduction et d'une vraie sortie de scène, ça manquait cruellement la dernière fois ! Le groupe s'est assagi et c'est tout aussi bien. Bono est toujours boring avec ses speeches à rallonge, mais ça fait partie du personnage. Le public était au rendez-vous cette année encore et contrairement aux autres shows auxquels j'ai pu assister ici : les spectateurs semblaient vraiment apprécier le concert. Pour preuve, je n'ai dû me lever que 6 fois pour laisser passer les gens qui voulaient aller aux stands de bière 😂. Plaisanterie mise à part, je suis ravi d'avoir pu les voir cette année et je serai au rendez-vous lors de leur prochaine visite.
On se retrouve très bientôt, car je vous ai prévenu : l'été sera chargé ! Il y a de grosses surprises qui arrivent : j'ai prévu d'aller applaudir des artistes que je rêve de voir depuis mon adolescence ! Je n'en reviens toujours pas ! Alors, soyez là ! Je vous attends en commentaire et sur les réseaux sociaux : Facebook, Twitter et Instagram et si vous aimez U2, je vous invite à découvrir mes précédentes chroniques : #U2.
Setlist : Love Is All We Have Left / The Blackout / Lights Of Home / I Will Follow / All Because Of You / Beautiful Day / The Ocean / Iris (Hold Me Close) / Cedarwood Road / Sunday Bloody Sunday / When Johnny Comes Marching Home / Until The End Of The World / Hold Me, Thrill Me, Kiss Me, Kill Me (Interlude) / Elevation / Vertigo / Rebel Rebel / Desire / Acrobat / You're The Best Thing About Me / Staring At The Sun / Pride (In The Name Of Love) / Get Out Of Your Own Way / American Soul / City Of Blinding Lights / Women Of The World / One / Invisible / Love Is Bigger Than Anything In Its Way / 13 (There Is A Light)
Également disponible en vidéo sur YouTube : I Will Follow – One
U2 : eXPERIENCE + iNNOCENCE Tour 2018 – Madison Square Garden, New York (2018)