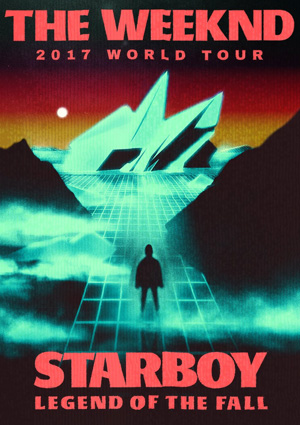 28 Février 2017 – The Weeknd : Starboy, Legend Of The Fall Tour – AccorHotels Arena, Paris
Après deux mois de silence radio, me voici de retour avec la première chronique de l'année 2017 😁. The Weeknd était en effet à Paris ce 28 février pour nous présenter sa tournée : « Starboy, Legend Of The Fall Tour ». Un concert très attendu des fans puisque sa dernière venue en solo remonte à 2013. Quant à moi, je l'ai découvert en 2015 avec la sortie de « Beauty Behind the Madness » qui a été un coup de cœur immédiat.
J'arrive aux alentours de 19h sur le parvis de l'AccorHotels Arena et j'attends patiemment mon tour pour entrer dans la salle. Le concert est complet, autant vous dire qu'il y a du monde ! Une fois à l'intérieur, l'attente est longue. Trois artistes se succèdent avant l'arrivée de The Weeknd : le DJ Lil Panda, le rappeur Lil Uzi Ver et Bryson Tiller qui clôture cette interminable « première partie ». Quand les lumières s'éteignent à 21h45, l'excitation m'a quitté depuis un bon moment : j'espère qu'il va mettre les bouchées doubles !
Le décor plane littéralement au-dessus de nos têtes. Il s'agit d'une sorte de vaisseau spatial dont la surface, sertie de néons, est recouverte de plusieurs écrans de projection. J'ai vu quelques photos du spectacle avant de venir et je suis vraiment curieux de le voir en mouvement. Une longue avancée sépare la fosse. Alors que les musiciens s'installent sur la scène principale devant un écran géant, l'intro démarre et nous voilà partis pour un voyage… interstellaire 💫. La structure s'élève dans un vrombissement sonore avant de s'incliner pour un décollage immédiat.
« All I Know » s'ouvre sur une introduction minimaliste au synthé alors qu'Abel Tesfaye aka The Weeknd, fait son entrée discrètement par une trappe près de la scène principale. Ce qui frappe dès les premières minutes, c'est la pureté de sa voix. Il n'y avait pas de meilleure ouverture possible ! Sans transition, il enchaîne sur « Party Monster » qui semble remporter les faveurs du public. La salle se part de bleu et rose pendant qu'il se déchaine sur l'avancée en demandant aux spectateurs de jumper sur le morceau. Il y a de l'énergie dans la salle. Il porte une veste beige à motif par-dessus un ensemble noir tout ce qu'il y a de plus sobre. Les ambiances visuelles se multiplient alors qu'il enchaîne ses titres sur scène : « Reminder », « Six Feet Under », « Low Life » et « Might Not » sur laquelle la structure change de forme pour se retrouver pointe face au public. Je ne connaissais pas ce feat. avec Belly et je suis complètement tombé sous le charme du morceau.
Il continue d'enchanter le public avec « Often », « Acquainted » et « Ordinary Life » : je suis surpris qu'il passe autant de temps sur le catwalk au milieu du public. C'est une bonne chose pour moi qui suis arrivé bien après l'ouverture des portes ! L'ambiance prend une tout autre tournure lorsque l'intro de « Starboy » résonne dans la salle. Les spectateurs deviennent dingues : on sent le titre fédérateur ! J'adore sa façon d'interpréter le titre en live. Il enchaîne avec « Nothing Without You ». Je n'avais pas spécialement eu de coup de cœur pour le titre en écoutant l'album, mais depuis le concert : je me le passe en boucle. Le vaisseau spatial est littéralement plié en deux, c'est assez impressionnant ! Il ose quelques mots ensuite « Paris, are you ready to dance ? » avant d'entamer : « Rockin » », « Secrets », « Can't Feel My Face » et « In The Night » dans un déluge de lumières. Cette séquence est clairement ma préférée du spectacle. L'ambiance était complètement folle dans la salle ! Ça ne retombe pas lorsqu'il interprète « Earned It », le morceau de la bande originale de « 50 Nuances De Grey ».
Il a clairement fait basculer le concert dans une autre dimension avec cet enchaînement de fou ! Retour au calme avec « Wicked Games », « High For This » et « The Morning ». Le morceau est enchaîné à « Sidewalks » qui se termine par l'arrivée d'un beat hystérique annonçant « Crew Love », reprise de Drake. Il agence « Tell Your Friends » et « Die For You » avant l'arrivée d'un invité surprise : Travis Scott. Je dois vous avouer que lorsque le gugusse est arrivé sur scène pour chanter « Antidote » et « Goosebumps », je me suis demandé qui ça pouvait bien être et surtout qui pouvait bien l'avoir laissé monter sur scène avec son sac à dos ! Si j'ai eu la réponse à la première question sur le trajet du retour, la deuxième restera sans doute sans réponse 🤷‍♂️. Clairement le mec assure sur scène ! Le set principal se termine avec « I Feel It Coming », son dernier single en date. Le rappel est assez court et The Weeknd revient surexcité sur « False Alarm », le titre le plus nerveux de son répertoire ! Il enchaîne avec « House Of Balloons / Glass Table Girls », un choix assez étrange pour clôturer le concert. La soirée prend fin avec « The Hills » l'un de ses plus grands succès à ce jour, que le public reprend en cœur.
Ce qui m'a vraiment scotché pendant toute la durée du concert, c'est la voix. Clairement, je ne m'attendais pas à ce qu'il soit aussi bon à ce niveau. En revanche, j'attendais un peu plus d'échange avec le public. Il ne suffit pas de crier « One. Two. Jump, jump, jump ! » toutes les deux minutes pour créer de l'interaction. J'ai presque trouvé Travis Scott plus charismatique que lui en deux morceaux. Il serait peut-être plus à l'aise dans une salle plus intime sans avoir à courir d'un bout à l'autre de la scène. D'ailleurs, le décor est imposant, mais à mon avis bien trop sous-exploité. En découvrant les premières images du show quelques jours avant, je m'étais imaginé tout un scénario avec ce « vaisseau spatial » et au final, mis à part servir d'écran de projection, je n'ai pas été particulièrement époustouflé par l'utilisation qui en a été faite. D'autant plus que lorsqu'on est dessous, on ne peut pas véritablement en apprécier les effets — en fait, on l'oublie vite !
Au-delà de ces deux petites remarques, je me suis beaucoup amusé et je réécoute sa discographie en boucle. La setlist était top ! Bien sûr, j'aurais aimé entendre quelques autres titres, mais c'était déjà une belle synthèse de son répertoire. J'ai d'ailleurs adoré la séquence où se sont enchaînés : « Rockin' » », « Secrets », « Can't Feel My Face » et « In The Night » et bien évidemment, entendre le sublime « Nothing Without You » en live m'a ravi. Je l'imagine assez bien avec un orchestre symphonique — en tout cas, il aurait beaucoup à gagner en se débarrassant de tous les à-côtés pour se concentrer exclusivement sur la musique. Pour les curieux, il sera de retour à Paris cet été dans le cadre du festival Lollapalooza – je vous invite vraiment à le découvrir sur scène 👍 – Quant à nous, on va se retrouver un peu plus régulièrement dans les prochaines semaines : il y aura de belles découvertes cette année encore 🙂 N'hésitez d'ailleurs pas à me rejoindre sur Facebook, Twitter et Instagram !
Setlist : All I Know / Party Monster / Reminder / Six Feet Under / Low Life / Might Not / Often / Acquainted / Ordinary Life / Starboy / Nothing Without You / Rockin' / Secrets / Can't Feel My Face / In The Night / Earned It / Wicked Games / High For This / The Morning / Sidewalks / Crew Love / Tell Your Friends / Die For You / Antidote (Travis Scott) / Goosebumps (Travis Scott) / I Feel It Coming / False Alarm / House Of Balloons / Glass Table Girls / The Hills
Également disponible en vidéo sur YouTube : Party Monster – Can't Feel My Face – Earned It – I Feel It Coming
The Weeknd : Starboy, Legend Of The Fall Tour – AccorHotels Arena, Paris (2017)