6 Avril 2017 – Saturday Night Fever – Palais des Sports, Paris
À l'occasion des 40 ans du film, un groupe de producteurs s'est associé pour recréer « Saturday Night Fever » sur scène. Le spectacle se joue actuellement au Palais des Sports de Paris, puis sera en tournée jusqu'à la fin de l'année. Vous vous rappelez sans doute de John Travolta dans son costume blanc à pattes d'éléphant et vous connaissez sûrement la plupart des tubes de la BO devenue mythique : « Staying Alive », « You Should Be Dancing », « If I Can't Have You », etc. Ce serait mentir que de vous dire qu'on écoutait les Bee Gees en boucle à la maison… Nous, c'était plutôt « Grease » le film culte de la famille ! Mais quand on m'a proposé d'aller voir le spectacle, je n'ai pas hésité une seconde à me laisser gagner par la fièvre… du samedi soir 🕺.
SNF, c'est l'histoire de Tony Manero, un jeune Newyorkais, qui passe tous ses weekends sur la piste de « l'Odyssée », la discothèque de son quartier. Le simple vendeur qu'il est devient donc, le temps de quelques heures, un parfait dieu du disco, adulé aussi bien par les femmes que par les hommes. Il y rencontre Stéphanie Mangano, dont il tombe immédiatement sous le charme et cherche à conquérir par tous les moyens. Les deux jeunes danseurs font connaissance lors d'un concours organisé par le club où se révèle leur talent hors du commun.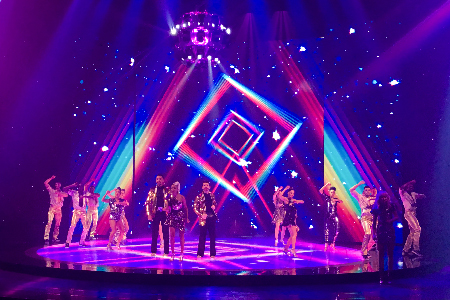 Concrètement, comment ça se passe ? Il y a un narrateur, interprété par Gwendal Marimoutou, qui raconte l'histoire au public, mais qui interagit aussi avec les personnages, puisqu'il est également « sur scène » le DJ du club dans lequel Tony se rend tous les samedis soirs. Il fait constamment le lien entre nous et les comédiens. C'est assez déstabilisant, on se sent toujours un peu tenu à l'écart de l'histoire. L'histoire qui n'est d'ailleurs qu'un prétexte aux numéros de danse. Il n'y a même parfois aucun rapport avec le film, par exemple dans le premier tableau du show où les comédiens se mettent à danser dans le drugstore de Tony. Il y a quelques idées sympathiques tout du long, comme les interventions des parents de Tony sur l'écran vidéo – avec lesquels il interagit. Si les dialogues se veulent assez légers, tout n'est pas à mourir de rire… On retrouve en tout cas bien le déroulement du film sur scène.
Comme la majorité des comédies musicales actuelles, le spectacle se découpe en deux actes. Après l'entracte, le DJ/narrateur intervient dans la salle pour faire participer le public. Je ne suis pas un très grand fan de ce genre de séquence, mais pris dans l'ambiance, j'ai volontiers joué le jeu ! On a donc repris pendant de longues minutes les mouvements qui ont fait les beaux jours du disco dans les seventies. Vous aurez peut-être même l'occasion de monter sur scène pour exposer vos talents de danseur aux yeux des autres spectateurs. Ça vous tente ? 😏 Il y avait d'ailleurs parmi nous Raymonde, une dame d'une soixantaine d'années, qui ne s'est pas fait prier pour se jeter sur scène. Elle nous a beaucoup fait rire !
Le décor est un vinyle géant qui se transforme en fonction des besoins : la chambre de Tony, le club Odyssée 2001, la salle de danse. Il y a peu d'éléments sur scène, mais l'ensemble est appuyé par des projections vidéo assez réussies. C'est très lumineux, très dynamique. Je n'ai pas pu m'empêcher de penser à un plateau télé. L'ombre de « Danse Avec Les Stars » plane sur le show… inévitable lorsque l'on voit Fauve Hautot enchaîner les figures acrobatiques ! À tout moment, on s'attend à entendre « Sur un cha-cha, Nicolas Archambault et sa partenaire Fauve Hautot » 😂. D'ailleurs les comédiens parlons-en : Fauve est vraiment forte. En termes de performances, elle éclate absolument tout le monde. Quant à Nicolas Archambault, la figure masculine de « Saturday Night Fever », on ne va pas se le cacher : c'est un plaisir pour les yeux. Il est sacrément bien foutu. En revanche, niveau diction, ce n'est pas ça. La troupe semble en tout cas très bien s'entendre, et on le ressent vraiment bien dans le public. C'est un bon point !
J'ai beaucoup aimé le concours de danse qui se déroule dans la seconde partie du spectacle, dans le club, où l'on assiste au duel Tony/Stéphanie contre le couple latino – c'est sans doute le numéro le plus impressionnant du spectacle. En revanche, impossible d'échapper à la ballade sur laquelle on a collé une immonde chorégraphie breakdance. On se la tape dans absolument tous les spectacles musicaux depuis des années ! Sur l'ensemble du show, il y a peu de séquences vraiment wow – mis à part la fin du 1er acte sur « You Should Be Dancing » et le concours de danse dont je viens de vous parler. Les costumes m'ont plu. On retient plus facilement ceux de Fauve très joliment mis en valeur par ses mouvements. Ça brille de partout, ça colle parfaitement au kitsch des années 70. Concernant la bande-son pour terminer, il y a trois interprètes sur scène, dont Stéphane Rizon, que j'ai eu beaucoup de plaisir à retrouver, mais tout n'est pas « live ». Ils utilisent également des versions studio des titres qui ont été réenregistrés spécialement pour le spectacle, notamment la reprise de « Saturday Night Fever » par Kylie Minogue. Moi ce que j'ai adoré, ce sont les arrangements de « You Should Be Dancing » qui revient plusieurs fois dans la soirée 😍.
En conclusion, je dois reconnaître que j'ai été assez déstabilisé par la construction du spectacle. Je m'attendais à quelque chose de plus classique : un portage pur et simple du film sur scène, comme c'est le cas de la plupart des adaptations. Là, on est à mi-chemin entre la comédie musicale, le gala de danse et l'émission télé. Personnellement, j'ai trouvé l'immersion dans l'histoire assez difficile à cause du narrateur, qui vient finalement couper le déroulement avec ses interventions régulières. Du coup, j'ai eu du mal à apprécier l'ensemble.
J'ai malgré tout passé un bon moment : j'ai bien aimé les comédiens, les tableaux chorégraphiés, et puis la bande originale évidemment ! Ça donne clairement envie de danser ! Si vous êtes un tant soit peu sensibles à l'univers disco, je vous conseille vivement d'y aller. Si comme moi, vous ne portez pas un grand intérêt aux costumes pattes d'eph et aux boules à facette, je suis certain qu'un autre spectacle vous ravira tout autant : le choix est vaste ! On se quitte avec quelques photos de la représentation, ainsi que la bande-annonce du show. Je vous propose également de me rejoindre sur Facebook, Twitter et Instagram pour découvrir mes autres chroniques de spectacle !
Bande-annonce du spectacle « Saturday Night Fever »
Saturday Night Fever – Palais des Sports, Paris (2017)