30 Mars 2015 – Robbie Williams : Let Me Entertain You Tour 2015 – Zénith, Paris
Robbie Williams, c'est un artiste que j'aime beaucoup. Même si depuis quelques années, je l'écoute moins : je ne pouvais pas manquer son passage en France. D'autant plus après l'avoir vu en 2013, à Bruxelles, un show dont je garde un souvenir mémorable (cf. Robbie Williams : Take The Crown Stadium Tour 2013 – Stade Roi-Baudouin, Bruxelles (2013)). Le concept de la tournée, c'est de passer dans des villes dans lesquelles il n'a pas été qui longtemps pour y présenter ses plus grands succès sur scène. Trois dates annoncées à Paris, au Zénith : une salle parfaite pour ce type de spectacle ! Il y a une telle proximité avec les artistes, c'est une chance inespérée de voir des pointures de ce genre dans de si petites jauges.
J'arrive assez tardivement, et je suis surpris par la taille du parterre : comme il y a une fosse or et une avancée de scène en arc de cercle assez gigantesque : l'espace qui nous est réservé, à nous les pauvres, est vraiment réduit. Mais finalement c'est une bonne chose : la mise en scène du spectacle est faite de telle sorte à ce que Robbie soit régulièrement sur cette avancée et que l'on puisse donc en profiter nous aussi. Bref, je reviendrai sur les détails de la scénographie un peu plus loin dans ce compte-rendu… Pour le moment les lumières s'éteignent, attachez vos ceintures : le spectacle commence !
Un rythme sourd de percussions se fait entendre, des flashes lumineux éclairent la scène : l'ambiance est apocalyptique. Sur « O Fortuna » de Carl Orff, musique digne des plus grands films d'action de ces dernières années (ou des plus grands albums de Vincent Niclo au choix), un message s'écrit en rouge sur l'écran géant qui tapisse le fond de la scène : « Salut ». Oui, je sais, ça casse un peu le délire. Moi aussi je m'attendais un truc exceptionnel ! LOL. Une entité semble vouloir prendre contact avec nous et multiplie les messages à notre attention : « Il y a quelqu'un ? », « Je ne vous entends pas, pouvez-vous faire quelque chose ? », « Remuez vos fesses ! », « Criez ! », jusqu'au final « Paris, suis-je toujours votre fils ? Alors… LET ME ENTERTAIN YOU ! ». L'ombre de Robbie apparaît sous diverses formes à l'image quand tout à coup résonnent les premières notes de « Let Me Entertain You ». Un énorme « ROBBIE » s'affiche, alors qu'il apparaît devant nos yeux ébahis, blond, vêtu d'une tenue noire et d'un serre-tête représentant les cornes du diable. Le ton est donné.
C'est une superbe entrée en matière, l'ambiance est électrique et on retrouve bien là notre Robbie show man joyeux et déchaîné sur scène. Les projections vidéo sont particulièrement sophistiquées et le rendu est hyper dynamique. Après son habituel « For the next two hours, your ass is mine ! », il enchaîne avec quelques-uns de ses plus grands succès : « Rock Dj », « Monsoon » et le particulièrement attendu « Tripping », que vous pouvez retrouver en vidéo à la fin de l'article. J'ai adoré ce moment. C'est un titre que je n'avais jamais eu l'occasion d'entendre en live et la mise en scène est vraiment exceptionnelle : il y a plein de lasers, l'ambiance est presque disco. Génial. Le concert continu avec une sorte de medley mélangeant « Royals » de Lorde et « Bodies ». Il profite de ce moment pour faire son premier tour de scène. Je me dis que la mise en scène vraiment bien pensée parce que du coup, tout le monde peut profiter de lui. C'est vrai, je m'attendais à être assez éloigné de la scène, mais finalement, ce n'est pas le cas.
Après un rapide échange avec le public, il s'installe avec le groupe de filles qui a assuré la première partie, les Baskery, pour reprendre le magnifique « The Road To Mondalay » en version acoustique. L'un des meilleurs moments du concert ! Il enfile ensuite une redingote, ce qui annonce la partie jazzy du spectacle : qui débute par « Minnie The Moocher » et qui ne nous permet de profiter également de « Swing Supreme », « Ignition », morceau de R. Kelly et le génialissime « Shout », qui me rappelle évidemment « Sister Act ». Il est particulièrement en forme, et quitte la scène en trombe pour laisser le groupe jouer « C.C. Rider » que les fans d'Elvis reconnaîtront évidemment. Sauf qu'a priori, ce n'est pas le moment de partir, et on le voit donc revenir sur scène et s'excuser de s'être gouré lamentablement…
Il reprend donc le fil du concert en s'installant sur un tabouret de bar avec son guitariste, Tim Metcalfe, pour chanter de courts extraits de « Go Gentle », « Gospel » et un titre inédit, en hommage à son fils : « Motherfucker ». Tout un programme. LOL. Ce n'est pas le moment que j'ai préféré même si l'interaction avec le public est sympathique. Ce que j'ai aimé en revanche, c'est voir son père, débarquer sur scène pour chanter avec lui « Better Man », c'était un moment très émouvant même si j'ai cru comprendre que la chose était assez récurrente depuis la tournée précédente. Cette fois-ci c'est la bonne : les musiciens reprennent « C.C. Rider » et Robbie s'écrit en coulisse pour se changer.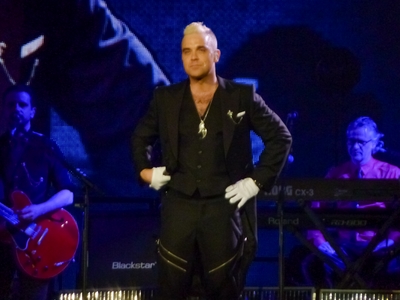 Il revient sur scène affublé d'un kilt dont il semble particulièrement fier. L'écran géant se transforme en une multitude d'enceintes, ça annonce du lourd : les reprises de deux classiques du rock « We Will Rock You » et « I Love Rock 'N' Roll ». Il s'installe devant nous, pour chanter « No Regrets » un titre de son répertoire que j'avais totalement oublié ! Honte à moi ! Après un rapide extrait de « Freedom » originalement interprétée par George Michael il passe à « Come Undone » mêlé à un court passage de « I Still Haven't Found What I'm Looking For » de U2. Le public est euphorique, et ce n'est rien comparé à ce qui va suivre : « Candy » pour laquelle il choisit une personne dans le public comment 2013. La mise en scène est d'ailleurs quasiment la même : un lit vertical apparaît sur scène et lorsqu'il s'installe avec sa comparse derrière l'écran qui sert de couverture, on découvre avec plaisir la mise en scène fun et amusante qu'il nous a réservée. J'ai particulièrement aimé les arrangements qui sont exceptionnels sur ce titre. La scène est ensuite noyée sous les lasers pour « Feel », un morceau particulièrement attendu par les spectateurs, de même que « Millenium », classique parmi les classiques. Il enchaîne ensuite sur la chanson de l'insupportable pub Dior avec Robert Pattinson : « Whole Lotta Love » de Led Zeppelin, couplé avec « Kids », qui n'intéresse pas plus que ça, puisque c'est un titre qu'on se tape à chaque tournée de Kylie et de Robbie. LOL.
Il quitte la scène et revient quelques minutes plus tard pour la dernière séquence, et pas des moindres puisqu'il s'agit de la reprise de Queen : « Bohemian Rhapsody ». Son costume de scène me fait immédiatement penser à Elvis : une combinaison noire brodée de motifs dorés, ça ne peut être qu'un clin d'œil au King. Sur l'écran géant, les quatre visages de Queen semblent reprendre la chanson en chœur avec lui. Il est très en voix, et c'est un des moments les plus intenses du concert. Concert qu'il clôture avec « Angels », un titre que les spectateurs chantent avec lui à pleins poumons. Un final peu surprenant, mais toujours aussi émouvant.
Bref, je ne sais pas durer le suspense se plus longtemps : j'ai adoré. Peut-être même plus qu'en 2013 ! Tout était PARFAIT, j'ai été transporté d'un bout à l'autre du concert : j'en ai même oublié où j'étais ! Le décor est simple, mais superbement utilisé : il y a un écran gigantesque en fond de scène qui mélange images enregistrées et prises de vues réelles ainsi qu'une grande avancée de scène en arc de cercle qui sépare la fosse de la fosse or. Ce qui permet à tout le monde de le voir de près. J'ai aimé la profusion de lasers sur des chansons comme « Tripping » ou « Feel » ou encore la prestation avec le lit vertical sur « Candy », dont nous avions déjà eu un aperçu en 2013. Dans l'ensemble, les effets spéciaux sont beaux et habilement amenés.
Quant à la setlist, que dire sinon parfaite ? Tous les tubes y sont : « Rock DJ », « Supreme », « Angels », « Millenium », « Feel », etc. Au milieu desquels sont ajoutés des reprises telles que « Bohemian Rhapsody » et des titres que j'adore comme « Tripping » ou « The Road to Mandelay ». À souligner, le joli duo sur « Better Man » avec son papa que je ne m'attendais pas à voir là. Je regrette simplement qu'il ait retiré « Radio » de la setlist.
Je l'ai trouvé en bien meilleure forme qu'en 2013 : il a minci, semble avoir rajeuni – mais ça, c'est peut-être ses cheveux blonds qui font illusion ! LOL ! Charismatique, dynamique et surtout drôle : il contrôle son show d'une main de maître – même si ça ne lui évite pas quelques couacs. Lol. Pour le moment, c'est le plus beau concert auquel j'ai assisté cette année. J'espère évidemment qu'il y en aura beaucoup d'autres comme ça ! Retrouvez-moi vite sur Facebook, Twitter et Instagram pour découvrir mes nombreuses autres chroniques de concert, notamment celle de la tournée des stades en 2013 : Robbie Williams : Take The Crown Stadium Tour 2013 – Stade Roi-Baudouin, Bruxelles (2013).
Setlist : Let Me Entertain You / Rock Dj / Monsoon / Tripping / Royals  / Bodies / Road To Mondalay / Minnie The Moocher / Swing Supreme / Ignition / Shout / Go Gentle / Gospel / Motherfucker / Better Man / We Will Rock You / I Love Rock 'N' Roll / No Regrets / Freedom / Come Undone / I Still Haven't Found What I'm Looking For / Candy / Feel / Millenium / Whole Lotta Love / Kids / Bohemian Rhapsody / Angels
Également disponible en vidéo sur YouTube : Feel – No Regrets – Supreme – Tripping
Robbie Williams : Let Me Entertain You Tour 2015 – Zénith, Paris (2015)