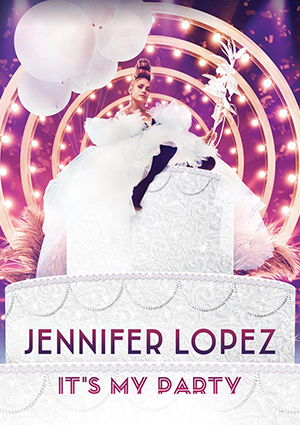 13 Juillet 2019 – Jennifer Lopez : It's My Party – Madison Square Garden, New York
Après avoir fait les beaux jours de Las Vegas, Jennifer Lopez est de retour sur les routes américaines à l'occasion de son 50e anniversaire ! Oui oui, vous avez bien lu : J-LO fête ses 50 ans 🎂 Je garde un excellent souvenir de sa première tournée en 2012, et je suis ravi de la retrouver sur scène, qui plus est au Madison Square Garden ! Il n'a pas été facile d'obtenir des places à un tarif décent, mais à force de persévérance, j'ai finalement décroché le Saint-Graal. Ready to dance again? 🤩
Comme vous le savez peut-être, la soirée ne s'est pas déroulée comme prévu. En effet, samedi soir, une panne de courant a plongé New York dans le noir… Le show avait démarré depuis une bonne vingtaine de minutes lorsque tout s'est arrêté et que la sécurité nous a demandé d'évacuer la salle. J'étais dévasté 😭 Je mourrais d'envie de voir le concert et les quelques minutes auxquelles j'avais assisté m'avaient enchanté. Heureusement, JLO, Live Nation et le Madison Square Garden ont fait preuve d'une réactivité exemplaire. Quelques minutes après l'incident : le report de la date était confirmé, et quatre heures plus tard, le show était reprogrammé au lundi soir. C'était inespéré ! Elle a d'ailleurs posté une vidéo backstage qui retrace cette soirée chaotique. Je vous invite à la découvrir avant de démarrer : « They Canceled Our Show | Nyc Blackout ».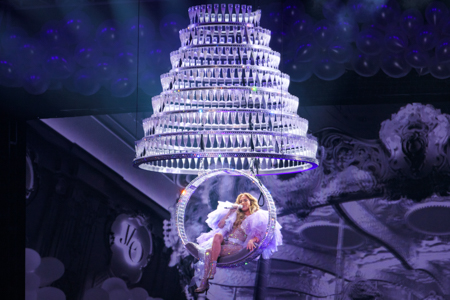 Maintenant que vous avez le contexte, il est temps de commencer ! Nous sommes lundi et me voici de retour au Madison Square Garden. Je ne passe pas au merchandising, car j'ai déjà acheté le (décevant) tourbook samedi dernier. Je suis assis au 1er rang des gradins ! Je suis ravi : je n'aurais jamais espéré être aussi bien placé. J'ai eu la chance de tomber sur une promo alors qu'il fallait en moyenne en débourser $ 275 pour être dans cette zone. Ma bonne étoile voulait que j'y sois !
Il y a des ballons partout 🎈 Le plafond et la scène en sont recouverts. On a déjà un bon aperçu du décor : il y a un écran géant, des plateformes pour les musiciens et une courte avancée. C'est classique, mais je peux vous dire que je ne suis pas au bout de mes surprises. La première partie est assurée par un DJ. Il est juché sur une structure lumineuse affichant fièrement les lettres JLO et se fait accompagner par les candidats de World Of Dance, l'émission dans laquelle Jennifer Lopez a officié en tant que jurée. La première partie se termine à 20h45. On nous balance un montage d'images backstage sponsorisé par Guess et la vidéo d'introduction démarre…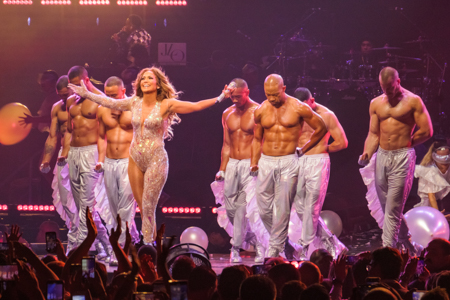 On parcourt les grandes étapes de la vie de JLO grâce à des images d'archives, quand soudain, la chanteuse se réveille en panique à l'idée d'avoir raté sa birthday party. Un rideau tombe pour masquer le décor et les danseurs apparaissent un peu partout dans la salle avec des ballons et des bouteilles de champagne géantes. Alors qu'ils rejoignent la scène sur la musique de « Medicine » remixée à la sauce fanfare, JLO surgit à quelques mètres de hauteur, suspendue à un chandelier en cristal… Too much ? Vous n'avez encore rien vu 🤩.
La suite est un émerveillement pour les yeux : il y en a partout ! La troupe la récupère à son arrivée au sol sous une explosion de confettis et de feux d'artifice. Elle porte un manteau de tulle couleur lavande dont elle se sépare rapidement afin de révéler une combinaison sertie de diamants. Elle est absolument sublime ❤. Après avoir esquissé quelques pas avec ses danseuses, elle rejoint les mâles, torses nus et muscles saillants, qui s'époumonent en soufflant dans de faux cors de chasse. Du délire !
JLO enchaîne sur « Love Don't Cost A Thing ». Difficile de savoir si elle est en live ou en play-back : je ne suis pas un expert… Mais j'ai envie de lui accorder le bénéfice du doute en vous disant qu'elle chante certainement par-dessus la bande de soutien. Quoi qu'il en soit, elle n'arrête pas une seconde et son énergie est impressionnante. À la fin de la chanson, les ballons qui encadraient la scène sont envoyés dans le public et JLO nous pose la question fondamentale : « Should we do this one more time? ». À peu de choses près, elle reprend le même speech que samedi. Elle nous demande si on est prêt à célébrer son anniversaire ; puis nous explique les règles à suivre : chanter, danser, prendre du bon temps !
Elle récupère une canne à la volée et « Get Right » démarre. Backdrop en noir et blanc, chorégraphie iconique et feux d'artifice : le show bat son plein et il y a une super ambiance ! Il faut dire que New York, c'est sa ville ! En trois morceaux, j'en ai vu plus que ce que j'espérais : des tubes, du charisme et une mise en scène ahurissante. Que demander de plus ? À la fin de la chanson, le chandelier redescend : JLO prend place dans le cercle de diamants dans lequel elle est arrivée, et les lumières s'éteignent.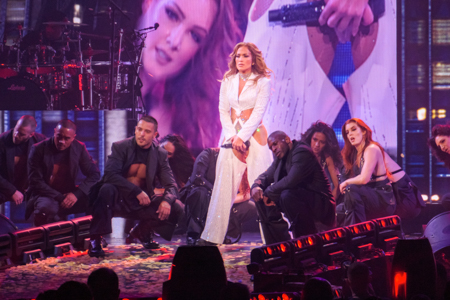 L'interlude vidéo qui suit la présente dans le rôle d'une mafieuse. Elle deal avec son homme de main pour que sa party soit parfaite – « I'm from the Bronx! » nous dit-elle. Les danseurs reviennent et s'illustrent sur des 2-3 morceaux RnB actuels (Ariana Grande, Cardi B., etc.). C'est à ce moment-là que tout s'est arrêté le samedi soir :  j'étais justement en train de filmer – je vous invite à découvrir la vidéo : Panne de courant au Madison Square Garden. Derrière les danseurs, l'écran projette les portes d'une banque. Celles-ci finissent par s'ouvrir laissant apparaître JLO perchée sur un coffre-fort, des dollars virevoltant autour d'elle 💵.
Dans une ambiance de braquage, JLO, qui porte un tailleur noir déstructuré, entame « Dinero ». Les lingots d'or scintillent sur l'écran ! Cardi B. fait une apparition en vidéo pour son solo et notre mafiosa en profite pour s'éclipser par une trappe cachée sur la scène. Elle réapparaît quelques secondes plus tard sous une pluie de paillettes, après avoir troqué sa tenue noire contre une blanche.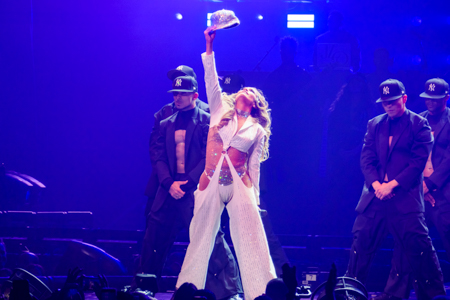 Un petit retour dans le passé s'impose avec « I'm Real », « Ain't It Funny » et « Jenny From The Block ». L'ambiance est bling-bling à souhait ! Les titres sont remixés, ce qui les rend un peu fadasses. C'est dommage, car « Jenny From The Block » bénéficie d'une jolie mise en scène. Le coffre-fort s'est transformé en rame de métro et affiche fièrement le numéro 6 (la ligne reliant le Bronx à Manhattan). Les projections vidéo nous font voyager sous le ciel étoilé de New York. À la fin de la chanson, les lumières se tamisent, et une structure lumineuse accrochée au plafond se déploie progressivement pour créer une ambiance un peu plus décontractée.
C'est le premier moment de calme de la soirée. Elle n'a pas arrêté une seconde depuis le début du concert : elle doit être crevée ! En tout cas, elle ne le montre pas, et échange quelques mots avec nous après avoir envoyé sa casquette Yankees dans le public. Elle nous explique que malgré le fait que ce soit son anniversaire, elle aussi aime faire des cadeaux, et qu'elle va en offrir un à un spectateur dont c'est également l'anniversaire. Tout le monde lève la main évidemment 😁. Elle finit par choisir un homme, Javier, et le laisse entre les mains expertes de deux danseuses vêtues de léopard. Elles se jettent sur lui pour lui offrir un lapdance dont il se souviendra longtemps.
L'interlude terminé,  JLO revient vêtue d'un body léopard sur lequel est noué une sorte de déshabillé reprenant les mêmes motifs sauvages. N'y allons pas par quatre chemins : c'est très pute ❤. Elle prend le relai en interprétant une version lascive de « If You Had My Love » et c'est là que les choses tournent mal… Elle décide de montrer que c'est elle la plus pute de toutes, et va alors nous offrir un numéro érotique sur « Girls » dont je ne me suis pas encore remis 😅. Vous voyez « Partition » de Beyoncé ? C'est « Martine fait de la danse classique » à côté. Je suis sans voix.
Elle disparaît ensuite pour enfiler une tenue plus décente et laisse aux danseuses le soin d'introduire « Booty » que j'attendais avec impatience. Si la prestation était à la hauteur de mes espérances, je regrette le fait qu'ils aient entrecoupé le titre avec des bouts de salsa. Je vous invite à découvrir le résultat en vidéo à la fin de l'article.
L'interlude suivant la montre en apesanteur, virevoltant dans une énorme robe rouge. Lorsqu'elle réapparaît sur scène pour interpréter « Gravity » de Sara Bareilles, elle est accompagnée par l'une des danseuses de World Of Dance, l'émission dont je vous ai parlé au départ. Elle est porte la même tenue que dans la vidéo. Elle prend ensuite quelques minutes pour discuter de « Selena », drame dans lequel elle a joué en 1997. « Selena », c'est un long-métrage qui raconte la vie de la chanteuse mexicaine Selena Quintanilla-Perez, assassinée à l'âge de 23 ans.
Le film semble avoir eu un véritable succès aux États-Unis – personnellement, je n'en avais jamais entendu parler. Elle reprend l'un des morceaux de la jeune fille  : « Si Una Vez », ce qui met le public en joie. Elle enchaîne avec « Limitless », tout en étant suspendue dans les airs pendant une bonne partie de la chanson. Une fois au sol, elle se dirige vers une plateforme surélevée au bout de l'avancée, et interprète un court extrait de « Titanium », le titre de David Guetta et Sia. À la fin du morceau, elle est rejointe par une chorale menée par sa fille Emme, avec laquelle elle échange quelques notes en duo. Les mauvaises langues diront sans doute que la fille chante mieux que la mère 😂.
Changement d'ambiance. Les danseurs sont de retour pour un interlude en mode Bruno Mars : un peu de bling-bling, un peu de funk, et le tour est joué. JLO porte maintenant une minijupe dorée – qui lui donne un air de gladiatrice. Elle chauffe le public avec ses choristes en se prenant pour James Brown. C'est un peu long… Elle parle beaucoup et je suis content qu'elle enchaîne sur la chanson suivante : « Ain't Your Mama ». Si mes souvenirs sont bons, c'est son succès le plus récent… Le morceau dure 1min30. Je me dis « Tout ça pour ça… » 🤷‍♂️. En plus, l'accueil du public était génial, c'est vraiment trop bête. La séquence se termine par « All I Have » qu'elle nous propose de reprendre avec elle. Le DJ prend la main pour un set mélangeant des titres aux sonorités tropicales et latines.
L'écran s'ouvre… Jennifer Lopez apparaît en body bleu à franges, et affublée d'une paire de lunettes de soleil. Elle entame alors une reprise de « Te Boté », morceau de Nio García, Darell et Casper Mágico sur lequel elle a posé en feat. il y a quelques mois et enchaîne avec « Te Gusté », single obscur de sa discographie. Les danseurs portent des tenues à motif bleu et or qui sont vraiment superbes ❤. « El Anillo » démarre. C'est certainement l'un des plus beaux tableaux de tout le show ! Les projections vidéo nous envoient dans un palais recouvert d'or, JLO grimpe sur un piano en cristal et la scène se met à cracher du feu : rien que ça 🔥. Le titre se termine en salsa endiablée, pendant laquelle JLO enchaîne les pas les plus impressionnants sans sourciller : portés, pirouettes, etc. Elle est juste incroyable !
Le DJ revient avec une ambiance club sur un remix de « Goin' In ». La foule est déchaînée ! La structure suspendue scintille, des lasers se baladent un peu partout dans la salle et une cage en néon apparaît. JLO est à l'intérieur, affublée d'un body vert phosphorescent. L'aurait-elle volé à Britney ? 😅 Elle se lance alors dans un remix de « Waiting For Tonight » dans une ambiance jungle & néons. Tous les danseurs portent des tenues fluos comme la sienne. Le tableau est vraiment réussi !
Elle enchaîne sur « Dance Again » qui reçoit un super accueil des spectateurs. Je ne pensais pas que le titre était aussi populaire ! Les gens sont debout et sautent du début à la fin de la chanson. J'ai bien essayé de vous faire une vidéo digne de ce nom, mais je n'en ai pas été capable : ça tremble de bout en bout. Des geysers de fumée apparaissent partout sur la scène pendant la perf. C'est l'un des moments que j'ai préférés !
Elle est loin d'en avoir fini. Une boule à facettes descend, et JLO enchaîne sur l'intro de « On The Floor » en mode piano-voix. Évidemment, elle le fait seulement pour faire monter la pression… Le titre démarre et c'est la folie dans la salle. La troupe quitte la scène et le DJ nous invite à crier « Happy Birthday » en tapant en rythme dans nos mains ! La cadence s'accélère et un immense gâteau d'anniversaire apparaît sur l'écran 🎂. On pensait avoir tout vu, mais on n'avait encore rien vu ! Les danseurs sont habillés en noir et blanc et secouent de gigantesques éventails en plume. Jennifer Lopez jaillit de ce déluge de volupté sur « Let's Get Loud » : c'est l'hystérie totale ! La scène crache des feux d'artifice, et la plateforme au bout de l'avancée se déploie afin de former une sorte de gâteau colossal. Comme pour l'intro, on ne sait plus où donner de la tête !
Elle porte une mini robe à carreaux en noir et blanc, qu'elle délaisse en plein milieu de la chanson pour un body aux motifs animaliers (je dirais… girafe ?). D'énormes ballons nous tombent sur la gueule en plus des confettis et des feux d'artifice, il y en a partout ! Elle grimpe une dernière fois sur la plateforme « gâteau » au bout de l'avancée avant de nous saluer sur l'instru de « Live It Up ». C'était le final parfait 🤩.
Si vous avez lu ce compte-rendu en intégralité, vous n'aurez pas de surprises dans cette conclusion : j'ai a-do-ré ❤. Ce show est pour moi la quintessence de la musique pop : fun, lumineux, extravagant… J'en ai pris plein les yeux pendant 2h15. La setlist fait la part belle aux tubes de JLO – « On The Floor », « Get Right », « Let's Get Loud », etc. – mais également à ses titres plus récents comme « Booty » ou « El Anillo » qui s'intègrent parfaitement à l'ensemble. Il y en a pour tous les goûts.
La mise en scène est simplement époustouflante : props, projections vidéo, feux d'artifice, lasers, pyrotechnie, geysers de fumée, ballons, confettis, acrobaties, c'est simple : il y a tout et il se passe toujours quelque chose ! Les mauvaises langues diront que c'est histoire de combler son manque de charisme, mais je conseille à ceux-là d'aller la voir, car s'il y a bien quelque chose dont elle ne manque pas, c'est bien ça !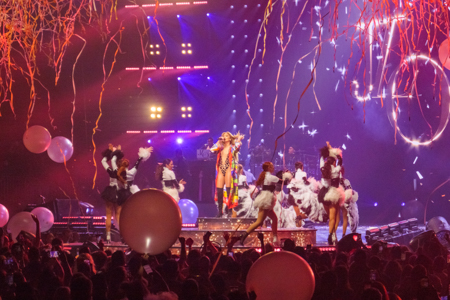 C'est une vraie bosseuse. Elle mène le show d'une main de maître tout en exhibant son corps de rêve dans des tenues plus sexy les unes que les autres. Tout lui va : du body léopard à la combi fluo – même les costumes les plus moches sont magnifiques sur elle 😂. Et puis, elle n'arrête pas une minute : elle chante, elle danse, elle parle sans arrêt. C'est une véritable entertaineuse ! J'adorerais qu'elle revienne pour un nouveau leg, mais j'imagine qu'elle va déjà essayer de vendre une tournée européenne, à moins qu'elle retourne à Vegas en 2020 ? Quel est votre avis ?
Pour terminer, je vous propose de me rejoindre sur Facebook, Twitter et Instagram afin de découvrir mes autres chroniques de concert ! Si vous appréciez Jennifer Lopez, je vous invite à découvrir le compte-rendu de sa précédente tournée : Jennifer Lopez : Dance Again World Tour – Bercy, Paris (2012).
Setlist : Medicine / Love Don't Cost A Thing / Get Right / Dinero / I'm Real / Ain't It Funny / Jenny From The Block / If You Had My Love / Girls / Booty / Gravity / Su Una Vez / Limitless / Titanium / Ain't Your Mama / All I Have / Te Boté  / Te Gusté / El Anillo / Waiting For Tonight / Dance Again / On The Floor / Let's Get Loud
Également disponible en vidéo sur YouTube : Dinero – Booty – Dance Again
Jennifer Lopez : It's My Party – Madison Square Garden, New York (2019)