28 Septembre 2019 – Global Citizen Festival 2019 – Central Park, New York
Le Global Citizen Festival est de retour à Central Park ! De grosses pointures sont attendues cette année : Queen + Adam Lambert, Pharrell Williams, Alicia Keys, OneRepublic, H.E.R. et Carole King. Je ne pensais pas avoir l'audace d'y retourner après les évènements de l'année dernière, mais la présence d'Alicia Keys m'a fait changer d'avis. Je n'oublierai jamais la panique qui a embrasé le parc quelques minutes avant l'arrivée de Janet Jackson et les difficultés que nous avons eu pour retourner sur le site ensuite (➡ Global Citizen Festival 2018). Espérons que cette édition soit un peu plus calme ?
L'entrée est beaucoup plus rapide que l'année dernière. Il nous faut moins d'une heure pour entrer sur le site et, à 16H, nous sommes installés à quelques mètres de la scène. Deux intervenants viennent nous souhaiter la bienvenue : Charles Schumer l'un des sénateurs de l'État de New York et Bill de Blasio, le maire de la ville, qui se fait huer au passage. Un décompte se déclenche annonçant le lancement officiel du festival pour 17H, et Hugh Jackman arrive pour présenter le déroulement de l'événement 😊.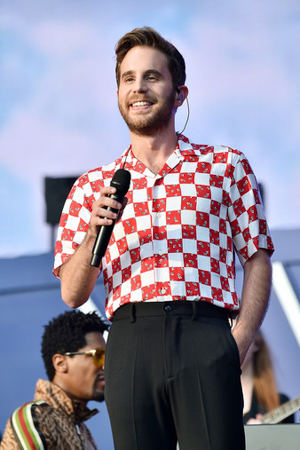 Je vais passer assez rapidement sur la majeure partie des artistes pour me focaliser sur Alicia Keys et Pharrell. Je ne suis pas resté pour Queen et Adam Lambert. N'ayant jamais été fan du groupe, et encore moins de la nouvelle composition, je préfère vous laisser apprécier par vous-même leur performance grâce à la vidéo à la fin de l'article.
Premier artiste de la journée : le rappeur French Montana. Il est à l'antithèse de ce que j'aime musicalement parlant : ce n'est donc pas du tout une belle entrée en matière pour moi 🥱. On voit ensuite défiler les intervenants : généralement des personnalités politiques ou du show-business. Et c'est justement la jolie Anna Kendrick (« Pitch Perfect ») qui annonce la performance d'un de ses camarades de jeu, Ben Platt, actuellement l'affiche de la comédie musicale Dear Evan Hansel.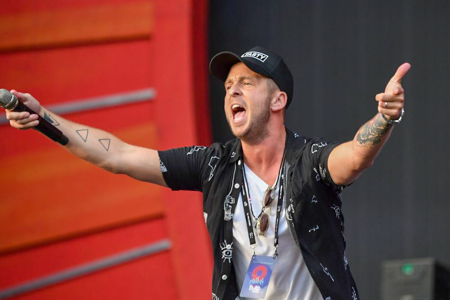 Le gars m'impressionne 😲 Il donne tout : la voix, l'énergie, et aussi l'âme, qui manque parfois cruellement aux artistes américains. Je vous invite à découvrir « Rain » dont la vidéo est disponible sur YouTube en cliquant juste ici : « Rain ». Les choses sérieuses démarrent ensuite avec la performance de One Republic. Le groupe interprète évidemment « Apologize » au milieu de nouveaux morceaux, ainsi qu'une surprenante reprise de « Halo » de Beyoncé. J'ai trouvé leur set tout à fait divertissant, je pourrais totalement aller les voir en live si j'en ai l'occasion !
Après quelques autres intervenants, c'est Carole King qui fait son entrée sur scène. Alors Carole King, il faut vous la resituer. Elle est auteure-compositrice interprète, elle a bientôt 80 ans et elle a écrit des tonnes de standards américains, comme « The Loco-Motion » que vous connaissez sans doute. C'est une immense icône aux États-Unis ! Elle a même une comédie musicale à son honneur à Broadway ! Bah, Carole King, c'est très long et ce n'est pas forcément ma came non plus. Du coup, comme je commence à avoir très soif, j'en profite pour faire un aller-retour à la buvette qui me permet de revenir juste à temps pour le titre final, un duo avec Kelly Clarkson.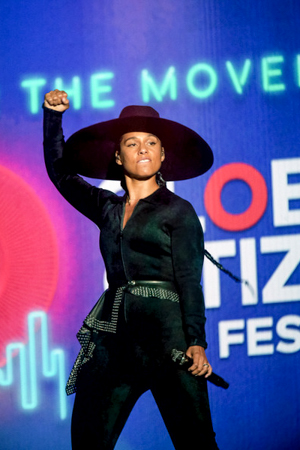 C'est ensuite au tour de H.E.R. de prendre la scène du Global Citizen Festival. J'ai l'impression de l'avoir vu un millier de fois ! Elle est de tous les festivals, elle a également fait la première partie de Chris Brown l'année dernière. Ce n'est pas ma came non plus, mais je comprends le délire. Elle termine son set par une reprise de « Earth Song » de Michael Jackson, ce qui n'est pas pour me déplaire. L'intervenant suivant annonce le groupe de K-pop NCT 127 et c'est l'hystérie à Central Park ! Pour les trentenaires, je peux vous dire qu'on se croirait à l'apogée des années 90, lorsque les boy-bands régnaient sur le monde de la musique ! Du play-back aux chorégraphies kitschissimes : tout y est ! Vous voulez un extrait ? En voici un : « Highway to Heaven ». Ce qui est drôle, c'est qu'une fois leur prestation terminée, une vague, que dis-je ? Un tsunami de jeunes adolescentes prend la direction de la sortie, leur soif de musique étant à présent assouvie 😅.
Vous êtes prêts pour la suite ? Car on entre enfin dans le vif du sujet. Présentée par Taraji P. Henson, Alicia Keys fait une entrée fracassante sur « Girl on Fire ». Elle porte une tenue noire sobre, rehaussée par un immense chapeau. Elle a une attitude super fierce 🔥 Je suis tellement content de la revoir sur scène. Elle rejoint son piano pour « Try Sleeping With a Broken Heart » : j'adore cette chanson et je n'imaginais pas qu'elle allait la chanter ce soir ! Le public connaît les paroles par cœur : je suis tellement jaloux des Américains dans ces cas-là 😅. Sur les écrans : les éclairs déferlent. Il y a un vrai boulot autour de cette prestation. Ça fait plaisir à voir !
Elle interprète ensuite son nouveau single « Show Me Love ». J'attends l'apparition surprise de Miguel, avec qui elle chante en duo, mais malheureusement ça n'arrive pas. J'ai le cœur brisé 💔 La chanson ne décolle pas vraiment, et c'est peu dommage : j'espère un album un peu plus enlevé ! Elle invite ensuite H.E.R. à la rejoindre sur scène pour interpréter une reprise de « Dream on » d'Aerosmith ! C'est vraiment puissant ✊. Pour moi, c'est l'un des highlights de la soirée, et ce malgré le fait que je n'aime pas H.E.R.
Après un rapide speech sur la façon dont on peut être fort si on est ensemble, elle enchaîne sur le classique « If I Ain't Got You » qui fait vibrer la foule d'émotion ❤. Mais pas autant que le medley « New York State of Mind » de Billy Joël / « Empire State of Mind ». La vidéo et dispo en intégralité à la fin de l'article. C'est absolument fou d'entendre cette chanson dans le cœur même de la ville à laquelle elle est dédiée. Je dois avouer que la phrase « These streets will make you feel brand new » a un tout autre sens pour moi aujourd'hui. Elle termine le set sur mon titre favori « No One ». C'est magique de l'entendre reprise par 60 000 personnes. Je suis refait : cette meuf est parfaite 😍.
Setlist : Girl on Fire / Try Sleeping With a Broken Heart / « Show Me Love / Dream On (en duo avec H.E.R.) /  If I Ain't Got You / New York State of Mind / Empire State of Mind / No One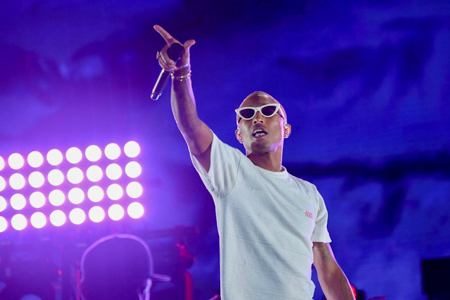 Les interventions durent de plus en plus longtemps, mais une belle surprise vient animer la soirée : Léonardo Dicaprio. Je n'avais jamais imaginé le voir en vrai, mais je dois vous avouer que ça me fait un petit quelque chose 😊. Il présente bien, il parle bien, c'est sympa de l'avoir ici. Il est suivi de près par le batteur de Metallica, Lars Ulrich, qui vient annoncer la participation du groupe à l'édition de l'année prochaine et surtout : l'arrivée imminente de Pharrell. Alors Pharrell, on sait pas trop ce qui lui prend. Son set est furtif : 3 morceaux.
Prévu en tant que headliner, j'imaginais qu'il allait au moins rester sur scène 30-45 minutes comme Alicia Keys, mais non… Il est accompagné par un groupe de danseuses et interprète 3 chansons : « Freedom », « Letter To My Godfather » et « Happy ». Il est égal à lui-même et l'ambiance est vraiment bonne. Dommage parce que ça s'arrête vraiment en un claquement de doigts. Comme les gens derrière nous commencent à se battre sur « Happy », on se dit que c'est le bon moment pour partir. Après Pharrell sont attendus Queen et Adam Lambert, mais comme je vous l'ai expliqué au départ, ce n'est pas vraiment notre truc et même par curiosité, on n'a pas vraiment envie de rester. On prend donc le chemin de la sortie, plutôt contents de cette journée !
Setlist : Freedom / Letter To My Godfather / Happy
J'avais peu de doute là-dessus, mais l'événement s'est beaucoup mieux passé que l'année dernière. J'ai trouvé l'organisation et le déroulement plus fluide. Ce que je regrette un peu, c'est le line-up. Celui de l'édition précédente était quand même beaucoup plus intéressant… et puis pour se retrouver au final avec 35 minutes d'Alicia Keys et 15 minutes de Pharrell… ? Est-ce que ça valait vraiment le coup ? J'ai envie de vous répondre que oui parce que j'ai malgré tout passé une super journée. J'ai eu de bonnes surprises avec notamment la presta de Ben Platt, le duo entre Alicia Keys et H.E.R. et la venue de Leonardo Dicaprio ! Je sais, je sais,  il m'en faut peu 😅.
Le line-up de l'année prochaine semble un peu plus couillu, j'essaierai d'en être ! En attendant, je vous laisse avec quelques photos et vidéos du concert, même si elles ne valent pas la captation officielle ! D'ailleurs, vous pouvez tout visionner ici : Global Citizen Festival 2019. Sur la chaîne YouTube de l'événement, vous pouvez aussi revoir toutes les performances découpées chanson par chanson, ce qui est à mon sens beaucoup plus facile.
N'hésitez pas à me rejoindre sur Facebook, Twitter et Instagram pour découvrir les quelques autres festivals auxquels j'ai assisté (#Festivals). Je vous attends aussi dans les commentaires, ici ou sur un prochain article, car on se retrouve très vite avec l'une des tournées les plus attendues de l'année… Madonna !
Également disponible en vidéo sur YouTube : Empire State Of Mind (Alicia Keys) – Dream On (Alicia Keys & H.E.R.) – Extraits GCF 2019 avec Alicia Key, Pharrell Williams, NCT 127 & One Republic
Global Citizen Festival 2019 – Central Park, New York (2019)