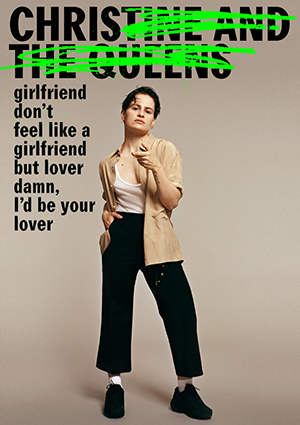 31 Octobre 2018 – Christine and the Queens – Brooklyn Steel, Brooklyn
De retour avec un album sobrement intitulé « Chris », Christine and the Queens s'est lancée à la conquête du monde et joue actuellement dans les plus grandes villes d'Europe et des États-Unis 🇺🇸. C'est l'occasion pour moi de la découvrir pour la première fois sur scène.
Notre soirée d'Halloween commence donc à Brooklyn Steel, là où j'ai eu la chance de voir mon premier concert new-yorkais : Miguel. Les deux shows sont sold out depuis des mois : c'est un beau succès quand on sait que la salle a une capacité de 1 800 personnes. Sur scène, pas de décor apparent… J'imagine qu'on aura la surprise après la première partie, Dounia, nouvelle venue dans le rap game US.
Une nappe de synthé annonce le début du show. Une troupe de danseurs débarque sur scène : il y a 3 filles et 3 garçons. Chris les suit de près et entame « Comme Si » en jouant au caïd avec eux. Elle arbore un look garçonne qui rappelle l'univers de West Side Story : coupe courte, chemise rouge et pantalon noir, nous voilà replongés dans le New York des années 1950. Leur street battle donne lieu à une chorégraphie particulièrement dynamique pendant laquelle Chris nous offre quelques mouvements empruntés au roi de la Pop. Je suis épaté par son énergie 😮. Il n'y a toujours pas de décor en vue et les jeux de lumière sont réduits à leur plus simple appareil : c'est un étrange début de soirée.
Elle enchaîne avec « Girlfriend ». Musicalement, c'est carrément plus intéressant que sur le disque. Je suis rassuré, car je n'ai pas été conquis par l'album et j'avais justement peur que ce soit vraiment chiant. Elle nous souhaite la bienvenue, en anglais bien sûr, et se met directement le public dans la poche en enchaînant quelques bons mots sur New York.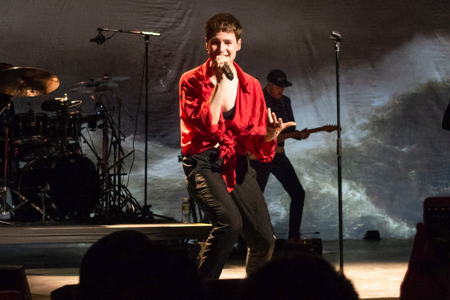 Le concert continue avec « Le G », premier titre en français de la soirée. Tour à tour, les danseurs nous offrent une démo de leurs talents. Le côté hip-hop des chorées est super intéressant. Je ne m'attendais pas du tout à ça. Place à « Make Some Sense » en solo. Je commence à m'inquiéter un peu au sujet de la mise en scène : il n'y a absolument rien sur le plateau et les jeux de lumière sont terriblement basiques. Sur les dates précédentes, une série de peintures sur toile ornaient l'arrière-plan… Nous, on est en mode fond noir ⬛.
Chris enchaîne avec la version anglaise de « Science Fiction » : les arrangements sont excellents et la chorégraphie est super fun ! Il y a un petit côté Mylène Farmer, je ne sais pas comment l'expliquer. La soirée se poursuit avec « Paradis Perdus » dont vous pouvez visionner la vidéo à la fin de l'article. Un semblant de mise en scène apparaît sur « iT » pendant laquelle on découvre la première toile peinte de la soirée : une vague menaçante sous un ciel orageux. Vocalement, on ne peut absolument rien à lui reprocher, c'est puissant et assuré 👏.
Une fois de plus, il y a un côté MJ dans la chorégraphie de « Feel So Good », mais on retrouve rapidement son univers avec « Titled », version anglaise de « Christine ». Le morceau, la reprise de la chorée originale et surtout l'ambiance dans la salle en font l'un des meilleurs moments du show. À ma grande surprise, « 5 Dollars » est tout aussi plébiscitée par le public. La vidéo de la prestation est disponible dans la playlist tout en bas.
Elle nous offre une performance vocale d'exception sur « What's‐Her‐Face » avant de tomber la chemise pour reprendre son duo avec Booba, « Here ». L'une des plus belles séquences de la soirée est sans aucun doute « The Stranger ». En bougeant au ralenti de manière à créer de véritables tableaux vivants, Chris nous donne un aperçu de ce à quoi aurait pu ressembler le spectacle si tous les éléments avaient été présents. D'ailleurs, la toile avec la vague menaçante se décroche à la fin de la chanson pour nous ramener à notre bon vieux fond noir 😬.
Des fumigènes apparaissent un peu partout sur « Goya ! Soda ! ». Chris s'offre un échange langoureux avec l'une de ses danseuses, dont le blouson laisse lui aussi échapper un nuage coloré. L'effet est surprenant. Il y a maintenant beaucoup de fumée sur scène et la troupe enchaîne sur « Damn (What Must A Woman Do) ». Le titre est vraiment sympa en live. À la fin, Chris et ses danseurs nous offrent même un bout de chorée sur « Nasty » de Janet Jackson. Elle décide ensuite de reprendre « Nuit 17 À 52 » a capella avant de proposer un extrait de « Man In The Mirror » de Michael Jackson, toujours sans ses musiciens. Suivent « Doesn't Matter » et « The Walker / La Marcheuse ». On peut observer du sable tomber aux différents coins de la scène. L'effet est assez chouette, mais j'aurais aimé qu'il y en ait un peu plus.
C'est la fin du set principal et après quelques minutes de rappel, Chris réapparait au milieu de la salle pour « Saint Claude ». Elle prend une dernière fois la parole pour nous dire qu'on va enfin pouvoir rejoindre nos amis pour Halloween, mais qu'avant ça, elle a une chanson spéciale pour nous mettre dans l'ambiance. Il s'agit de « Intranquillité ». Le titre est parfait pour clôturer la soirée ❤. Elle présente son équipe avant de quitter la salle sous les acclamations des spectateurs.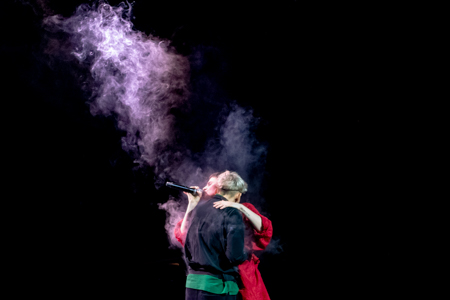 Eh bien, c'était très sympa ! Musicalement, le live apporte quand même un vrai plus à ses chansons : l'ensemble est remarquablement cohérent. J'ai redécouvert quelques morceaux que je me passe en boucle depuis le show : « Science Fiction », « Damn (What Must A Woman Do) » ou encore « Intranquillité ». Ce que j'ai aussi aimé, c'est qu'elle ne se prenne pas au sérieux et que du coup, son personnage ne soit pas aussi agaçant que pendant la promo de l'album. Le côté bonhomme ne me plait pas des masses, mais elle a le mérite de proposer quelque chose de différent.
Pour la mise en scène, je dois avouer que je m'attendais à mieux. Déjà, il faut que 5 chansons pour qu'il se passe un truc : sinon c'est fond noir et jeux de lumières ultras limités. Ensuite, il y a la fameuse toile qui apparaît et qui disparaît bien trop vite… On n'a rien eu de plus. Un peu de fumée, quelques grains de sable… Clairement, sous cette forme, le show n'était franchement pas intéressant à regarder. Après sur scène, ça bouge beaucoup et les chorées sont super sympas. Elle danse tout le long et la troupe qui l'accompagne est vraiment douée. Ça compense un peu.
Je suis impatient de voir ce qu'elle va proposer à l'AccorHotels Arena en fin d'année, si elle compte rester sur cette mise en scène minimaliste ou sortir les grands moyens… ? N'hésitez pas à me donner vos impressions sur le concert ici ou sur les réseaux sociaux Facebook, Twitter et Instagram. On se retrouve vite pour une nouvelle soirée avec des artistes français.
Setlist : Comme Si / Girlfriend / Le G / Make Some Sense / Science Fiction / Paradis Perdus / It / Feel So Good / Tilted / 5 Dollars / What's‐Her‐Face / Here / The Stranger / Goya Soda / Damn (What Must A Woman Do) / Nuit 17 À 52 / Doesn't Matter / The Walker – La Marcheuse / Saint Claude / Intranquillité
Également disponible en vidéo sur YouTube : Paradis Perdus – 5 Dollars – The Walker / La Marcheuse
Christine and the Queens – Brooklyn Steel, Brooklyn (2018)