29 Février 2020 – Céline Dion : Courage World Tour – Barclays Center, Brooklyn
Après avoir passé plus d'une décennie à Las Vegas, Céline Dion est de retour sur les routes américaines avec le « Courage World Tour », et ce week-end : elle fait étape à New York ! Malgré une large couverture médiatique lors de son lancement, l'album « Courage » n'a pas su trouver son public… En revanche, la tournée remporte un joli succès partout dans le monde 😊. J'ai déjà eu l'occasion de la voir sur scène en 2008 et 2013, et plus récemment dans un club de Manhattan ! J'ai même chanté « Flying On My Own » en karaoké avec elle 😁. Vous ne me croyez pas ? Allez donc jeter un œil à la fin de l'article !
J'arrive au Barclays Center aux alentours de 19h30. J'achète le joli programme de la tournée et je vais m'installer. Je suis en gradins et la vue n'est pas mal du tout ! Pendant que la salle se remplit, les caméramans filment les gens qui chantent et dansent aux rythmes entêtants des battements de leurs cœurs. On ne va pas se mentir : il y a des cas dans le public 😆. Une des spectatrices est venue accompagnée d'une réplique grandeur nature de Céline. Gardez-le en tête, c'est important pour la suite ! Il n'y a pas de première partie et pas grand-chose à dire de plus sur l'attente : il est temps de se lancer !
On peut d'ores et déjà distinguer le principal élément du décor : un écran volumineux, qui occupe presque toute la largeur de la scène. Les lumières de la salle s'éteignent et on entend la voix de Céline chanter a cappella « I drove all night to get to you… Is that all right? ». Les spectateurs hurlent et une vidéo apparaît sur l'écran. On y voit Céline dans sa loge, en noir et blanc. Les images sont très belles, et on sent qu'un soin tout particulier a été apporté aux visuels sur cette tournée.
Elle fait son entrée par une trappe sous la scène avec « It's All Coming Back To Me Now ». Elle porte un carré blond et une jolie robe rouge. Elle est superbe ❤. Le titre est en play-back. Heureusement, ça ne dure pas, elle passe en live pour le second morceau de la soirée qui fait un véritable carton auprès des spectateurs : « That's The Way It Is ». Ceux qui me connaissent le savent, c'est mon titre préféré et c'est la première fois que je l'entends en live 😍. L'ambiance est incroyable dans la salle : les gens reprennent la chanson en chœur et ça me donne des frissons. J'ai même lâché une petite larme. Céline est survoltée ! L'écran remonte en dévoilant l'orchestre caché derrière depuis le début du spectacle !
La scène est pleine de détails. Il y a des liserés lumineux tout autour des amplis par exemple, le sol sert aussi de surface de projection : tout est très joli et très moderne. À la fin de la chanson, elle nous souhaite la bienvenue en s'exclamant « Good evening everyone, good evening… New York ! » (« Bonsoir tout le monde, bonsoir New York ! »). Elle nous dit que ça fait plus 10 ans qu'elle n'est pas venue chanter à New York, mais elle a une bonne excuse : « Maybe it's because they locked me up in the Nevada desert all this time, but anyway, I escaped ! » (« C'est peut-être parce qu'ils m'ont enfermé dans le désert du Nevada pendant tout ce temps, mais on s'en fiche maintenant, car je me suis échappée ! ») 😂. Elle enchaîne avec un titre de circonstance : « I'm Alive ». Les projections vidéo sont absolument superbes, et collent parfaitement à l'énergie de la chanson. Vocalement elle assure, elle n'arrête pas de relancer le public… je suis tellement surpris de la voir aussi enjouée moi qui l'avais toujours trouvé un peu mollassonne…
Le concert continu avec « If You Asked Me To » et « The Power Of Love » dont l'accueil est particulièrement chaleureux. Si le premier couplet est en live, le reste de la chanson est en play-back. Et c'est pour moi la prestation la moins convaincante de la soirée : elle en fait trop ! Le premier interlude du spectacle montre une Céline fashion, multipliant les tenues et les poses devant l'objectif. Elle revient sur scène quelques secondes plus tard avec « Love Can Move Mountains » habillée d'un pantalon noir et d'une chemise blanche avec des manches bouffantes. Elle a beaucoup de classe ! Sur l'écran, on voit défiler des éclairs, et dans la salle il y a une ambiance du tonnerre ! Elle donne de la voix et de l'énergie, on la sent vraiment à l'aise avec cette chanson 👍. Elle enchaîne avec « Beauty And The Beast » qu'elle interprète en duo avec l'un de ses choristes. C'est un joli moment que vous pouvez retrouver en vidéo à la fin de l'article.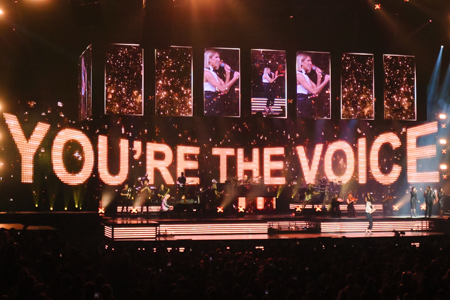 Elle profite d'une courte pause pour retirer les manches de sa chemise, et nous demande de l'aide sur la prochaine chanson, « You're The Voice ». Elle devient très bavarde à partir de là. Elle explique qu'elle a découvert le morceau il y a environ 25 ans, et qu'elle devait avoir aux alentours de 3-4 ans à l'époque 😅. La salle s'esclaffe, Céline boude un peu et nous dit qu'importe l'âge qu'elle avait réellement, le titre dont elle nous parle reste amazing. Elle nous fait répéter avec les choristes tout en se moquant gentiment de nous. Elle demande également aux techniciens d'allumer la salle. Et là c'est le drame… Elle vient d'apercevoir la silhouette en carton à son effigie dans le public… « OH MY GOD… Céline Dijon! » 😆. Elle prétend être choquée et se demande si c'est la preuve d'un amour inconditionnel ou tout simplement un signe de… folie. Je n'avais jamais eu l'occasion de la voir aussi bitchy, et j'avoue que le fait de la savoir aussi attentive envers les spectateurs : j'ai trouvé ça génial.
Elle se lance donc dans « You're The Voice » qui est l'un des meilleurs moments du concert pour moi ! Tout est superbe : la voix, le public debout, et puis les visuels qui sont éblouissants. Après avoir bu un peu d'eau, elle nous propose un numéro un peu plus blues… en français et en anglais, avec « Tous Les Blues Sont Écrits Pour Toi ». Les projections sont encore une fois superbes : on peut voir d'énormes ventilateurs dans une atmosphère enfumée. Ça colle parfaitement l'ambiance de la chanson. La fin est absolument sublime vocalement : c'est l'un des titres qu'elle maîtrise le mieux. Elle donne tout, notamment dans les aiguës. Elle a droit à une standing-ovation à la fin du morceau, pour vous dire à quel point c'était réussi !
Elle se repose un peu avec un joli play-back sur « To Love You More » que vous pouvez découvrir en vidéo tout en bas de l'article. Ça reste malgré tout un bon moment, car elle est accompagnée par son violoniste Philippe et termine la chanson en faisant participer le public : il y a quelque chose de très émouvant dans ce moment de partage, ça me donne des frissons ! Elle explique ensuite que l'amour de ses fans lui a fourni beaucoup de courage pour surmonter les événements difficiles qui lui sont arrivés dans la vie, et interprète un extrait de son dernier album : « Courage ». Les projections vidéo sont absolument superbes, on peut y voir des planètes prenant corps devant nos yeux. En revanche, je ne suis pas certain que le titre soit intégralement live 🤔.
Autre interlude. Cette fois-ci, on y voit Céline partager une chorégraphie avec un danseur professionnel. On change d'ambiance ensuite… On se trouve dans une forêt brumeuse, et Céline apparaît vêtue d'une nouvelle tenue : une longue robe noire sur laquelle des fleurs semblent brodées. Et c'est avec le classique « All By Myself » qu'elle commence cette section. Les couplets sont en live, mais la fin de la chanson ne l'est pas, on entend la différence parce que sa voix ne cille absolument plus. Honnêtement, l'énergie qu'elle met dans le spectacle rattrape ces quelques minutes de play-back distillées ici et là.
Elle s'offre une standing ovation à la fin du morceau, et en profite pour attraper au vol des fleurs, ainsi qu'une peluche Disney, à l'effigie de la Bête… Et c'est le moment où tout bascule dans sa tête 🤪. Elle reprend d'abord « Beauty And The Beast » avec une voix de vieille dame, explique ensuite que la peluche irait très bien avec Céline Dijon, son sosie de carton, prend la pose pour un selfie et s'aperçoit que les personnes qui lui ont donné le nounours sont françaises… Je vous laisse découvrir sa réaction :
« Ha, mais vous êtes français, excusez-moi ! Escargot, ratatouille, Tour Eiffel… c'est super le saucisson ! »
Évidemment, ça provoque l'hilarité dans le public, et elle un peu de mal à reprendre le fil du concert avec « Imperfections ». Un joli moment qui aurait mérité un peu plus d'attention de la part des spectateurs… J'ai aimé la chanson, mais je comprends maintenant pourquoi elle n'exploite pas plus de morceaux de son nouvel album en live : ça fait flop. Elle nous parle ensuite des duos qu'elle a eu l'occasion de faire pendant sa carrière pour introduire « The Prayer », originalement interprétée avec Andrea Bocelli. Les gens autour de moi semblent particulièrement excités par le titre, qui a dû être carton aux États-Unis. Je ne le connaissais pas et je suis ravi de le découvrir dans ce cadre : la voix est superbe, et les visuels en noir et blanc le sont tout autant 💗.
Elle enchaîne avec « Because You Loved Me » que je soupçonne d'être en play-back. Le public se lève directement pour chanter à tue-tête : c'est incroyable la popularité de certains titres ici ! Je ne sais pas si c'était prévu, mais on la voit s'accroupir pour échanger un moment avec un homme en fauteuil roulant, elle semble émue. Pour détendre l'atmosphère après ces deux titres un brin dramatiques, elle nous demande de reprendre la chanson avec elle. Elle précise : « Just in case, the words are 'Because you loved me' if I did not repeat this phrase enough during the song ! » (« Au passage, les paroles sont 'Because you loved me' au cas où je n'aurais pas assez répété cette phrase pendant la chanson »). Elle s'échauffe en faisant quelques vibes, le public l'acclame et sa réaction ne se fait pas attendre : « Calm down people, that was not that hard! » (« Calmez-vous un peu, ce n'était quand même pas très difficile ! ») 😂. Elle est vraiment décontractée et fun sur ce show ! Ça fait du bien de la voir comme ça.
Changement d'ambiance. Nouvel interlude très rock, très différent des précédents, puisque celui-ci est en couleur, et qu'on découvre tout le casting de musiciens et choristes qui accompagnent Céline sur la tournée. Elle réapparaît et la salle se transforme en juke-box géant avec « Let's Dance » de David Bowie. Habillée dans une combinaison pailletée absolument superbe, elle arpente la scène pour nous offrir un medley de 12 minutes faisant la part belle à quelques morceaux soul/disco. S'enchaînent donc « Another One Bites The Dust » de Queen, « Kiss » de Prince, « River Deep, Mountain High » de Ike & Tina Turner et « Lady Marmelade » EN FRANÇAIS de Nanette Workman. Sur le papier ça peut sembler un peu moyen, mais en live, c'est absolument gé-nial. Les visuels sont incroyables : c'est clairement l'une des séquences les plus excitantes du spectacle. Elle arpente la scène de long en large, elle donne toute son énergie, on sent que c'est un moment qui lui fait vraiment plaisir. Et puis vocalement elle excelle 👏.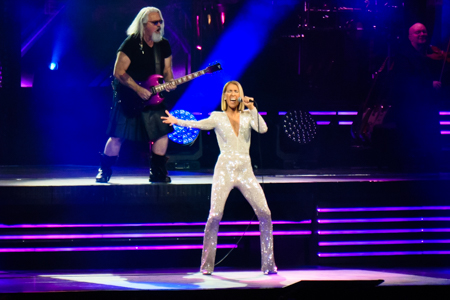 Retour au calme, avec un nouvel interlude… Aquatique cette fois-ci, puisqu'on y voit Céline évoluer dans l'eau. Les choristes reprennent le thème de Titanic… On comprend donc que la prochaine chanson sera « My Heart Will Go On ». Céline réapparaît sur scène, elle porte maintenant une robe meringue blanche. Les couplets sont en live, et c'est très beau. Le climax est en play-back, mais le public couvre tellement sa voix, qu'il est imperceptible. Sur scène, des drones se joignent à elle pour un ballet techno-chorégraphique, qui doit être impressionnant de près, mais qui de loin ne rend pas très bien. On ne comprend pas vraiment ce que c'est… Ça aurait mérité d'être un peu plus développé, je pense, car les gens mettent vraiment du temps à se rendre compte que ce sont des drones !
Elle nous remercie pour la soirée, nous explique qu'elle se sent très privilégiée de pouvoir performer devant nous après toutes ces années. Et surtout, qu'elle ne prend rien pour acquis, et que cette tournée lui fait du bien. Et honnêtement, quand on voit le résultat, on la croit. Je ne l'avais jamais vue aussi enjouée, à l'aise, que sur ce spectacle. Elle choisit de terminer le concert par un message de paix, en reprenant le classique de John Lennon : « Imagine ». C'est un sans-faute. Le titre est parfait pour clôturer la soirée. Elle nous remercie une dernière fois et s'éclipse alors que le public se jette déjà vers les portes de sortie.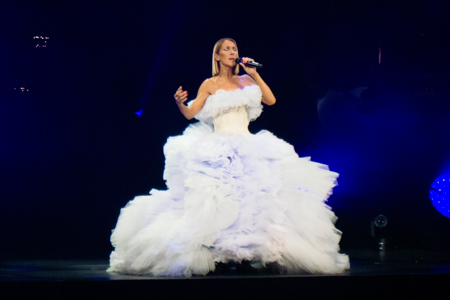 Je n'aurais jamais imaginé dire ça en sortant, mais j'ai A-DOR-E le concert ! C'est simple : je ne l'avais jamais vu comme ça auparavant et surtout, je ne la croyais pas/plus capable d'offrir une telle prestation au public. En plus de sa voix, c'est surtout son énergie et sa générosité qui m'ont bluffé : le jour et la nuit avec ce que j'avais expérimenté en 2008 et 2013. La setlist est ce qu'elle est : peu de risques, des titres entendus 1000 fois, mais elle réussit à faire de chacun d'eux un moment singulier 👍. Musicalement non plus, ce n'est pas l'extase absolue : les arrangements collent au plus près des versions studio, mais honnêtement, c'est loin d'être un problème tant ce qui se passe sur scène est captivant !
La mise en scène est incroyable : le show est moderne, classe et ne vampirise pas toute l'attention. Céline est radieuse d'un bout à l'autre du spectacle ! Elle porte d'ailleurs ses tenues avec beaucoup de classe ❤. Mais là où j'ai été bluffé, c'est par son énergie ! Survoltée, elle mène le concert d'une main de maitre en multipliant les traits d'humour, les échanges avec le public, sans pour autant oublier l'émotion ! Je suis impatient de voir ce qu'elle va faire après cette tournée. On parle déjà d'un retour à Las Vegas… En attendant, elle a encore de nombreuses dates à assurer en 2020 : elle sera à Paris La Défense Arena du 26 juin au 4 juillet. Vous y serez ? On termine avec les photos et les vidéos… ainsi qu'avec une invitation à me rejoindre sur les réseaux sociaux Facebook, Twitter et Instagram pour découvrir mes autres chroniques de concert ! Et si vous appréciez Céline Dion, je vous invite à découvrir les articles que je lui ai consacrés en cliquant sur le hashtag suivant : #CélineDion.
Setlist : It's All Coming Back To Me Now / That's The Way It Is / I'm Alive / If You Asked Me To / The Power Of Love / Love Can Move Mountains / Beauty And The Beast / You're The Voice / Tous Les Blues Sont Ecrits Pour Toi / To Love You More / Courage / All By Myself / Imperfections / The Prayer / Because You Loved Me / Let's Dance / Another One Bites The Dust / Kiss / River Deep, Mountain High / Lady Marmalade / My Heart Will Go On / Imagine
Également disponible en vidéo sur YouTube : Beauty and the Beast – To Love you More – Imagine
** BONUS **
Céline Dion : Courage World Tour – Barclays Center, Brooklyn (2020)