13 Mai 2015 – Marina and the Diamonds – Le Trianon, Paris
J'ai découvert Marina and the Diamonds en 2012 lors de la première partie du concert de Coldplay au Stade de France (cf. Coldplay : Mylo Xyloto Tour – Stade de France, Paris (2012)). Depuis, je saigné son album « Electra Heart » en espérant qu'un jour, j'aurais l'occasion de la revoir sur scène. C'est chose faite. Elle vient d'entamer une sorte de pré-tour pour présenter sa nouvelle galette, « Froot », avant une vraie belle tournée prévue pour la fin d'année.
C'est vers 18h30 que nous arrivons au Trianon : il y a déjà beaucoup de monde, mais je ne m'inquiète pas, c'était la même chose pour Jason Derulo et j'avais quand même bien été placé. ERREUR. LOL. Une fois à l'intérieur, la salle est déjà blindée. On décide donc de s'installer au balcon, histoire de ne pas se retrouver au fond de la fosse et avoir la vue bouchée par les téléphones portables et… les fruits en plastique qu'arborent sur leur tête certains spectateurs 😂.
C'est un DJ qui assure la première partie et à 20h pétante, les lumières s'éteignent pour laisser Marina faire son entrée sur « Bubblegum Bitch ». Le décor se révèle pendant l'introduction : le fond de la salle est tapissé par un voile où s'entremêlent des éléments cosmiques (étoiles, planètes et autres astres millénaires ✨), le tout illustré par une bande-son tout droit sortie d'un film de science-fiction. Le public est d'ores et déjà hystérique.
J'ai rarement vu une ambiance aussi forte pour un artiste de cette notoriété (elle a vendu quoi ? 1000 albums en France à tout casser). Elle enchaîne avec « Forget », « Mowgli's Road », « I Am Not a Robot » et « Savages ». Elle nous explique qu'elle est fière et touchée de l'accueil que la France lui a réservé ; notamment le succès de la billetterie qui a forcé la production à déplacer le concert dans une salle plus grande. Le show était prévu au Trabendo à la base.
L'engouement est son paroxysme lorsqu'elle commence à jouer « Obsessions » au piano, l'un des rares titres de la setlist que je ne connaissais pas. OUI, je n'ai jamais eu la curiosité d'écouter son premier album ! Le public est conquis et l'accompagne sur « Happy » pour ensuite lui ruiner la gueule à grand coup de bâtons lumineux (WHAT. THE. FUCK.). Les morceaux s'enchaînent à vitesse grand V et l'ambiance est toujours au top pour « Froot », « Can't Pin Me Down », « Hollywood » et « Primadonna ».
Retour au calme avec « Blue » et « I'm a Ruin », entre lesquelles elle nous offre un petit speech, en français s'il veut plait, pour nous remercier de la soutenir. Si l'énergie ne manque pas dans la salle pour les deux dernières chansons de la setlist, « Radioactive » et « How to Be a Heartbreaker », on ne peut pas en dire autant sur scène. Je ne sais pourquoi, mais je m'attendais à la voir plus dynamique sur des up-tempos aussi entrainants. Elle sautille un peu oui, mais sans grand entrain. Ce n'est pas grave : on est là pour compenser.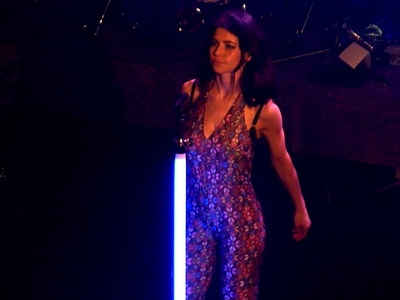 Le concert se termine à 21h15. Je crois que je ne suis jamais sorti si tôt d'une salle de spectacle ! Après tout, ce n'est pas une mauvaise chose, mais j'espère qu'elle ajoutera quelques titres à la setlist lors de sa tournée d'hiver. Il manquait quand même des morceaux comme « Starring Role », « Power & Control », « The State Of Dreaming » ou encore « Weeds ». Idem, au niveau de la mise en scène. Concrètement l'univers galactico-spatial mis en avant via le décor n'est quasiment pas exploité et mis à part quelques jeux de lumière colorés, il n'y a rien d'exceptionnel à se mettre sous la dent. J'espère quelque chose d'un peu plus sophistiqué en fin d'année.
Malgré tout, j'étais ravi de la revoir sur scène. L'ambiance était incroyable, la setlist équilibrée et Marina très enthousiasmée tout au long de la soirée par l'accueil qu'on lui avait réservé. Je retournerais la voir sans aucun doute cet hiver. Et si ce n'est pas déjà fait, je vous conseille de vite aller écouter son « Froot » : vous m'en direz des nouvelles ! Rejoignez-moi dès maintenant sur Facebook, Twitter et Instagram pour rester informés de l'actualité du blog et des prochains articles consacrés à Marina and the Diamonds.
Setlist : Bubblegum Bitch/ Forget / Mowgli's Road / I Am Not a Robot / Savages / Obsessions / Happy / Froot / Can't Pin Me Down / Hollywood / Primadonna / Blue / I'm a Ruin / Radioactive / How to Be a Heartbreaker
Également disponible en vidéo sur YouTube : Happy – I'm A Ruin – How To Be A Heartbreaker
Marina and the Diamonds – Le Trianon, Paris (2015)