27 Août 2019 – Lenny Kravitz : Raise Vibration Tour – Radio City Music Hall, New York
On ne l'arrête plus ! Lenny Kravitz continue sa longue tournée « Raise Vibration Tour » sur les routes américaines. Après un premier leg aux États-Unis en 2018, le voici de retour avec 18 nouvelles dates. Dans quelques heures, il électrisera les 6000 spectateurs du Radio City Music Hall à New York avec ses tubes, mais également avec quelques extraits de son dernier album. L'occasion pour moi de donner un coup de projecteur à cet artiste que j'ai découvert pour la première fois sur scène il y a tout juste 10 ans ! Time flies ⏰
Le show de ce soir est sold-out. Quelques tickets sont malgré tout bradés au dernier moment. J'ai opté pour une place au balcon : la vue d'ensemble est sympa même si le sol a tremblé toute la soirée ! Bonne nouvelle : il n'y a pas de première partie alors… Entrons tout de suite dans le vif du sujet !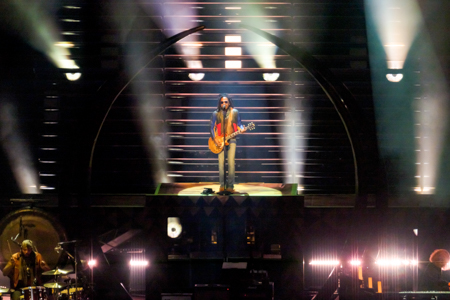 Le décor est un assemblage d'éclairages sur plusieurs niveaux, dont la majeure partie est dissimulée derrière une paroi à lamelles qui filtre la lumière. On peut aussi voir deux grandes cornes formant une sorte d'arche et des symboles ethniques gravés un peu partout sur la scène. Le design est un mélange de tradition et de modernité. C'est simple mais efficace 👍.
Le concert démarre sous un déluge de stroboscopes et de fumée avec « We Can Get It All Together ». Lenny Kravitz apparait en ombre chinoise perché sur la plate-forme principale. Il porte des dreadlocks en queue de cheval, un jean délavé et une veste en cuir entre-ouverte. Si les jeux de lumière m'impressionnent, la chanson d'ouverture me fait un drôle d'effet, car elle ne sonne absolument pas live 🤔. Je mets mes doutes de côté pour profiter du deuxième morceau : « Fly Away ». L'ambiance est bonne, même si la majeure partie de la salle est assise et se laisse assez peu porter par la musique !
Il enchaine avec « Dig In » et « Bring It On » avant d'interpréter son tube « American Woman » qui fait enfin se lever le public ! J'ai vraiment l'impression que le concert démarre avec ce morceau ! Je suis impressionné par la qualité des lights sur « Get Up, Stand Up » qui marque également l'arrivée des cuivres sur scène. C'est vraiment un bon moment !
Il se fait applaudir et en profite pour dire combien il est reconnaissant envers son public et que chaque jour est une opportunité pour accomplir sa destinée. Cela lui permet d'enchainer sur « Fields of Joy » à la guitare et « Freedom Train » sous les stroboscopes. La voix semble encore une fois surmixée et donne une impression de playback 🙄. C'est la première fois que j'ai des doutes – je me dis que c'est peut-être parce que je suis loin de la scène… 🤷‍♂️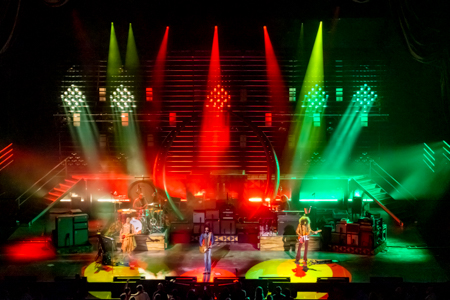 L'un des meilleurs moments de la soirée arrive ensuite avec « Who Really Are the Monsters? ». La chanson et l'ambiance visuelle sont démentes 🤩. Le titre, qui pourrait rappeler la grande époque de Prince, est illustré par des lumières bleues et vertes qui scintillent sans arrêt et créent une atmosphère à la limite de la science-fiction. C'est mon premier vrai coup de cœur de la soirée !
Après un autre speech sur l'importance d'être juste et bienveillant envers son prochain, il enchaine avec l'un de ses classiques « Stillness of Heart » et le fait reprendre aux spectateurs en version acoustique. Il présente également « It Ain't Over 'Til It's Over » avec une longue intro au piano avant de poursuivre sur la version originale. Il s'offre ensuite un bain de foule dans le public sur un instru jazzy. Pour l'anecdote, il s'installe devant un mec qui, plutôt que de profiter de l'échange, le mitraille avec son appareil photo à 20 cm de son visage. Crétin 😒.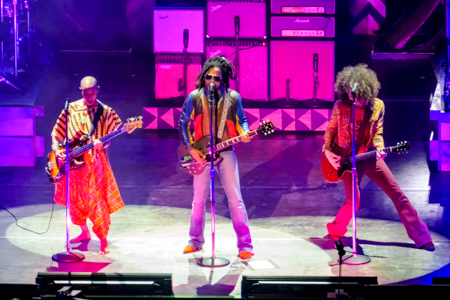 Après cette pause musicale, il continue la soirée avec « Can't Get You Off My Mind » que je ne connaissais pas et que j'ai plutôt aimée. Je redécouvre ensuite « Low » extrait de son dernier album en featuring avec Michael Jackson. Le morceau est canon et l'ambiance est super sexy ❤. Malheureusement, après avoir comparé plusieurs soirées : je peux dire que le titre est assurément en playback. La vidéo est disponible sur YouTube pour ceux que ça intéresse (« Low »).
Retour aux classiques ensuite avec « I Belong to You » que j'adore et « Mr. Cab Driver » en hommage à la ville qui l'a vu grandir : New York, évidemment ! On entend alors les sirènes de police qui annoncent « Bank Robber Man » dans une ambiance électrique ! Les lights s'énervent et clignotent en rouge et bleu ! Le morceau est vraiment cool !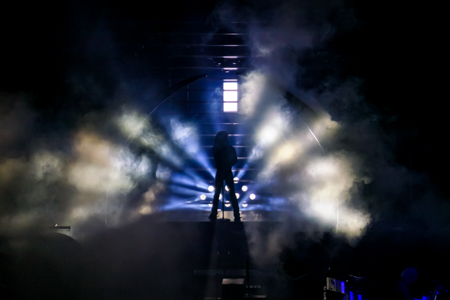 Il continue avec « Where Are We Runnin'? » qu'il a réussi à transformer en incontournable au fil des années, puis sur l'un de ses plus gros hits : « Are You Gonna Go My Way ». Quelle ambiance ! Il en aura fallu du temps pour que le public new-yorkais se réveille ! On sent quand même qu'il s'en débarrasse assez vite pour enchainer sur « Love Revolution » en guise d'au revoir ! Il présente ses musiciens et chante un court extrait de la chanson avant de rejoindre les coulisses pour le rappel.
C'est l'heure de mon deuxième coup de cœur de la soirée : « Here To Love » ❤. Lenny apparait en ombre chinoise dans un nuage de fumée derrière lequel sont projetés des rayons de lumière. Bien que le tout soit intégralement en playback (encore) : le tableau et la chanson sont sublimes. C'est l'une des séquences les plus marquantes du concert ! Dernier titre de la soirée, l'habituel (et interminable) « Let Love Rule » sur lequel il invite sa fille Zoé. 22 minutes de musique pour faire le tour de la salle, en orchestre, au balcon, saluer la foule et rejoindre les coulisses avant le clap final.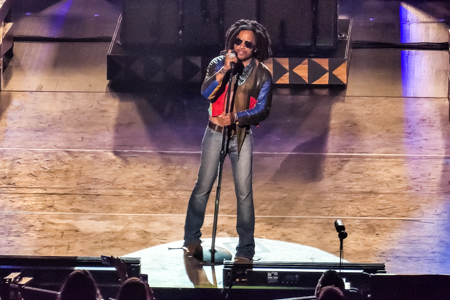 Je ne sais pas si vous l'avez remarqué, mais j'ai essayé de synthétiser et d'aller à l'essentiel cette fois-ci ! J'ai pris la mauvaise habitude d'écrire des romans et ce n'est intéressant ni pour vous ni pour moi. Je vais donc faire plus d'efforts à l'avenir. Pour en revenir au concert. J'ai passé une bonne soirée. Ce n'est pas le meilleur show de lui auquel j'ai assisté, mais dans l'ensemble, c'était cohérent et bien foutu. La setlist est un mélange équilibré de tubes et de nouveaux morceaux qui m'a d'ailleurs permis de découvrir les trois bombes du dernier album : « Who Really Are the Monsters? », « Low » et « Here to Love » ❤. Là, où je suis déçu, c'est que musicalement, ça ne vaut plus grand-chose : je n'ai vraiment pas compris son délire avec le playback. Je pense que plus de la moitié du concert n'est pas en live et c'est honteux pour un artiste comme lui 👎.
Côté mise en scène : c'est rock et moderne à la fois ! Les jeux de lumière sont incroyables. J'ai véritablement été bluffé par le travail autour des lights sur cette tournée 👌. Chaque titre à son atmosphère, son ambiance. C'est vraiment bien foutu. Quant à son attitude… Je l'ai trouvé un poil plus chill qu'habituellement. Après plus de 80 shows, il donne l'impression d'avoir enclenché le pilotage automatique – c'est un peu dommage dans la ville qui l'a vue grandir. C'est également la première fois que je ressens les limites des concerts assis. L'ambiance n'est vraiment pas la même qu'avec une fosse !
Je me refais actuellement sa disco et c'est beaucoup plus sympa que ce à quoi je m'attendais ! Je pense que je lui laisserai une autre chance s'il revient, dans la mesure où j'ai quand même passé une bonne soirée… Mais je vous invite malgré tout à découvrir mes précédents articles, car je suis certain qu'ils sont plus représentatifs du personnage que celui-ci : #LennyKravitz. Je vous propose également de me rejoindre sur Facebook, Twitter et Instagram pour rester informés des futures publications et il y en a beaucoup qui arrivent en septembre, alors soyez au RDV !
Setlist : We Can Get It All Together / Fly Away / Dig In / Bring It On / American Woman / Get Up, Stand Up / Fields Of Joy / Freedom Train / Who Really Are The Monsters? / Stillness Of Heart / It Ain't Over 'Til It's Over / Can't Get You Off My Mind / Low / I Belong To You / Mr. Cab Driver / Bank Robber Man / Where Are We Runnin'? / Are You Gonna Go My Way / Love Revolution / Here To Love / Let Love Rule
Également disponible en vidéo sur YouTube : Fly Away – Low
Lenny Kravitz : Raise Vibration Tour – Radio City Music Hall, New York (2019)