22 Octobre 2018 – Justin Timberlake : Man of the Woods Tour – Madison Square Garden, New York
Après avoir fêté ses 20 ans de carrière en mars dernier, Justin Timberlake s'est lancé dans une tournée pharaonique de plus de 110 dates intitulée « Man of the Woods Tour » et qui prendra fin en janvier 2019. Il est de retour en Amérique du Nord pour un second leg : l'occasion pour moi d'enfin voir le spectacle, dont j'avais été privé en mars à cause d'une satanée tempête de neige. Mon aventure américaine commençait bien 😬.
J'arrive au Madison Square Garden à 18 h 30. C'est la première fois que j'assiste à un concert en fosse. Habituellement, toutes les places sont assises, mais il faut croire que la configuration de la scène à pousser les organisateurs à faire simple. Je ne sais d'ailleurs pas trop où me foutre malgré les conseils que j'ai glanés ici et là. Les zones VIP prennent beaucoup d'espace et d'autres emplacements sont réservés à des marques comme Verizon, fournisseur de téléphonie mobile aux US. Not fair 😒. Je m'installe à mi-chemin entre la scène principale et le Party Pit. Je suis quand même content de pouvoir être en fosse et je reste confiant pour la visibilité.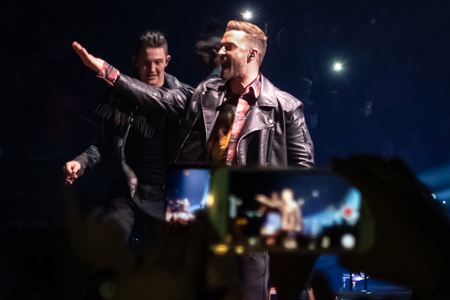 Après un DJ set d'une grosse demi-heure, on découvre Francesco Yates, jeune chanteur et musicien canadien, en première partie. Je profite de l'attente pour mater le décor. Le dispositif est impressionnant et s'étend sur tout le parterre. Une avancée sinueuse décorée d'arbres et de gravures relie la scène principale à deux autres zones. Une première au centre pour les VIP avec un bar et une piste de danse, et une seconde couverte d'arbustes et de hautes herbes évoquant l'univers de l'album.
Au-dessus de ma tête, j'aperçois un écran circulaire composé de multiples panneaux amovibles. Ça me rappelle quelque chose, pas vous ? Le dispositif est approximativement le même qu'en 2007 lors du FutureSex/LoveShow. Il faut attendre 21 h 40 pour voir le panneau LED MOTW éclairer l'aréna. La salle se tamise progressivement et les musiciens font leur entrée tour à tour, acclamés par les spectateurs…
Justin Timberlake arrive sur « Filthy » en criant « New York Ciiity ». Il porte un blouson de cuir par-dessus une chemise à carreaux et un T-shirt. La soirée démarre sur les chapeaux de roue : une armada de danseurs débarque pour une chorégraphie électrique sous une débauche de lasers. Il rejoint le bout de l'avancée alors que l'écran circulaire se déploie progressivement sur « Midnight Summer Jam ». Il multiplie les allers-retours entre les scènes, et termine sur la principale pour lancer « LoveStoned » avec son groupe, les Tennessee Kids. La vidéo est disponible à la fin l'article pour ceux que ça intéresse.
Vous verrez qu'il n'a rien perdu de sa superbe : il chante, il danse, il fait le show, et musicalement, c'est toujours aussi bon. Il enchaîne sans transition sur le génialissime « SexyBack ». Je ne me lasse pas de l'entendre en live, la chorée et l'orchestration sont juste ouf. Le titre se termine sur un solo du guitariste. C'est mon premier gros coup de cœur de la soirée ! 😍
Il nous souhaite la bienvenue et repart au bout de l'avancée accompagné de 3 danseurs pour interpréter « Man Of The Woods » au milieu des hautes herbes. Au-dessus nos têtes, l'écran se transforme en ciel éclatant. Il enchaîne avec l'un de mes titres préférés de l'album, « Higher Higher ». Je surkiffe les arrangements live, c'est un très bon moment ❤. Alors qu'il reprend le chemin de la scène principale, les plates-formes sur lesquelles se trouvent les musiciens pivotent vers l'arrière, afin de faire face au public assis derrière. « Señorita » démarre et JT, qui nous tourne le dos, s'installe devant son clavier pour jouer le morceau.
Un interlude vidéo précède « Suit & Tie » pour laisser le temps à Justin de courir au bout de l'avancée. Si la majeure partie du titre n'est pas intéressante, le fait qu'il le termine en dansant dans une cage de lasers fait largement son effet. Il profite d'une ovation des spectateurs pour faire une pause et rejoindre un pupitre installé sur la scène principale. Il se la joue DJ sur l'intro de « My Love ». Comme sur la tournée précédente, le titre fait partie des highlights du show. C'est génial ! 🤩
JT continue son petit jeu aux platines avec le tant attendu « Cry Me A River ». Le décor se couvre de fumée et les écrans descendent pour créer une belle illusion d'orage. Le public chante à tue-tête et le titre a des allures de final. Mon seul regret est que le son soit si mauvais dans cette salle… c'était déjà le cas pour Pink en début d'année… Le show continu avec « Mirrors », l'une des performances les plus mémorables de la soirée. Sur la scène centrale, Justin se retrouve entouré par 18 panneaux reproduisant à son image à l'infini pour créer un pur moment de spectacle. Le titre est une bombe en live.
Il est rejoint par ses musiciens et ses choristes au milieu de la salle. Il plaisante sur la neige qui l'avait forcé à annuler un de ses shows à New York en mars dernier et se dit fier de pouvoir jouer dans la plus belle salle du monde. Il lance aux spectateurs « I can't control the snow but I can give you a fucking show! » avant de vider un shot et d'entamer « Drink You Away » en acoustique. Il a clairement dû se remettre au sport, car il passe son temps à contracter ses biceps avec un sourire au coin des lèvres en mode « Regardez comme je suis musclé ». Si vous ne me croyez pas, allez voir dans la galerie photo ! Sérieusement, il l'a fait au moins une dizaine de fois dans la soirée 😂.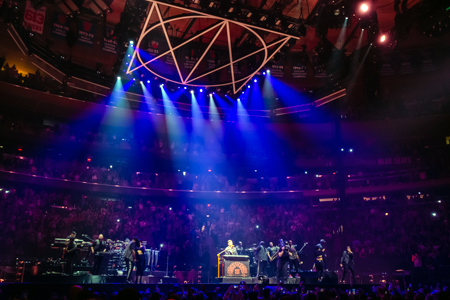 Après un interlude vidéo, on retrouve Justin Timberlake et son groupe sur la dernière scène. Ils sont installés autour d'un véritable feu de camp pour une séquence acoustique. Il interprète « Until The End Of Time » et laisse ensuite ses choristes reprendre quelques titres bien connus du répertoire anglophone : « Dreams » de Fleetwood Mac, « Ex-Factor » de Lauryn Hill, « Come Together » des Beatles et « Thank God I'm a Country Boy » de John Denver. C'est un peu longuet, mais on sent qu'il y a une véritable envie de faire de la musique à ce moment-là du spectacle.
Il reprend le lead sur « Morning Light » et revient sur la scène centrale, ce qui me laisse l'occasion de voir sa nouvelle tenue de plus près. Il porte maintenant un jean troué accompagné d'un blouson blanc. Le style est assez différent de ce à quoi il nous avait habitués sur les précédentes tournées. Il nous offre une jolie version de « What Goes Around… Comes Around » à la guitare avant d'enchaîner sur « Say Something », que vous pouvez découvrir en vidéo à la fin de l'article. Le moment est super beau, c'est une des chansons que je préfère sur l'album ❤.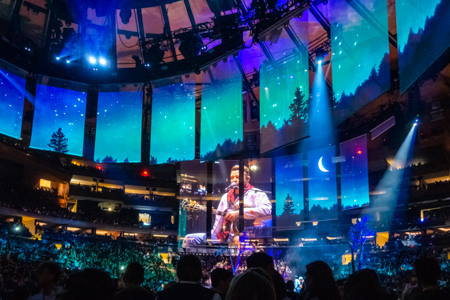 Un court interlude avec des images de nature lui permet d'enchaîner sur « Montana » et « Summer Love », dont je ne garde aucun souvenir. Je me rappelle seulement que « Rock Your Body » arrive un peu comme un cheveu sur la soupe, et qu'en quelques secondes, JT se retrouve à danser à quelques mètres de moi sur le damier lumineux qui recouvre le sol de la zone VIP. C'est super court, j'ai l'impression que la chanson dure une dizaine de secondes. Je n'ai même pas le temps de comprendre ce qui arrive. Du coup, je n'ai pas le temps de me remettre dedans pour « Supplies », que c'est un titre que j'aime beaucoup à l'origine.
Le morceau est enchaîné à « Like I Love You » que j'ai simplement adoré. La chorégraphie, les arrangements, je trouve ça vraiment cool qu'il réussisse encore à faire quelque chose d'intéressant avec ce titre malgré les tournées qui s'enchaînent. « Can't Stop The Feeling » marque la fin de la soirée. C'est un bon final, mais il manque de quelque chose : il aurait fallu des confettis ou quelque chose d'un peu plus festif… D'ailleurs, c'est peut-être le seul reproche que je peux faire au show : la dernière partie du spectacle, hormis « Rock Your Body », manque vraiment de mise en scène. Mais bon, la soirée était super, et se termine quand même dans une ambiance de joie absolue, car « Can't Stop The Feeling » est porteur d'une énergie vraiment communicative !
Maintenant, place à la conclusion ! J'ai clairement kiffé le show : je suis fan de l'album et j'étais vraiment impatient de le voir vivre sur scène. Les arrangements sont géniaux, et l'enrobage visuel est impressionnant, même s'il y a quelques faiblesses sur la fin. La setlist est canon. Les titres les plus récents s'intègrent bien au reste du répertoire et je ne me lasse pas de réentendre les classiques qui font toujours partie des highlights du show : « SexyBack », « Cry Me A River » et « Mirrors » en tête. Seul bémol, la présentation des choristes est un peu longuette, mais le reste se déroule à un rythme effréné : à la fin, je n'arrivais même plus à suivre !
Côté mis en scène, le show donne l'impression d'être plus épuré qu'à l'habitude. C'est une synthèse réussie des précédentes tournées selon moi. La technologie est bien présente : lasers, panneaux vidéo et autres accessoires, mais elle ne capte pas autant l'attention que je l'imaginais. La scène est immense et pour tout avouer, je n'ai jamais été fan des grandes scènes comme ça, car il faut avoir l'œil partout si on ne veut pas manquer quoi que ce soit. Ce qui finit toujours par arriver, quand on trouve comme moi en fosse – même si je ne m'en suis pas trop mal sorti pour le coup.
L'univers de l'album est assez bien retranscrit sur scène et il fait la part belle à la proximité durant le spectacle. Je l'ai d'ailleurs trouvé assez bavard. À la fin du show, on a clairement envie de finir la soirée au coin du feu avec lui. Je tiens également à préciser que pour une fois, les Américains ne m'ont pas fait chier et c'est assez rare pour être souligné 😁. La seconde date ayant été reportée à la fin de la tournée en raison d'une blessure aux cordes vocales : j'irai peut-être le revoir en janvier si j'arrive à choper des places pas trop chères. En attendant, vous pouvez toujours aller jeter un œil aux autres articles sur JT. Je vous conseille le concert de 2014 au Stade de France que j'ai vraiment surkiffé  : FutureSex/LoveShow – Halle Tony-Garnier, Lyon (2007), The 20/20 Experience World Tour – Stade de France, Paris (2014) et Olympia, Paris (2014),
On termine avec les photos et les vidéos du spectacle, n'hésitez pas à laisser un commentaire si vous avez vu le concert à Paris ou ailleurs, et à me suivre sur les réseaux sociaux : Facebook, Twitter et Instagram. C'est bientôt à la fin de l'année, mais je vous promets une année 2019 purement exceptionnelle… je peux d'ores et déjà vous dire qu'on va beaucoup voyager !
Setlist : Filthy / Midnight Summer Jam / Lovestoned / Sexyback / Man Of The Woods / Higher Higher / Señorita / Suit & Tie / My Love / Cry Me A River / Mirrors / Drink You Away / Until The End Of Time / Dream / Ex-Factor / Come Together / Thank God I'm A Country Boy / Morning Light / What Goes Around… Comes Around / Say Something / Montana / Summer Love / Rock Your Body / Supplies / Like I Love You / Can't Stop The Feeling
Également disponible en vidéo sur YouTube : Lovestoned – Suit & Tie – Mirrors – Say Something
Justin Timberlake : Man of the Woods Tour – Madison Square Garden, New York (2018)