27 Mai 2018 – Jussie Smollett : Sum of My Music Tour – SOB's, New York (2018)
J'étais vraiment emballé par la série Empire à son lancement et mon intérêt a progressivement diminué au fur et à mesure des épisodes. La BO réservait souvent de bonnes surprises et je rêvais secrètement d'une tournée avec tout le cast du drama. Même si je ne regarde plus, j'ai gardé un œil sur Jussie Smollet qui était clairement le plus prometteur de la bande. Son premier album, « Sum Of My Music », est sorti en mars sans faire d'éclats malgré quelques titres forts comme « Hurt People » et « Freedom ».
Il a entamé une tournée mondiale intitulée « Sum Of My Music Tour » et est de passage à New York dans un club de Greenwich Village ce soir. Je ne me presse pas : je sais qu'il est annoncé avec deux autres groupes et que la salle n'est pas énorme. J'appréhende d'ailleurs la durée du concert, car l'album ne fait que 33 minutes… La place n'était pas chère, mais c'est tout de même un peu léger.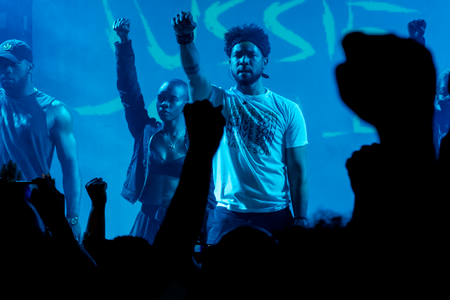 Quand j'arrive à 19 h, les portes ne sont pas encore ouvertes. Il n'y a pas grand monde mais c'est quand même l'anarchie, car il y a des 'Meet And Greet', des 'Early Entry' et des 'General Admission' dans la même file… Personne ne sait où aller ! Heureusement, ça avance vite et une fois à l'intérieur… Surprise. Ce n'est pas qu'un club, c'est aussi un resto 😆. Oui, oui, un vrai restaurant qui sent le graillon avec des tables, des serveurs… La totale quoi ! Vous allez rire, mais malgré la petitesse de la salle, il y a quand même des écrans de retransmissions partout.
Je vous passe volontairement les artistes qui l'ont précédé sur scène, June's Diary (nice play-back girls) et Victory Boyd, avec en bonus une odeur de frites qui me file une dalle d'enfer… Avec un peu de chance, si ça ne finit pas trop tard, je pourrais aller me faire un McDo ! Oui, je meuble… Et alors 💁‍♂️ ? Jussie Smollett fait son entrée à 21 h 45. Il est accompagné de 2 musiciens, batterie et clavier, 2 choristes et 4 danseurs.
Il fait son entrée sur l'introduction de « Can You Feel It », le titre des Jackson 5. Il porte un ensemble noir, assorti d'un T-shirt blanc sur lequel est inscrit « Native Son ». Le premier morceau de la soirée est une reprise de Stevie Wonder, « Love's In Need Of Love Today », à laquelle il enchaîne « Freedom », extrait de la bande originale d'Empire. Il en profite pour poser sa veste et accueillir les 4 danseurs qui l'accompagnent, 2 filles et 2 garçons. Je suis surpris de le voir danser, je ne m'attendais pas à ce qu'il y ait des chorégraphies et surtout à ce qu'il chante… en play-back 🤔. J'imagine qu'il chante par-dessus la bande, mais personnellement je n'entends rien. On verra ce qu'il en est dans la suite du spectacle. Retour au calme avec « Need Freedom », un autre extrait d'Empire. Je pense que le titre est également préenregistré. Je viens de comparer avec la version studio et les intonations sont les mêmes. Qu'importe l'artiste, il est quand même rare que l'interprétation soit formellement identique… exception faite de notre Britney adorée ❤.
Jussie est rejoint par ses danseurs lorsque la chanson démarre. Les arrangements ne sont pas ouf, le batteur se limite à jouer sur la bande studio. Ça marche mieux sur « Ready To Go » qui est l'un des moments forts du concert. C'est un up-tempo de la BO d'Empire dans lequel il intègre quelques extraits de la chorégraphie originale. Il termine le titre poing levé, comme sur l'une des photos que vous pouvez voir dans cet article, photo qu'il a reprise sur son compte Instagram ❤. Pour l'instant, je ne suis pas particulièrement emballé par le show. Heureusement qu'il est beau, car ça me permet d'avoir quelque chose à quoi me raccrocher ! À ce sujet, il nous offre d'ailleurs un booty shake sur un cours extrait de « Flex (Ooh, Ooh, Ooh) » de Rich Homie Quan, avant d'entamer « No Doubt About It »… en live Mesdames et Messieurs !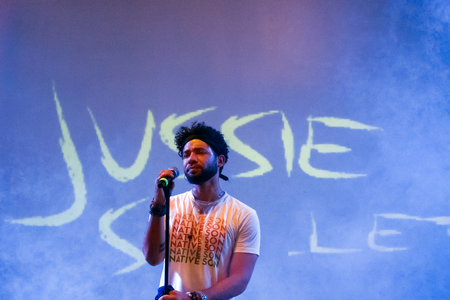 « No Doubt About It » n'est pourtant pas le titre le plus simple à interpréter… Up-tempo et associé une chorégraphie dynamique, il ne choisit pas la facilité… Honnêtement, il ne s'en sort pas trop mal ! Évidemment, il y a des faussetés en comparaison à ce qu'on a entendu jusque-là, mais rien de honteux… c'est même l'un des moments que j'ai préférés de la soirée ! C'est beaucoup plus intéressant !
Jussie nous explique ensuite que la tournée a commencé il y a 3 semaines. Que lui et son équipe ont déjà fait le tour du monde et qu'ils sont fatigués de travailler jour et nuit… digression qui lui permet d'enchaîner sur une reprise jazzy de « Workin' Day And Night » de Michael Jackson, en live également. Oui, je précise maintenant 😅. Le plaisir est de courte durée, car le play-back est de retour sur le très sympathique « Staycation », première chanson de l'album interprétée ce soir ! Les danseurs nous offrent un interlude chorégraphié sur l'instrumental de « Workin' Day And Night ».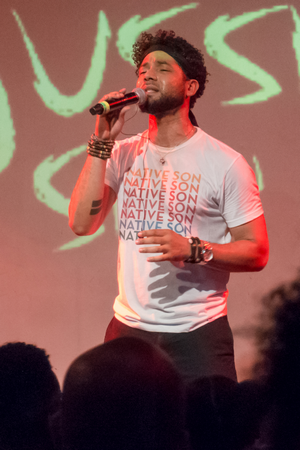 Après un nouveau speech autour de l'amour et de la tolérance, Jussie enchaîne sur « Ha Ha (I Love You) » et mime un acte sexuel avec le tabouret sur lequel il est assis. Pas de chance, il a un concurrent de taille sur ce créneau en la personne de Miguel… qui reste le champion toutes catégories confondues. Vous ne croyez pas ? Allez jeter un œil ici ! Il nous parle ensuite un peu d'Empire… en nous disant que son personnage, Jamal Lyon, est devenu son meilleur ami au fil des années (c'est lui qui paie ses factures également 😅) et qu'il est aussi reconnaissant envers la série pour la notoriété qu'elle lui a permis d'atteindre. Il enchaîne donc tout logiquement avec 2 extraits de la bande originale : « Heavy » et « Chasing The Sky ».
Si je n'ai pas parlé de la mise en scène jusque-là c'est parce qu'il n'en a pas vraiment… Les jeux de lumière sont simples : c'est bleu, vert, jaune ou rouge. Les photos à la fin de l'article vous donneront un petit aperçu de l'ambiance visuelle générale. Le concert continu avec 2 titres de son album solo : « Insecurities », absolument inintéressante en play-back et « Don't Go » qui relève un peu le niveau. Pour ce morceau, Jussie est rejoint par ses 2 danseurs avec qui il partage une nouvelle chorégraphie.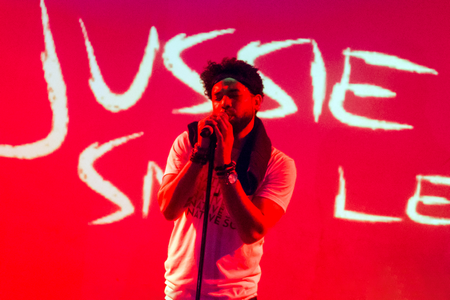 Il interprète ensuite le premier extrait de l'album, « Freedom », en play-back une fois encore, ce qui est dommage, car le titre est émouvant et un vrai live lui aurait donné du relief. Avant de quitter la scène pour se changer, il nous offre « Conqueror », autre extrait d'Empire. Une des danseuses vient meubler en attendant qu'il revienne pour « Good Enough », l'un des titres de la série les plus plébiscités sur les plates-formes de streaming. Il porte maintenant un T-shirt noir uni. Il enchaîne avec « Catch Your Eye » dont il laisse la fin à ses choristes qui viennent y intégrer un extrait de « Full Moon » de Brandy. Vous vous souvenez de Brandy ? Personnellement je me demande comment mon cerveau a pu ressortir ce morceau de ma mémoire 😆.
Jussie profite de l'occasion pour présenter son équipe et nous remercier d'être venu l'applaudir. Le concert touche à sa fin et pour finir en beauté, il interprète son dernier single en date : « Hurt People » – c'est un vrai grower et je vous invite fortement à le découvrir à la fin de l'article. Il clôture le set avec le tube incontesté d'Empire : « You're So Beautiful ». Là aussi, la vidéo est disponible à la fin de la chronique. Si vous ne voulez pas l'avoir en tête pour le restant de votre vie, je vous invite à ne pas appuyer sur PLAY. Je vous aurais prévenu 😏. Je suis évidemment ravi d'entendre la chanson, car ça fait plus de 3 ans que je la chante non-stop. La soirée se termine pour moi en apothéose ! Il nous salue une dernière fois, et rejoint les coulisses (sans doute la cuisine du resto) sous les applaudissements du public.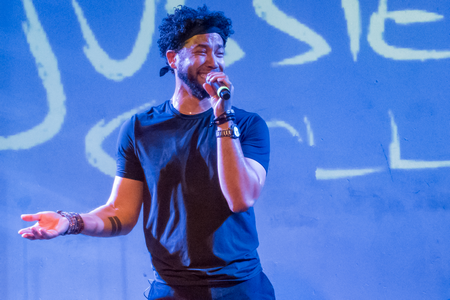 Vous vous en doutez, en sortant de la salle, j'étais un peu hébété. Non pas que la soirée ne m'ait pas plu, mais je ne m'attendais pas à voir Jussie Smollett chanter en play-back… Je veux bien lui accorder le bénéfice du doute et condamner l'ingénieur du son, mais en tant que fan de Britney Spears, j'ai Bac + 8 spécialité lip-sync, et à moi, on ne me la fait pas ! Le lieu m'a également un peu déçu, j'aurais préféré qu'il se produise dans une vraie salle de concert plutôt qu'un bar. Tout simplement pour éviter les odeurs de bouffe et limiter les allers retours incessants des Américains au comptoir.
Mis à part ça, je suis content d'avoir pu le voir ! Je me suis largement épanché sur le play-back, mais au final, j'ai quand même apprécié le spectacle. Il est beau, sympa et attentif au public. Il se démène vraiment sur scène et quand il chante, c'est plutôt bon. Je ne pensais pas qu'il danserait autant ! J'ai été agréablement surpris qu'il intègre les chansons d'Empire à son répertoire : c'était mon rêve d'entendre « You're So Beautiful » en live ! Le show a duré un peu plus d'une 1 h 10, c'était suffisant…
Et voilà, c'est terminé ! N'hésitez pas à me dire ce que vous avez pensé de cette chronique en commentaire ou sur les réseaux sociaux : Facebook, Twitter et Instagram… On se quitte avec les photos et les vidéos du concert as usual !
Setlist : Love's in Need of Love Today (Stevie Wonder cover) / Freedom (Empire) / Need Freedom (Empire) / Ready To Go (Empire) / No Doubt About It (Empire) / Workin' Day And Night (Michael Jackson cover) / Staycation / Ha Ha (I Love You) / Heavy (Empire) / Chasing The Sky (Empire) / Insecurities / Don't Go / Conqueror (Empire) / Good Enough (Empire) / Catch Your Eye / Hurt People / You're So Beautiful (Empire)
Également disponible en vidéo sur YouTube : Hurt People – You're So Beautiful
Jussie Smollett : Sum of My Music Tour – SOB's, New York (2018)