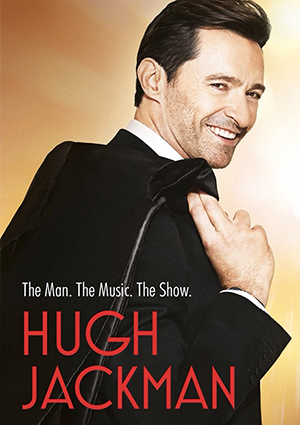 29 Juin 2019 – Hugh Jackman : The Man. The Music. The Show. – Madison Square Garden, New York
La première fois que j'ai vu « The Greatest Showman » au cinéma, j'ai tout de suite imaginé une adaptation en comédie musicale avec Hugh Jackman à Broadway. Et, après avoir écouté la BO plus d'un million de fois, mon rêve s'est en partie réalisé ! Hugh Jackman a lancé il y a quelques mois une tournée mondiale dans laquelle il interprète les chansons du film au milieu des grands classiques de Broadway et d'Hollywood ! Il s'offre le Madison Square Garden pour 3 concerts exceptionnels à New York. Êtes-vous prêt à découvrir the man, the music and the show ? 😊
Habituellement, j'essaie toujours d'arriver avant l'heure indiquée sur le billet. Sauf qu'en chemin, le compte Twitter de la salle m'apprend que le début du show est prévu pour 19 h tapantes. Oups 💁‍♂️. Le métro new-yorkais n'étant pas réputé pour être le plus efficace du monde, vous imaginez bien qu'à 19 h, je suis bien sûr coincé entre deux stations bien loin du Madison Square Garden ! Malgré tout, mon ange gardien a pitié de moi : j'arrive à temps et les lumières s'éteignent pile au moment où je pose mes fesses sur le fauteuil. Il était moins une 😅.
J'ai à peine le temps de reprendre mon souffle que l'introduction démarre. La soirée s'ouvre sur un montage vidéo des plus célèbres apparitions de Hugh Jackman au cinéma. C'est le titre « The Greatest Show » qui l'illustre. La première chose que je remarque, c'est que le décor est très bien foutu ! Deux immenses écrans latéraux encadrent la scène et il y a une longue avancée qui va loin dans le parterre. Le reste de la structure est assez moderne : le fond est tapissé par un écran géant, divisé en petits cubes, et un escalier central sépare l'orchestre en deux parties. Il y a du budget !
Hugh Jackman apparaît au sommet des marches. Il porte un pantalon noir assorti d'une veste argentée : il est classe 😎. Il descend l'escalier pour rejoindre les danseurs qui l'accompagnent sur cette tournée. C'est une belle entrée en matière : il chante, il danse, il interagit avec le public, et avec les projections vidéos, on ne sait plus où donner de la tête ! J'ai un peu de mal à me mettre dedans, car je suis toujours à deux arrêts de métro de mon fauteuil ?. Il enchaîne sur « Come Alive » dans le même genre d'ambiance. Vocalement, ce n'est pas très juste, mais son énergie compense largement les faiblesses de sa voix. Il prouvera d'ailleurs un peu plus tard qu'il est capable de mieux.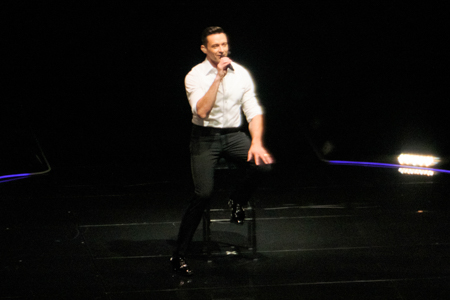 Il prend la parole pour expliquer qu'il est ravi d'être à New York, de jouer dans cette salle mythique qu'est le Madison Square Garden. Je mets quelques secondes à m'adapter à son accent australien, qui est très différent de l'accent new-yorkais. Il tombe la veste et le show prend des allures de one-man-show. Il explique qu'il est très à l'aise avec les nombres : on voit donc s'afficher sur l'écran des centaines de chiffres : combien de camions il y a sur la route, combien de musiciens l'accompagnent, etc. Il ponctue son speech de plein de petits mots d'humour : le public rit aux éclats à chaque fois qu'il ouvre la bouche. Je ne peux pas tout vous raconter sinon le compte rendu ferait 20 pages 😆.
Il explique qu'il a démarré sa carrière en disant oui à tous les projets qu'on lui proposait. Et que c'est la raison pour laquelle il a été engagé sur la tournée australienne de la comédie musicale « La Belle et La Bête » en 1995. Il y joue le rôle de « Gaston », dont il interprète la chanson phare dans la foulée. Vous retrouverez la vidéo à la fin l'article. La même année, il rencontre sa femme. Tout est très bien foutu, car il interagit avec les écrans pour faire le récit de sa rencontre, photos à l'appui ! C'est rythmé et interactif, on se sent vraiment investi dans l'histoire 👍.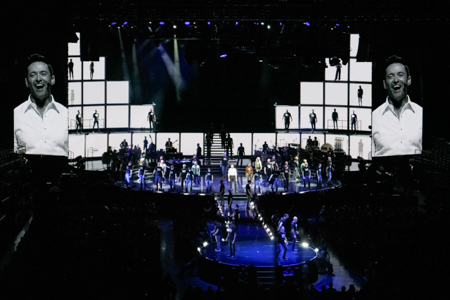 Il marche jusqu'au bout de l'avancée pour lui dédicacer « All The Way ». Il termine la chanson en nous disant qu'elle est dans la salle, et s'empresse d'aller l'embrasser sous un tonnerre d'applaudissements. D'après ce que j'ai compris, elle est présente tous les soirs, et va donc se taper le spectacle 90 fois entre mai et octobre. Bon courage Deb'  😅. Il enchaîne sur un titre assez amusant de Johnny Cash intitulé « I've Been Everywhere » dans lequel il énumère un certain nombre de villes des États-Unis. Ça tient de la performance ! Et évidemment, il en joue ! Il plaisante en parlant du prompteur qu'il a sur scène, et dit qu'il est bien évidemment capable de faire sans… Ce qu'il nous prouve sans attendre !
Il interprète ensuite un extrait de la comédie musicale « Dear Evan Hansel » que je meurs d'envie d'aller voir à Broadway, « You Will Be Found ». Il se débrouille beaucoup mieux sur ces morceaux où il faut donner de la voix 👍. Il se fait d'ailleurs accompagner une chorale new-yorkaise qui le rejoint sur scène. Il explique que la chanson suivante à beaucoup d'importance pour lui, car elle lui rappelle son père. L'homme voyage peu en dehors de l'Australie, mais l'a malgré tout accompagné à New York en 2002, pour le voir interpréter « Soliloquy » (Carrousel) au Carnegie Hall.
Après la chanson, il nous raconte la création de « The Greatest Showman » et son incroyable succès qui lui permet de faire cette tournée. Il explique comment Keala Settle – qui joue la femme à barbe dans le film – a été engagé. Elle participait aux ateliers de préparation et a posé sa voix sur différents titres dont « This Is Me ». Les producteurs ont tellement été subjugués par son interprétation qu'ils ont décidé de la prendre pour le tournage. Et surprise, elle est là !
C'est donc une Keala Settle toute pimpante, habillée d'une combinaison dorée brillant de 1000 feux, que l'on voit débarquer sur scène pour « This Is Me ». Je croyais que c'était une surprise, mais en fait, elle est là tous les soirs comme la femme de Hugh. Ça n'en fait pas moins l'un des moments les plus excitants de toute la soirée. J'ai adoré la performance ❤. C'est mon meilleur souvenir du show – et c'est paradoxal parce que je n'étais pas venu pour elle. Je vous invite à découvrir la vidéo à la fin de l'article : à la revoir, j'en ai encore les poils !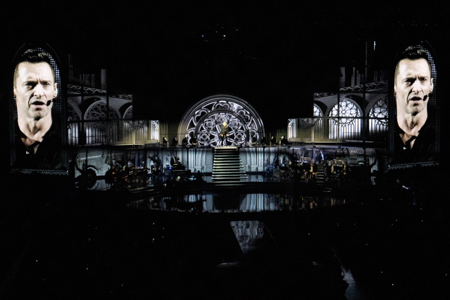 J'en profite d'ailleurs pour m'excuser de la qualité des photos et des vidéos. J'avais une vitre de sécurité en face de moi, et je n'ai pas vraiment fait attention à ce que je filmais, ce qui donne cet effet de flou sur les images. La performance de Keala permet à Hugh Jackman de se changer. Il revient pour un medley consacré à la comédie musicale « Les Misérables » (« Valjean's Soliloquy / I Dreamed a Dream / One Day More »). Je dois vous avouer que ce genre de chansons, ce n'est franchement pas ma tasse de thé ! Mais j'ai adoré la mise en scène de ce tableau, très grandiloquente : il se retrouve avec toute sa troupe dans le décor de Notre-Dame de Paris avec un drapeau français flottant au vent. La performance vocale est également très impressionnante !.
C'est la fin de la première partie ! Pour l'entracte, un énorme chrono s'affiche sur l'écran ; pour montrer au public américain le temps qu'ils leur restent pour aller se sustenter dans les stands de hot-dogs, pop-corn, et autre poulet frit 🍗. Je reste sagement à ma place en espérant que la deuxième partie soit plus excitante… car je suis quand même assez surpris de la forme du spectacle, ça traîne un peu en longueur.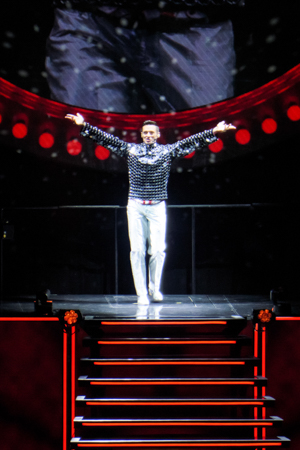 Le show reprend sur un montage vidéo de Peter Allen, que je ne connais malheureusement pas 🤷‍♂️. Wikipédia m'apprend qu'il s'agit d'un auteur-compositeur australien, décédé du sida en 1992, et qui a écrit à de nombreuses chansons, dont quelques-unes, pour Olivia Newton-John. Peter Allen, qui est le sujet central de la comédie musicale « The Boy From Oz », dont le rôle principal était interprété par… Hugh Jackman évidemment.
Hugh fait donc son entrée en habit de lumière (sa veste semble faite de miroirs), en prenant des postures un peu moins masculines qu'à son habitude. J'irais jusqu'à dire qu'il est chatte 😁. Remuant le bassin, secouant les fesses, il interprète « Not The Boy Next Door » au milieu des éclats de rire du public. L'ambiance est tout de suite plus légère. Il en profite pour aller titiller quelques spectateurs et invite sur scène une dame du premier rang, Maryline. Et Maryline, elle est à mourir de rire elle aussi ! Habillée d'une robe orange flashy, elle va faire le spectacle pendant une dizaine de minutes avec lui sur scène. Il semble lui-même surpris par son audace ! Il prévient ses choristes que l'une d'entre elles va devoir laisser sa place dès le lendemain 😁.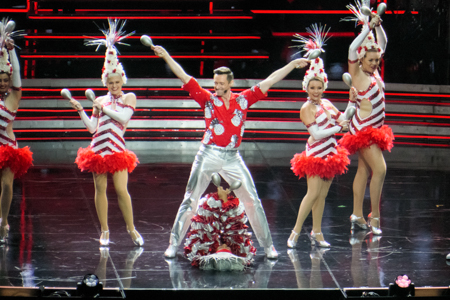 L'hommage à Peter Allen continu sur quelques-unes de ses plus célèbres compositions : « Arthur's Theme (Best That You Can Do) / Don't Cry Out Loud / I Honestly Love You / Quiet Please, There's A Lady On Stage / I Go To Rio ». C'est vraiment l'un des moments du spectacle que j'ai préféré : c'est lumineux, entraînant, festif : il y a des plumes et des couleurs partout ! C'est du music-hall dans toute sa splendeur, le numéro « 100 % Broadway » dont je vous parle à chaque comédie musicale 😅.
Il explique ensuite que s'il y a une chanson de Peter Allen qui le touche particulièrement… C'est « Tenterfield Saddler » qu'il interprète accompagné d'une simple guitare. Il fait place à ses choristes pour un autre titre de « The Greatest Showman » : « A Million Dreams ». Pour ne rien vous cacher, je suis un peu déçu qu'il les laisse les morceaux du film à d'autres artistes, car c'est pour ces chansons que je suis venu voir le spectacle…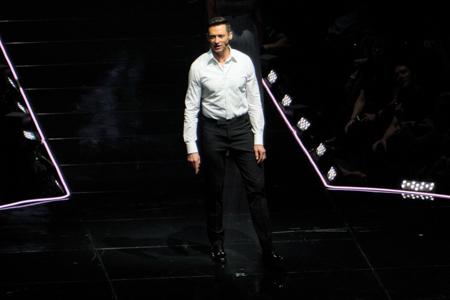 S'en suivent alors deux longues séquences : la première est un hommage aux titres des comédies musicales d'Hollywood avec « Luck Be A Lady / Singin' In The Rain / I Got Rhythm / Steppin' Out With My Baby / Sing Sing Sing ». J'avoue que même si le tableau est très bien mis en scène, je décroche un peu du spectacle à ce moment-là. L'ambiance est très 50's. Pour la seconde séquence, il nous raconte qu'il adore danser depuis qu'il est enfant et qu'il aurait aimé prendre des cours. À l'époque, son frère s'était moqué de lui et il avait fait marche arrière 😥.
Un peu plus tard, il a malgré tout appris le tap-dancing, et nous le prouve avec un autre medley, plus dynamique, comprenant les titres suivants : « 42nd Street / Thunderstruck / September / Takin' Care Of Business / Jump ». Mêlant claquettes et percussions, il termine le tableau essoufflé, deux baguettes dans les mains, qu'il tient alors comme les griffes de Wolverine. En le voyant imiter le célèbre mutant, le public est aux anges !
Il revient ensuite sur les origines des aborigènes en Australie, et explique qu'il a participé à une retraite dans la nature avec eux il y  quelques temps et qu'il en est revenu transformé. Il a donc décidé d'inviter les légendes de cette communauté à venir partager sur scène leur bel héritage culturel et musical. C'est un peu surprenant à ce moment du spectacle, mais après tout pourquoi pas ? Ce sont donc deux morceaux du mouvement Nomad Two Worlds qui nous sont proposés : « Art Song » et « Inhibition ». Ça fait presque peur par moment 😯. Hugh Jakckman les rejoint pour interpréter une version réarrangée de « Over The Rainbow », que vous pouvez retrouver en vidéo à la fin de l'article.
Ça ne m'arrive pas souvent, mais je ne me souviens absolument pas du morceau suivant : « Die Moritat Von Mackie Messer (Mack The Knife) ». C'est un titre très jazzy pendant lequel il se fait accompagné de ses musiciens et par sa troupe dont il présente les membres tour à tour. Heureusement, je retrouve mes esprits avant ma chanson favorite de « The Greatest Showman » : « From Now On » qui est un final parfait. J'adore l'ambiance ! Tout est comme je l'imaginais, plein de danseurs, beaucoup d'énergie… On voit aussi Keala faire son retour sur scène. C'est un super moment. Il termine le show par un titre de circonstance, « Once Before I Go » de Peter Allen, qui clôt cette belle (et longue) soirée.
Il y a beaucoup à dire de ce spectacle. Tout d'abord, je ne m'attendais pas à ce déroulement, et à cette construction qui mélange one-man-show et musique. Je trouve que la formule est bonne, mais que l'ensemble est un peu trop long 🙄. Je n'ai pas tout aimé… des titres comme ceux des Misérables, je m'en serai passé. Mais il en faut pour tous les goûts ! Moi j'y allais pour le voir chanter les chansons de « The Greatest Showman », et je sais bien que ce n'est pas le cas de tout le monde. Ça dû être très difficile de créer le bon équilibre !
Mais il s'en est très bien sorti  👏. Si j'ai trouvé à la voix un peu faiblarde par moment : son charisme et son énergie ont compensé à 200 % les petits couacs.
La mise en scène était vraiment très sympa. J'ai aimé le joli décor mais aussi les costumes : il était très beau tout au long de la soirée 🥰. Il a sa place sur scène :  c'est un vrai entertainer. Il emmène le public avec lui, en ponctuant chaque chanson d'une histoire ou d'une anecdote. Il chante, il danse, il a du charisme, je ne vois pas ce qu'on peut lui demander de plus. Je garderais en mémoire l'excellente prestation de Keala Settle sur « This Is Me » et la fabuleuse ouverture de la deuxième partie  ! Avec quelques ajustements et quelques coupes, je pense que ça pourrait être parfait !
On termine avec les photos et les vidéos de la soirée… Si vous appréciez Hugh Jackman, et Broadway plus généralement, je vous invite à découvrir les articles que j'ai consacrés aux comédies musicales en cliquant ici : #Broadway.
Setlist : The Greatest Show / Come Alive / Gaston / All the Way / I've Been Everywhere / You Will Be Found / Soliloquy / This Is Me / Valjean's Soliloquy / I Dreamed a Dream / One Day More / Not the Boy Next Door / Arthur's Theme (Best That You Can Do) / Don't Cry Out Loud / I Honestly Love You / Quiet Please, There's a Lady on Stage / I Go to Rio / Tenterfield Saddler / A Million Dreams / Luck Be a Lady / Singin' in the Rain / I Got Rhythm / Steppin' Out With My Baby / Sing Sing Sing / 42nd Street / Thunderstruck / September / Takin' Care of Business / Jump / Nomad Two Worlds – Art Song / Nomad Two Worlds – Inhibition / Over the Rainbow / Die Moritat von Mackie Messer (Mack the Knife) / From Now On / Once Before I Go
Également disponible en vidéo sur YouTube : Gaston – This Is Me – Over The Rainbow
Hugh Jackman : The Man. The Music. The Show. – Madison Square Garden, New York (2019)